Product Code
APE-1904-801
Product Item Code
SAM-9820
Device Manufacturer
Samsung
Device Type
Applications Processor
Channel
Advanced Packaging - Process
Image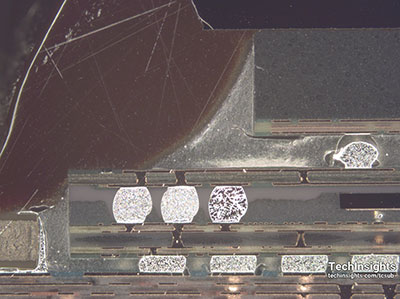 This is an Advanced Packaging Essentials (APE) summary document for the Samsung 9820 application processor package-on-package (PoP) with interposer technology. The complete APE deliverable includes: concise analyst's summary of critical device metrics, scanning electron microscopy (SEM) based energy dispersive X-ray spectroscopy (SEM-EDS) of package materials, and salient features supported by the following images:
Downstream product teardown
Package photographs and X-rays
Die photographs
Optical plan-view images of selected printed wiring board (PWB) metal layers
SEM and optical cross section of the general package structure, metals, dielectric materials, and the die and package interconnect structure
A unique vault of trusted, accurate data at your fingertips
Our analysis goes as deep as required to reveal the inner workings and secrets behind a broad range of products.
Search our analysis and website
Don't miss another update from TechInsights.
All our latest content updates sent to you a few times a month.