Product Code
PEF-2102-801
Product Item Code
CRA-C3M0015065D
Channel
Power Semiconductor - Power Essentials
Image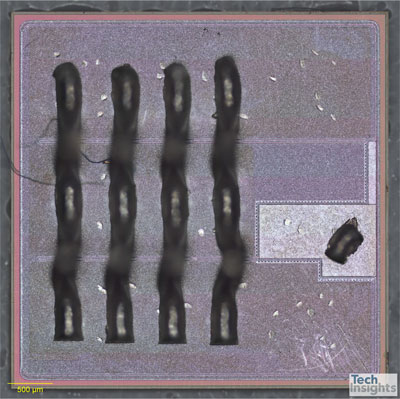 This report presents a Power Essentials analysis of the Cree C3M001065D power SiC-based MOSFET.
This report contains the following detailed information:
Selected teardown photographs, package photographs, package X-rays, die markings, and die photographs
SEM cross-sectional micrographs of the general structure of the die dielectric materials, major features, and transistors
Measurements of vertical and horizontal dimensions of major microstructural features
Plan-view optical micrograph of the die delayered to the polysilicon layer
Identification of major functional blocks on a polysilicon die photograph
Table of functional block sizes and percentage die utilization
High-resolution top metal and polysilicon die photographs delivered in the CircuitVision software
Cost of die and tested packaged die, based on the manufacturing cost analysis of the observed process
Get regular, succinct analysis of emerging power process semiconductor products
Fact-based analysis of emerging power semiconductor technologies using Gallium Nitride (GaN) and Silicon Carbide (Sic), and innovative, competing use of Silicon (Si).
Search our analysis and website
Don't miss another update from TechInsights.
All our latest content updates sent to you a few times a month.