Semiconductor Chip Market Research Services
provides strategic and tactical insights with access to TechInsight's analysts.
brings weekly visualization to semiconductor supply chain KPI trends
is a research platform with critical datasets for Semiconductors, Silicon, Packaging, Designs & Reticles along with Semiconductor Inventories, Capacity & Supply-Demand analysis.
is a research platform covering market shares with annual and quarterly forecasts for these segments along with equipment demand by device type and region.
is a research platform focusing on equipment markets for greater than 28nm semiconductor manufacturing. Typical segments are LED, MEMs, Power, and Compound Semiconductors.
The Chip Insider®
Trusted Advisor for semiconductor manufacturing
The trusted advisor to senior semiconductor executives
Intelligence to make better decisions faster
Email reports on current issues, trends, strategies, and tactics
Edgy & blunt on industry issues
Essential perspectives
Analyst access for detailed discussion & advisory
Time for personalized inquiries
Leadership, strategy, & tactics
Brainstorming, bullet proofing your work
Marketing communications & financial relations support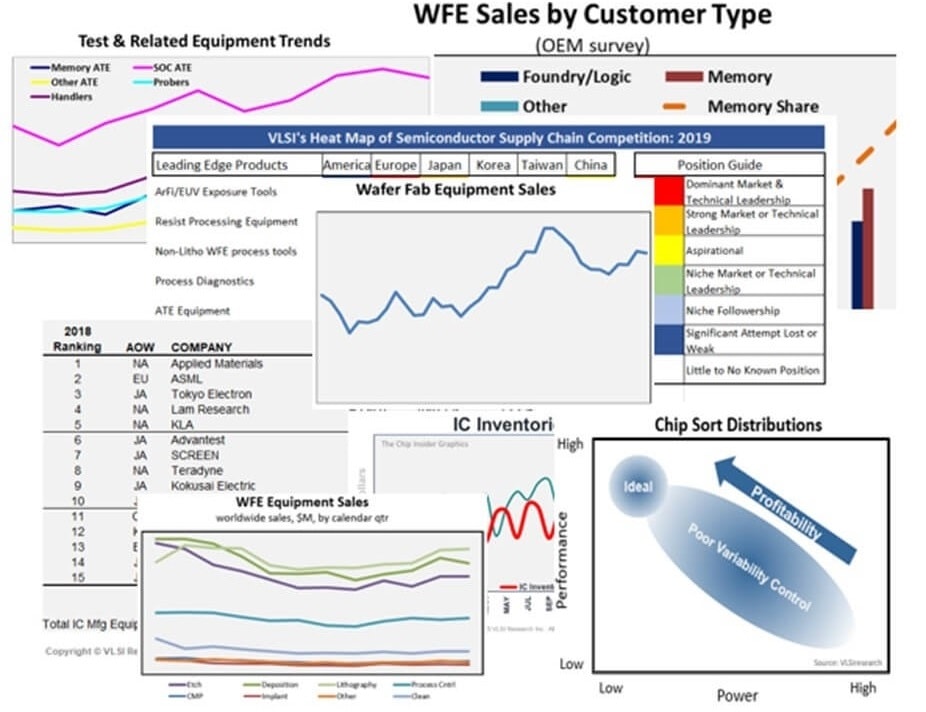 TCI Graphics
Semiconductor manufacturing key performance indicators
Unique view into the health of the semiconductor manufacturing ecosystem
Key performance indicators across electronics, semiconductor, and equipment supply chains
Weather Reports and the IC Price Performance Index
Simple charts to transfer TechInsight's views for use and communication to management, marketing, and operations
Weekly and monthly views and analysis result in immediate actions to manage supply chain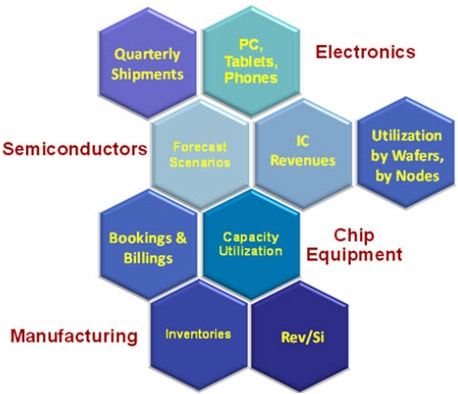 ForecastPro
Baseline data on the semiconductor ecosystem
For semiconductor market knowledge professionals
On-line and email databases and graphics
Essential data for assessing current market status, forecasting, and building dashboards:
Forecast Databases
Driving Forces Databases
TCI Graphics
Weather Report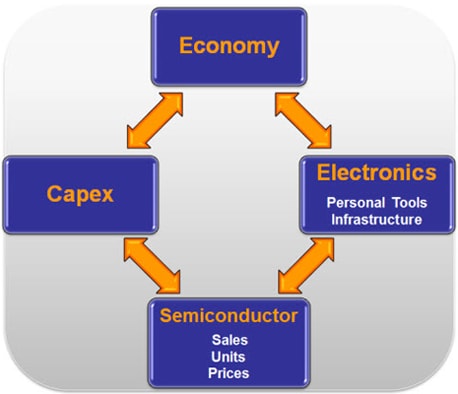 Semiconductor Equipment Database
All about semiconductor equipment markets
The original standard on the semiconductor equipment industry
Market shares and forecasts
Annual and quarterly data series
Market sizing and share data reviewed and accepted by major equipment suppliers
For Corporate Marketing, Product Management, and Investor Relations
An external and independent source to reference
External validation and verification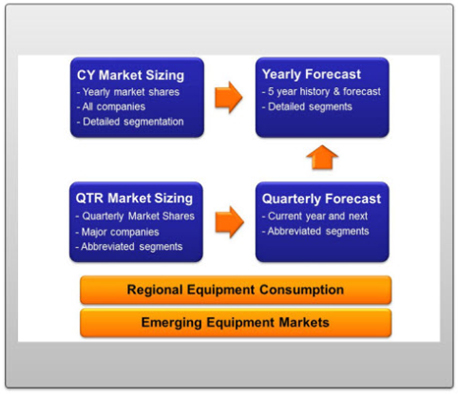 More than Moore
More than Moore Device WFE Equipment Database
Semiconductor Equipment Sales for ≥ 28nm has increased substantially over last four years. This segment comprises 20% of total WFE.
MtM devices have significant share of the overall semiconductor market
Uses both 200mm and 300mm WFE
Both IDMs and Foundries are active buyers of equipment
OSATs, IDMs and Foundries are buying for Advanced Packaging
200mm WFE alone is $4B in sales volume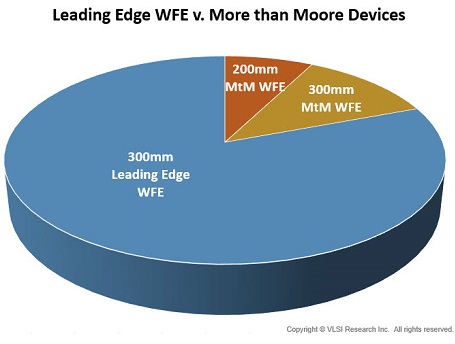 Available Semiconductor Market Analysis
Chip Market Research Services is a modular strategic planning, marketing, and communication tool that spans the semiconductor manufacturing industry.
The Chip Insider® provides strategic and tactical insights.
The Forecast Pro provides the real-time data a professional analyst needs to predict how trends in the semiconductor business environment will affect their business and investments.
IC Equipment Databases cover market shares with annual and quarterly forecasts for these segments.
Semiconductor Analytics is a weekly report addressing the semiconductor supply chain. The research and analysis is end-demand focused and has the objective of providing up-to-date business knowledge. Week-by-week data on electronics and semiconductor demand, along with monthly key performance indicators in electronics and semiconductor application markets are provided to semiconductor suppliers.
Critical Subsystems covers the market on subsystems for semiconductor and related production equipment. These subsystems have been developed to address specific applications and processes within these industries and are dedicated for use on a single tool or process chamber. They perform a particular function in the following key technology areas: Fluid Management, Integrated Process Diagnostics, Optical, Process Power, Thermal Management, Vacuum, and Wafer Handling.
Annual analytics reports that cover test connectivity markets, suppliers, and key customer trends. They include Probe Card, Test & Burn-in Socket, and Device Interface Board (DIB) market analyses.
Single data spread sheets and reports are derived from subscription services and can be purchased separately. They are ideal for one-time, low cost access to the data. Data sheets and reports are available through the TechInsights Platform.

The methodology used in compiling information relies heavily on market simulation and consists of several approaches. The basic theme common to all is data triangulation. Wherever possible, we try to box-in an issue from at least three different directions, sometimes more.
Search our analysis and website
Sign up for latest analysis, news and insights from TechInsights!
Stay informed about TechInsights' products, services, and events. Email collection adheres to TechInsights' Privacy Policy.
Revealing the innovations others cannot inside advanced technology products
Contact
General Inquiries
1-888-666-8888
1891 Robertson Rd #500, Nepean, ON K2H 5B7
Copyright © 2023 TechInsights Inc. All rights reserved.