Product Code
TCR-1804-802
Product Item Code
MED-MT6771V
Device Manufacturer
MediaTek
Device Type
Baseband Processor
Channel
Logic - Transistor Characterization
Image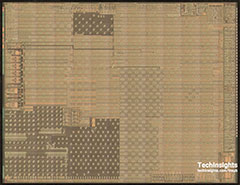 This report presents key DC electrical characteristics for logic NMOS and PMOS transistors located in the core region of the AM10788B die found inside a MediaTek MT6771V application processor. The MediaTek MT6771V device was extracted from an Oppo PACM00 R15 smartphone. The AM10788B die is fabricated using TSMC's 12 nm finFET compact (12 FFC) technology using a HKMG finFET CMOS process.
A unique vault of trusted, accurate data at your fingertips
Our analysis goes as deep as required to reveal the inner workings and secrets behind a broad range of products.
Don't miss another update from TechInsights.
All our latest content updates sent to you a few times a month.