Posted: April 9, 2019
Contributing Author: Daniel Yang & Stacy Wegner
It's here. It's in our labs...
Two major 5G events happened last week: Verizon launched their 5G network in Chicago, and on the other side of the globe, Samsung launched the world's first 5G mobile handset in Korea - the Samsung Galaxy S10 5G. The Galaxy S10 5G SM-G977N is the first iteration of the phone. It is available in Korea where SK Telecom launched their 5G network last year, slightly ahead of Verizon's 5G network launch in the US. The US version of the Galaxy S10 5G is expected in the coming days for the Verizon network and is built with a Qualcomm X50 modem. Both the Korean and Verizon Galaxy phones will support sub-6GHz bands. The Shannon 5500 RF transceiver we found in this phone suggests it does not support mmWave as we had hoped.
Some of the known challenges for designing a 5G mobile phone are power consumption, antenna designs, and heat concerns, so we have patiently awaited the arrival of the Galaxy S10 5G to see with our own eyes just how 5G is designed into a smartphone form factor.
TechInsights' Daniel Yang and Stacy Wegner were among the masses at Mobile World Congress earlier this year who could view the Galaxy S10 5G mobile phone at the Samsung pavillion. The mobile phone was not only enclosed in a glass case inside another glass case, it was roped off with a perimeter of three feet, and had an-all-day security guard standing nearby.
We eventually did find a second Galaxy S10 5G at a less secure display at the Qualcomm booth. This one was 'protected' by an engineer who was pretty tight-lipped about the specific Qualcomm chipset design.
But today there are no glass cases, ropes, or security guards posing as engineers. We have our own phone, built with Samsung's 5G solution, and we are taking it apart.
When the phone is opened, we are presented with a familiar PCB structure:
Yes, it is a Substrate-like PCB (SLB). Apple used an SLB assembly design in its iPhone X back in 2017, and Huawei followed with their Huawei Mate RS Porsche high-end phone. This is the first time we have seen Samsung use an SLB design and we are speculating it has some thermal benefits as well as allowing for more component design space.
We are continuing our analysis of the Galaxy S10 5G and we don't want to leave the SLB assembly topic just yet. Since we are doing this teardown and attending the IDTechEx show in Berlin, where many industry experts are gathering for the next two days to talk about wearables, IoT, and of course, 5G NR we decided to seek out some expert opinions regarding PCB structures.
One of those expert attendees who specializes in PCB design is the Italian high-technology company Cisel, S.r.I. We approached Mr. Moreno Lanari and asked two specific questions: 1) is there an official, technical name to what we have called an SLB assembly? And 2) why is there so much empty real estate on the (smaller) RF top board?
To Mr. Lanari's knowledge, there is no 'official, technical name' to the solder stacking assembly of two PCBs, so we are okay to call it SLB assembly.
The answer to our second question took a little more time to explain. It is possible, in Mr. Lanari's opinion, that the components on the smaller RF PCB are drawing more power, and thus require more thermal dissipation. If this is indeed the case, that may very well be the reason the second side of the board has no components since it is basically the thermal sink for the components on top. He speculated even further and told us that if his (brief) analysis is correct, it would mean that it would be necessary for the components on the top to also make contact to a heat sink like, for example, a metal enclosure.
We did not share our Teardown photos with him, but we can confirm that his speculation is indeed correct. When we look at our Teardown photos, we find there are actually two sets of metal shields. One set are the ones we can see clearly in (RF Board Shields Highlighted in Red). And there was also another shield which makes direct contact to the bottom enclosure (Larger Shield with Black Thermal material highlighted in Blue)./p>
As mentioned, the Apple iPhone X and the Huawei Porsche used the same SLB strategy in their 4G phones as Samsung has now adopted for their first 5G phone.
Samsung Exynos RF 5500
If it was not clear, the top RF board is named as such because it has the majority of the RF components, including the Samsung Exynos RF 5500 transceivers. Even though the Galaxy S10 5G does have the Exynos Modem 5100, which supports mmWave, it is because of the Exynos RF 5500 transceiver we can confirm the phone itself does not. This is why we do what we do - which is look for the evidence and proof, and not listen to rumors or websites.
According to Samsung, its Exynos RF 5500 supports legacy networks and 5G-NR sub-6GHz networks in a single chip. The Exynos RF 5500 has 14 receiver paths for download, and supports 4×4 MIMO (Multiple-Input, Multiple-Output) and 256 QAM (Quadrature Amplitude Modulation).
Since we confirmed the phone has the Exynos RF 5500, and the fact Samsung themselves have listed the RF5500 as only supporting 5G NR Sub-6GHz, we will get to do a future teardown on whichever mmWave phone makes it to the market first.
You may have noticed that there is one unit of Exynos RF 5500 used in the Samsung Galaxy S10+ SM-G975F/DS phone we tore down in March. However, there are two units of Exynos RF 5500 used in this 5G phone. We think it is due to the 5G NR requirements for 1T4R (NSA) and 2T4R (SA), which has doubled the receiver channels of legacy LTE phones. So here, we have seen two Exynos RF 5500 transceivers in the Samsung S10 5G phone.
Samsung Exynos Modem 5100
The Samsung 5G Modem 5100 is Samsung's first 5G modem. It is also the first 5G modem we have seen in an end-user product. Samsung said that the modem supports virtually all networks from 5G's sub-6GHz and mmWave spectrums to 2G GSM/CDMA, 3G WCDMA, TD-SCDMA, HSPA and 4G LTE networks in a single chip.
We have decapped the modem component and got the die photo. The die size (seal) is 6.44 mm x 8.70 mm = 56.03 mm2, built on Samsung's 10LPP FinFET process. We look forward to comparing it to Qualcomm's 5G X50 Modem.
Our costing team has prepared their initial estimates of the costs of this phone. Looking at a comparison between the costs of the Samsung Galaxy S10 5G SM-G977N and the Samsung Galaxy S10 G975F.
TechInsights estimates the cost of parts included in the Samsung Galaxy S10 5G SM-G977N to be $471.00. This represents a $51 increase over the estimated cost of the Samsung Galaxy S10+ SM-G975F.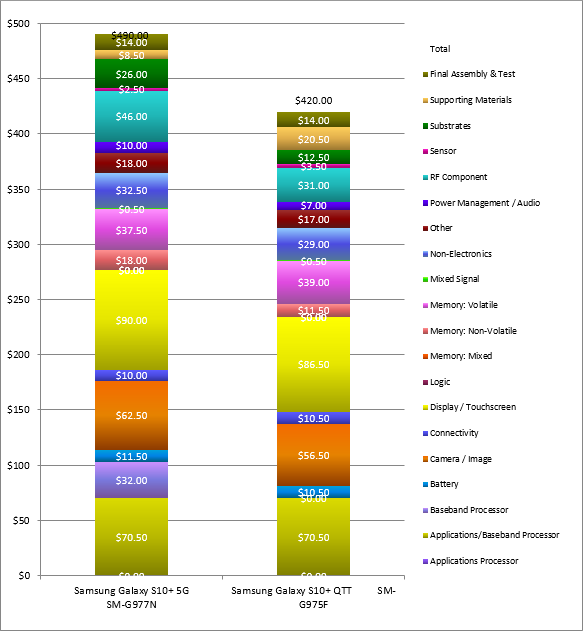 The table below provides a side by side comparison of the different cost areas examined within the phones.
|   | Samsung Galaxy S10 5G SM-G977N | Samsung Galaxy S10+ SM-G975F |
| --- | --- | --- |
| Teardown Date | May-2019 | February-2019 |
| Applications/Baseband Processor | $70.50 | $70.50 |
| Baseband Processor | $32.08 | $0.00 |
| Battery | $11.50 | $10.50 |
| Camera / Image | $62.50 | $56.50 |
| Connectivity | $10.00 | $10.50 |
| Display / Touchscreen | $90.00 | $86.50 |
| Logic | $0.00 | $0.00 |
| Memory: Mixed | $0.00 | $0.00 |
| Memory: Non-Volatile | $18.00 | $11.50 |
| Memory: Volatile | $37.50 | $39.00 |
| Mixed Signal | $0.50 | $0.50 |
| Non-Electronics | $32.50 | $29.00 |
| Other | $18.00 | $17.00 |
| Power Management / Audio | $10.00 | $7.00 |
| RF Component | $46.00 | $31.00 |
| Sensor | $2.50 | $3.50 |
| Substrates | $26.00 | $12.50 |
| Supporting Materials | $8.50 | $8.50* |
| Final Assembly & Test | $14.00 | $14.00 |
| Total | $490.08 | $420.00 |
*Does not include the cost of a $12.00, 128Gb memory card.
Our analysis of the Samsung Galaxy S10 5G continues. Check back for updates.
Sign up for latest analysis, news and insights from TechInsights!
Stay informed about TechInsights' products, services, and events. Email collection adheres to TechInsights' Privacy Policy.
Revealing the innovations others cannot inside advanced technology products
Contact
General Inquiries
1-888-666-8888
1891 Robertson Rd #500, Nepean, ON K2H 5B7
Copyright © 2023 TechInsights Inc. All rights reserved.