EXPERIENCE THE WEBINAR
The Samsung Galaxy S23 Ultra - Inside the Flagship
April 5, 2023
In this exclusive webinar, our experts will deliver an in-depth analysis of the components within this device, highlight what changed from previous versions, and forecast how this might impact other smartphone and parts manufacturers. Our market analysts will also share their forecasts and industry insights for Samsung and other industry leaders within the ever-competitive smartphone marketplace.
Posted: March 1, 2019
Contributing Authors: Michelle Alarcon, Daniel Yang, Stacy Wegner, Albert Cowsky
We got the new Samsung Galaxy S10+ a little early! TechInsights received the Exynos Samsung Galaxy S10+ SM-G975F/DS from Korea and it has been in our labs since early this morning. We are excited to publish some photos and early observations of the new Galaxy flagship mobile phone. As always, we will continue to update our page as we progress through the Teardown, and our TechInsights subscribers can get all of the photos of the Teardown and any other device using our Real-Time-Update (RTU) on the new TechInsights App.
We will also examine the Qualcomm Galaxy S10 model for the North American market in the coming days. Until then we will focus on the Exynos model.
Costing Data
Along with our analysis of the inner workings of the Galaxy S10+, we also performed a quick cost estimate on the unit. Here, we present a few costing points of note, along with an overview of cost allocation in the phone.
Samsung was able to save some money by using their new Exynos 9820 at 8 nm over their Exynos 9810 at 10 nm. Both die sizes are roughly the same (122 mm2 on the S9+ and 124 mm2 in the S10+), but the S10+'s processor costs about $10 less than the S9+'s unit due to wafer pricing drops in the past 10+ months.
The display cost has increased about $9 due to the larger size, the punch hole and the edge-to-edge design.
Memory Pricing continues to fall at a dramatic pace, allowing Samsung to double the storage from 64GB to 128GB in the base unit and add an additional 2GB of LPDDR4X without an additional cost increase. Samsung also included a free 128GB microSD card in the box of the S10+ which adds just under $12 to their Supporting Material costs.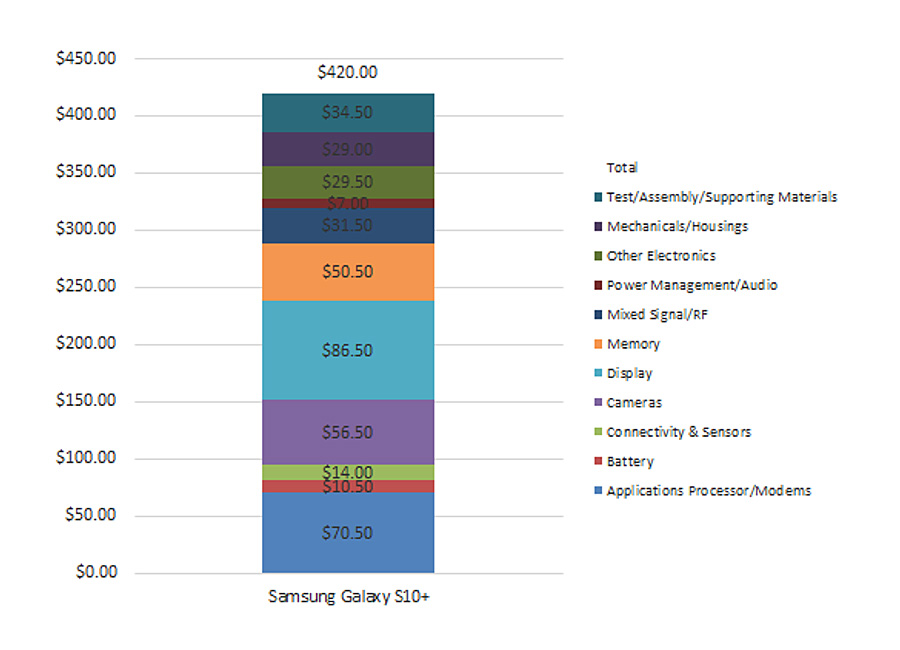 By the calculations of our quick turn estimate, the Samsung Galaxy S10+ cost $420 to make. This represents 42% of the $999.99 street price. The Samsung Galaxy S9+ cost $406 to make and that represents 48% of their $839.99 street price, so the S10+ is providing a bit more profit for Samsung. This has more to do with the increased street price than anything.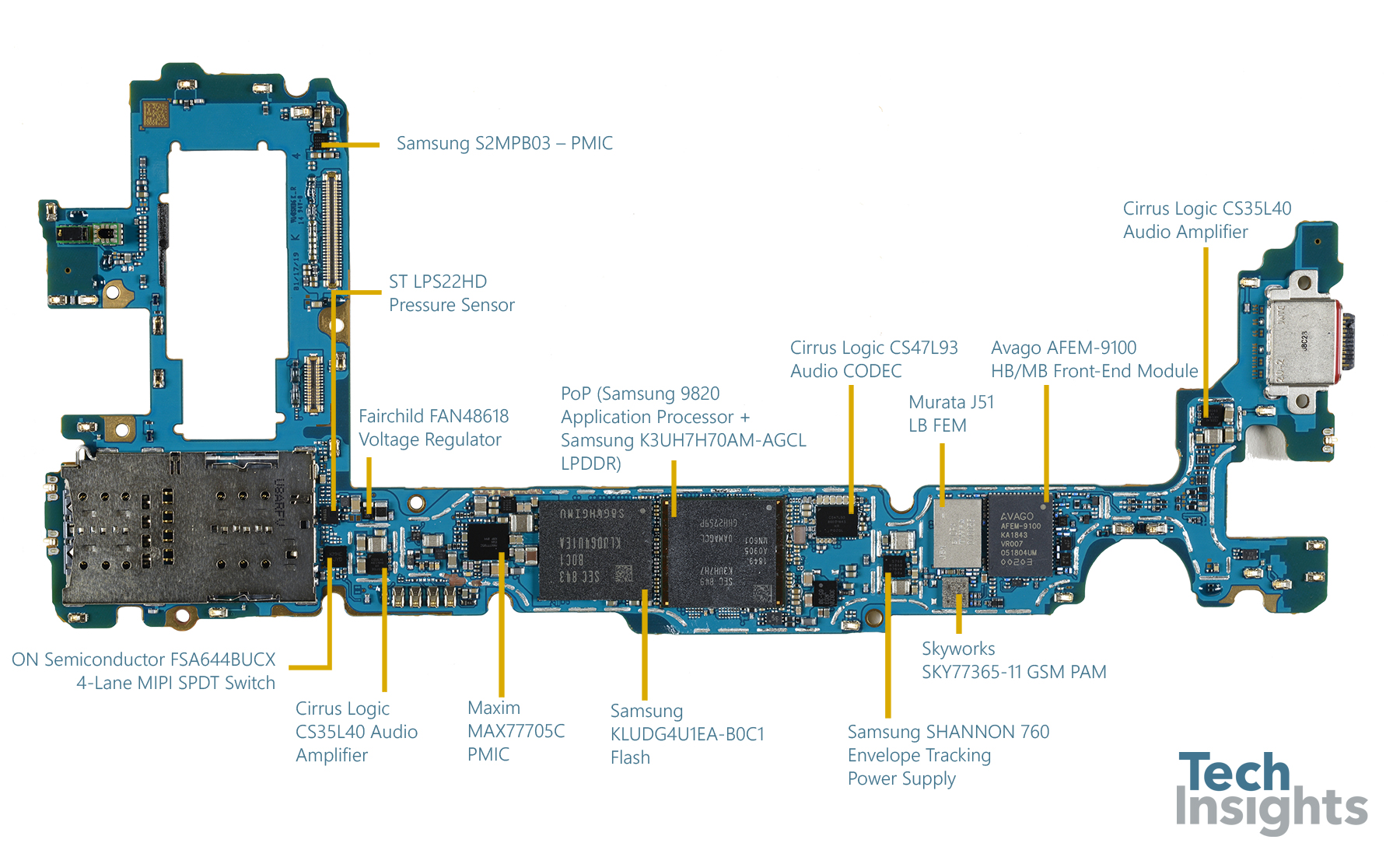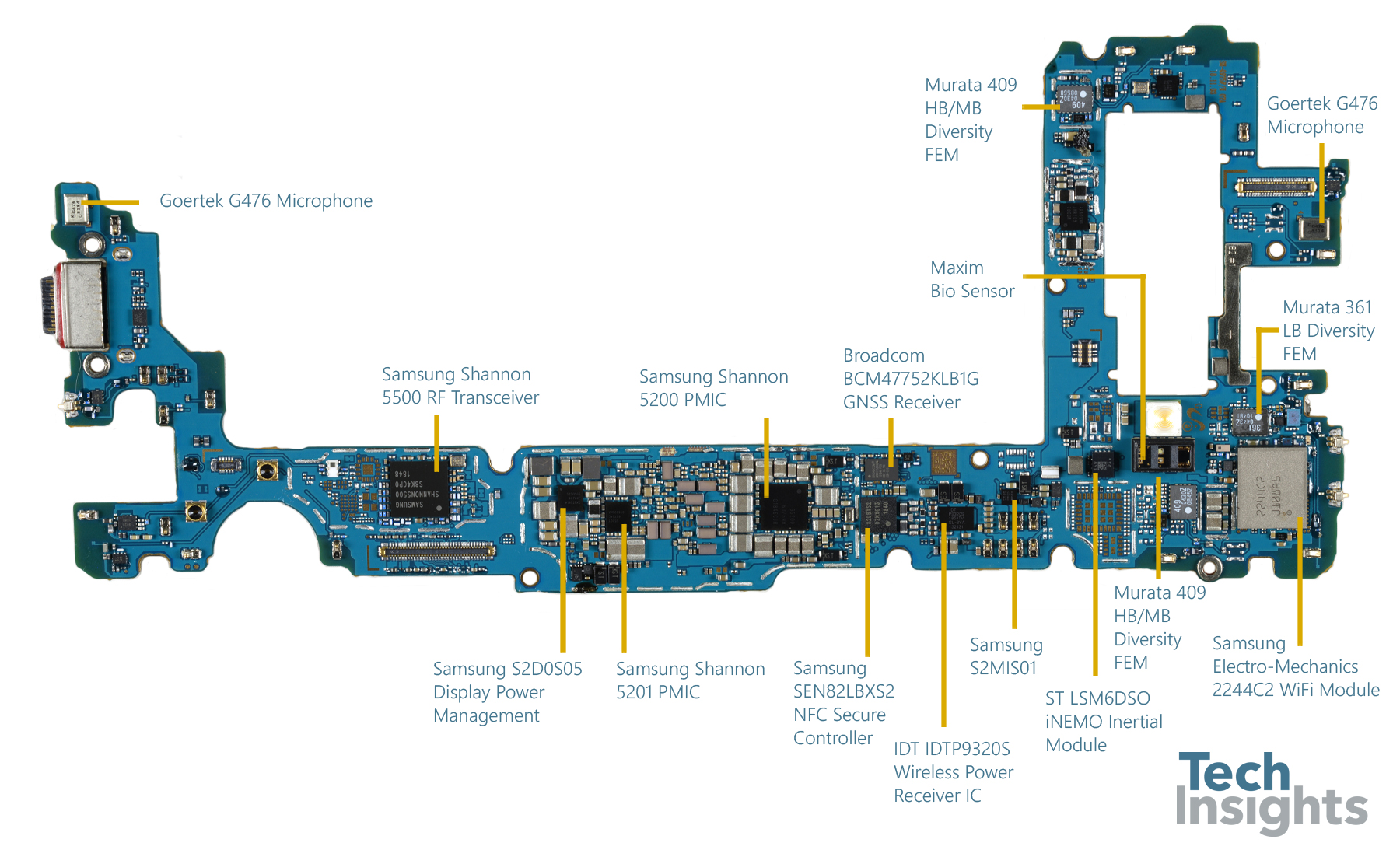 Display Assembly
The Samsung Galaxy Display has a couple of exciting new features. The first is the Infinity O display. This type of display is not really brand new; the first Samsung released to market with an Infinity O display was actually the Galaxy A8s, followed by the Galaxy A9 Pro. However, the fact cannot be overlooked that Samsung submitted in January of 2018 a patent application to the World Intellectual Property Organization (WIPO) which has different display drawings for an 'Infinity' type of display. There have also been Samsung patents filed for their Infinity U and Infinity V displays with the US Patent and Trade Office (USPTO).
According to Samsung, to build the Infinity O display, they use a laser technique they call Hole in Active Area (HIAA) which requires them to use a diode-pumped solid state laser to 'punch' a hole, or holes, into the panel. It is rumored that the Infinity O display will be exclusive to Samsung for some time.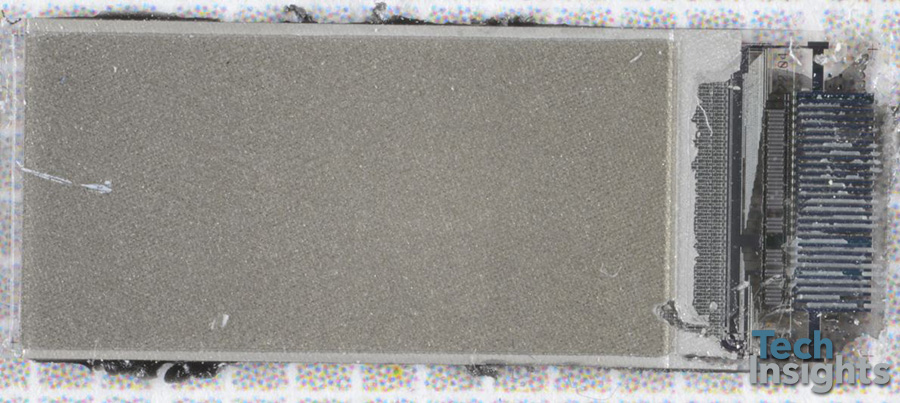 Fingerprint Sensor
Biometric security is added to the display subsystem using the only Qualcomm part we have found in the Exynos Galaxy S10+ so far. This new, ultrasonic sensor uses sound waves generated using a piezo-electric component. The entire solution is provided by Qualcomm and includes their QBT2000 ASIC assembled to a flex substrate. There are a couple of advantages for using sound waves instead of an optical in-display fingerprint sensor like we first saw in the Vivo X21 UD
The first is the 3D Sonic solution, which allows for unlocking the phone even when there is debris or moisture on the finger, or if for some reason you need to unlock your phone while it is submerged in water. This is because the sensor is looking for density differences in the fingerprint instead of an optical image.
Two other points of note about the Qualcomm 3D sonic sensor: the first, which can be most important from a manufacturing standpoint, is the Qualcomm 3D Sonic solution does allow for assembly rework in the manufacturing line if there is an issue with the main display subsystem or with the sensor assembly itself. This means if the panel or the sensor assembly are not repairable, it is possible to save at least some of the assemblies. This can amount to cost savings in an event a defect occurs.
The second note, Qualcomm has several different sizes for the 3D Sonic Sensor. In the Galaxy S10+, the sensor is only 4mm x 9 mm, however, Qualcomm reports larger sensors are on their way, including a sensor with 24 cm2 large area.
More Cameras
Samsung increased the number of cameras on both the front and rear of the cameras setups, delivering five total camera systems in the Galaxy S10+ over the three cameras from last year's Samsung Galaxy S9+.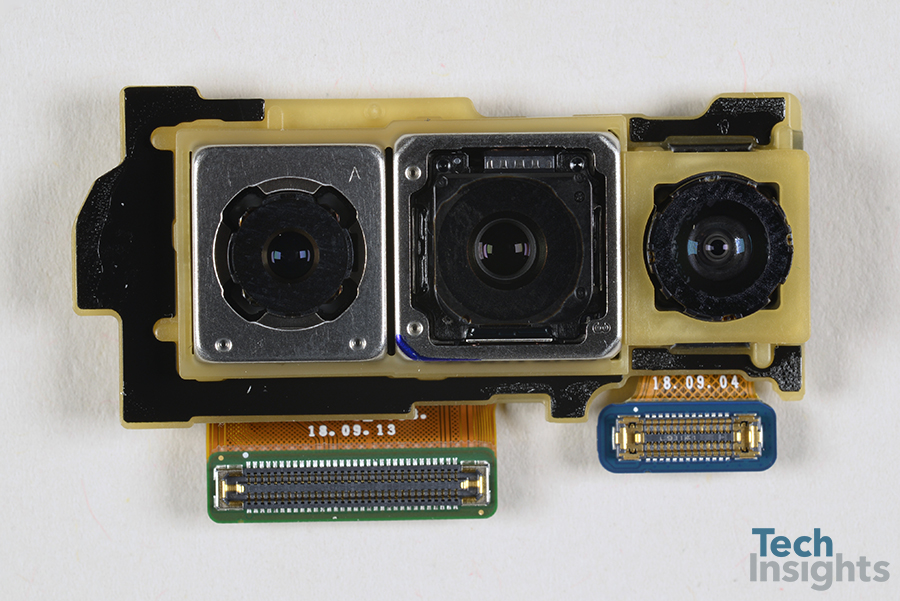 Rear-facing Camera
The Galaxy S10+ rear camera adds a 16MP ultra wide camera with the dual 12 MP camera system. Last year, TechInsights found a total of seven coils for the autofocus function for the rear camera system. We suspect a similar design this year for the dual 12 MP cameras along with an additional autofocus assembly for the new ultra wide camera.
Autofocus and optical image stabilization (OIS) are techniques used more often than not in today's mobile cameras. The cost for adding autofocus has increased significantly over the last few years due to adding more components like additional coils and the autofocus driver ICs.
Front-facing Camera
The 10 year anniversary of the Galaxy sees it coming to market without an Iris scanner on the front camera system. Instead Samsung designed the front camera with a dual 10 MP and 8 MP camera system. A first glance at this subsystem on our Galaxy S10+ looks like the camera subsystem is provided by Samsung Electro Mechanics (SEMCO). It is not yet known whether Samsung dual sourced the front cameras.
It will be interesting to compare the physical design and cost differences between the camera systems of the new Galaxy S10+ and the last year's Samsung Galaxy S9+ which had estimated cost of a little less than $14 USD. Last year's front camera system only had autofocus on the 8 MP camera and the 6 MP IRIS camera had Samsung's new S5K5F1 monochrome sensor.
Exynos Applications / Baseband Processor
This first Samsung Galaxy S10+ we purchased is for the Korean market, and just as it has been historically for the Galaxy S mobiles, the Korean model is powered by Samsung's own Exynos Application processor (AP). The new processor is the Exynos 9820 and is fabbed using Samsung's 8 nm LPP (Low Power Plus) FinFET process. The Exynos 9820 is one of the two ICs in a Package-on-Package (PoP) assembly found on side 1 of the main board.
The second IC of the PoP assembly is the Samsung Semiconductor 8 GB LPDDR4x DRAM K3UH7H70AM-AGCL. It is Samsung's 2nd-generation 10nm-class (1y) LPDDR4X. Here it is assembled on top of the Samsung Exynos 9820 AP.
This is not the first time we have seen the new memory chip. We first found it more recently assembled with the new Qualcomm Snapdragon 855 in the Lenovo Z5 Pro GT.
As mentioned earlier, our TechInsights subscribers have access to the latest Teardown information of the Lenovo Z5 Pro GT using their exclusive access to RTU on the TechInsights App.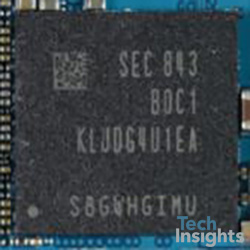 Flash Memory
Neither the Galaxy S10+ nor the Samsung Galaxy S10 will have the new UFS 3.0 memory IC - that honor is going to found on the upcoming Samsung Galaxy Fold which we will see later in April.
For the Galaxy S10 phones we found the same Samsung KLUDG4U1EA-B0C1, a 128GB UFS 2.1 flash memory we saw in the Samsung Galaxy Note 9 and many other smartphones.
RF Transceiver
The Samsung Exynos 9820 modem found in the Galaxy S10+ is said to achieve LTE Cat 20 download speeds of 2 Gbps, (and Cat 13 upload speeds of 150 Mbps). And to help support the new Exynos modem achieve these speeds usually means a new RF transceiver is also needed. In the Galaxy S10+ we find a new Samsung Shannon 5500, a new RF Transceiver. The new transceiver is currently in our labs so that we can confirm its process node.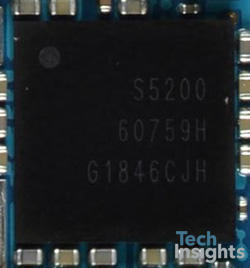 Power Management IC (PMIC)
Power management will continue to be a big focus, especially as more features like multiple camera-mobile phones are released to the market. In the Galaxy S10+ we once again find a total of six individual power management ICs, three of which are specifically for either the cameras and display:
Samsung Shannon 5200, Shannon 5201, Maxim MAX77705C, Samsung S2MPB02&S2MPB03,(Camera PMICs), Samsung S2DOS05 (Display Power Management IC).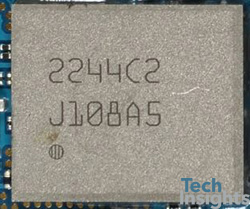 Wi-Fi / BT Module
This is the Samsung 2244C2 Wifi / BT module. We depotted it, and have confirmed a Broadcom win with the BCM4375 SoC, a dual-band Wi-Fi 6 (802.11ax)/Bluetooth 5.0 wireless combo IC.
It is a competing product to Qualcomm's WCN3998 Wifi/Bluetooth 5.0 wireless combo IC which we found in the Lenovo Z5 Pro GT. Further analysis of these wifi 6 chips is available through TechInsights IoT Connectivity SoC subscription service.
Envelope Tracking IC
Samsung Shannon 760. This is a new Envelope Tracking IC.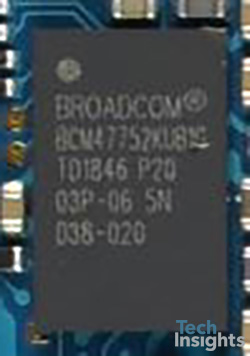 GNSS
Broadcom BCM47752, a GNSS Receiver with Integrated Sensor Hub. We have seen it before in a few Samsung phones and other companies' products.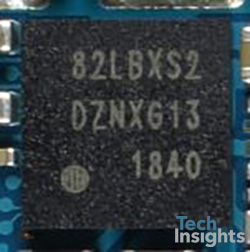 NFC
Samsung 82LBXS2. We expect that it has Samsung's own NFC Controller and Secure Element (SE).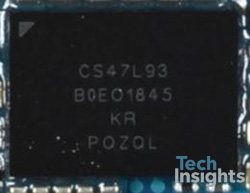 Audio ICs
Cirrus Logic CS47L93 Audio Codec and two CS35L40 Audio Amplifiers.
Wireless Charger
IDT wins the wireless charger receiver IC socket again with their P9320.
What's Next
We will continue to update this blog with new information over the coming days. We will also be looking more closely at Samsung's historical parts costs. Subscribe to our blog, or follow us on Twitter for notifications.
In addition, our usual col-sm-12 col-lgor commentators to Teardown blogs - Daniel Yang and Stacy Wegner - just wrapped up their Mobile World Congress tour in Barcelona. You can track what they saw through our Twitter feed.
Sign up for latest analysis, news and insights from TechInsights!
Stay informed about TechInsights' products, services, and events. Email collection adheres to TechInsights' Privacy Policy.
Revealing the innovations others cannot inside advanced technology products
Contact
General Inquiries
1-888-666-8888
1891 Robertson Rd #500, Nepean, ON K2H 5B7
Copyright © 2023 TechInsights Inc. All rights reserved.