Posted: September 13, 2017, Updated: November 8, 2017
Contributing Authors: Daniel Yang, Stacy Wegner, Jim Morrison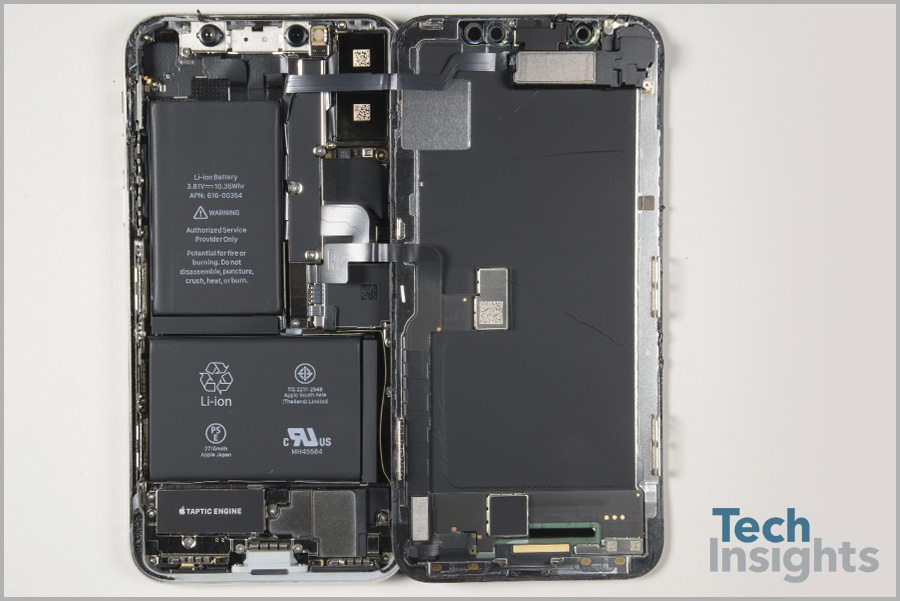 Apple used the tagline "Say hello to the future" to introduce the era of the iPhone X, and with the iPhone X in our lab for teardown, we are working to bring our readers news of the innovations made by Apple in their latest smartphone offering.
We recently completed the iPhone 8 Plus teardown, and have examined the evolution of key iPhone hardware – i.e. Application Processors and CMOS Image Sensors – used by Apple for every generation of iPhone over the past 10 years.
There are a lot of firsts for Apple in this phone. The iPhone X is Apple's first full-screen phone, with a 5.8-inch OLED Super Retina screen.
Here is what we saw inside the phone when we first opened it.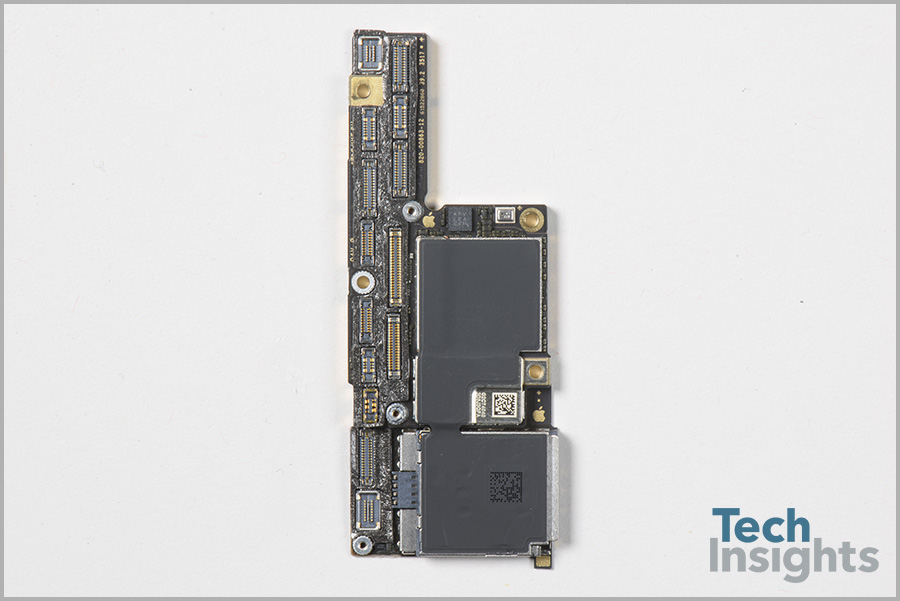 The first thing we noticed was that there are two batteries. It looks like this change was made in the interests of real estate: by splitting one larger battery into two, the smaller batteries are easier to position inside the packed phone. The new split-cell configuration provides marginally more power than the iPhone 8 Plus' single battery (2716mAh vs 2681mAh); however, according to Apple, the iPhone X is estimated to provide the same talk time, but less internet and video playback time than the iPhone 8 Plus. This higher power consumption than iPhone 8 Plus appears to be confirmed by various battery life tests published on the iPhone X since its release.
The iPhone X uses 2 PCBs, which is pretty impressive considering that Apple was able to keep the overall thickness of phone to 7.7 mm. They are Substrate-like PCB (SLB).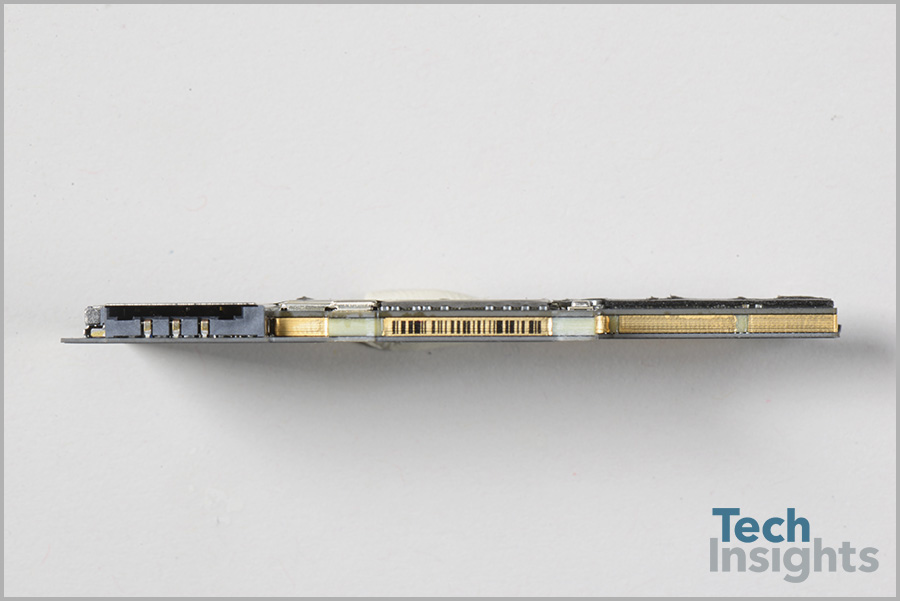 Here in the cross section images we see evidence of this adoption of SLPs. SLPs are very high density substrates. They will employ conductors down to 10 um or 15 um in width. SLPs also make use of microvias that can be blind or buried in diameters down to 10 or 15 um.
We were reminded by iFixit that this stacked solution in the iPhone X is not new for Apple. Whether by design or just coincidence, the iPhone X PCB (SLB) assembly has made a full circle back to the assembly of the original iPhone.
Costing
Here is a high-level view into the costs of the various components of the iPhone X: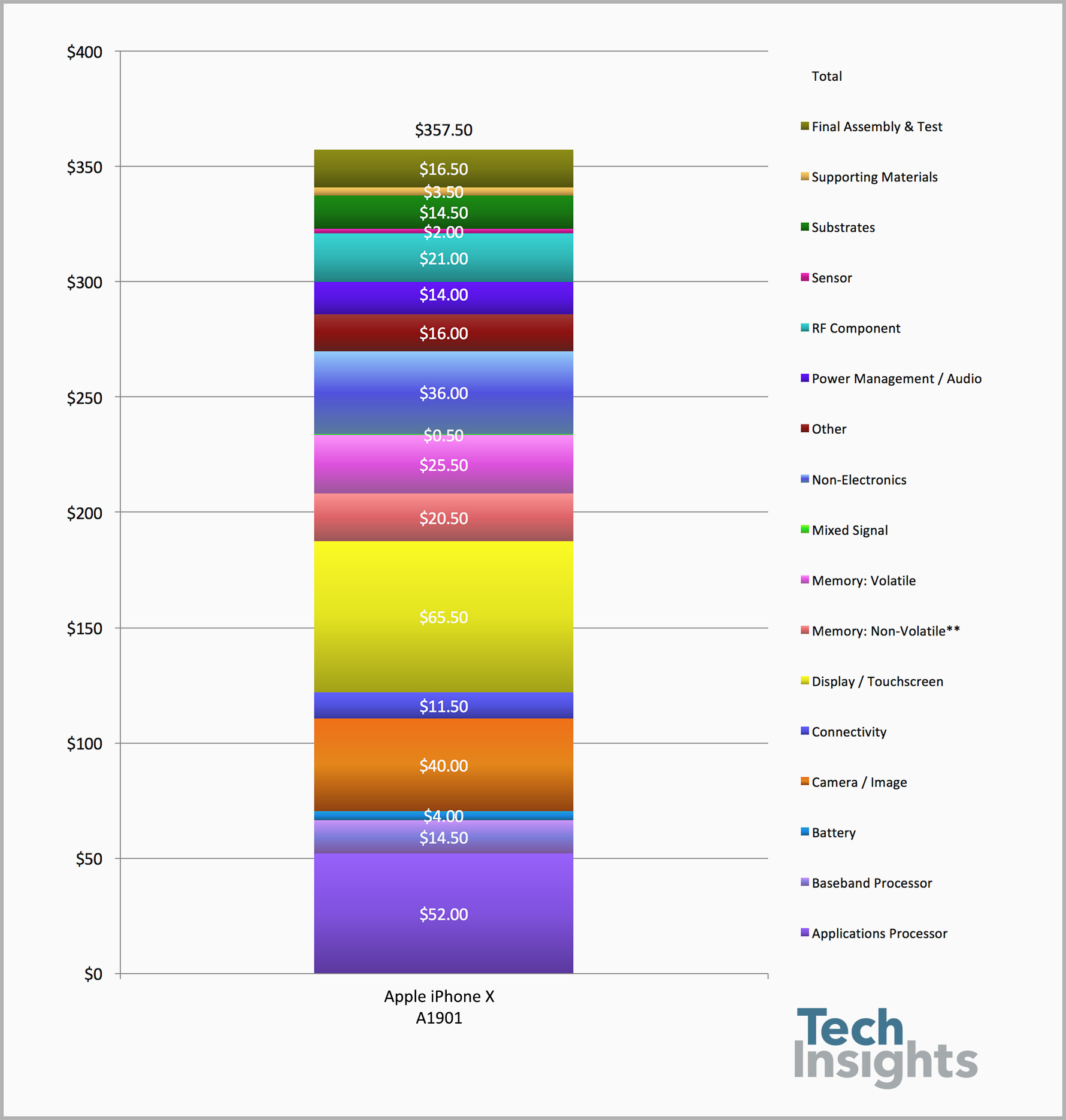 Apple iPhone X
A1901
Teardown Date
November 2017
Applications Processor
$52.00
Baseband Processor
$14.50
Battery
$4.00
Camera / Image
$40.00
Connectivity
$11.50
Display / Touchscreen
$65.50
Memory: Non-Volatile**
$20.50
Memory: Volatile
$25.50
Mixed Signal
$0.50
Non-Electronics
$36.00
Other
$16.00
Power Management / Audio
$14.00
RF Component
$21.00
Sensor
$2.00
Substrates
$14.50
Supporting Materials
$3.50
Final Assembly & Test
$16.50
Total
$357.50
* Costing note: All cost estimates provided here are compiled using information available to us at the time of the initial teardown. Some assumptions have been made where concrete data is not yet available. We will continue to gather and refine this costing data throughout our on-going deep-dive teardown process and analysis. While we do not expect drastic cost changes, we do expect some adjustments.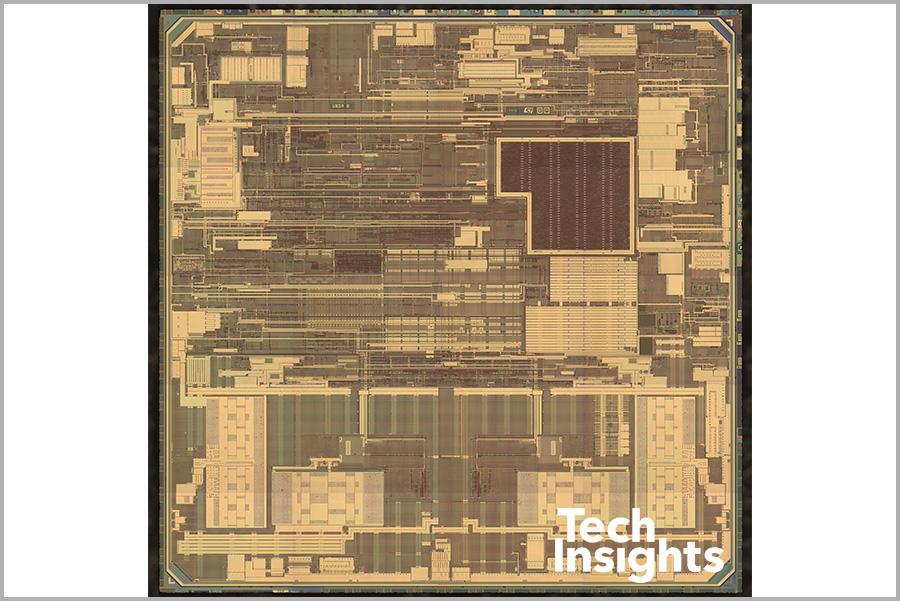 OLED Display PMIC
STMicroelectronics wins the OLED Display PMIC socket in the iPhone X. This is different from other teardowns of mobile phones which have used a Samsung OLED display driver for 5" or larger displays. Most of the teardowns of mobile phones with additional display power management have been almost exclusively Texas Instruments wins, and predominantly with TPS65633 ICs.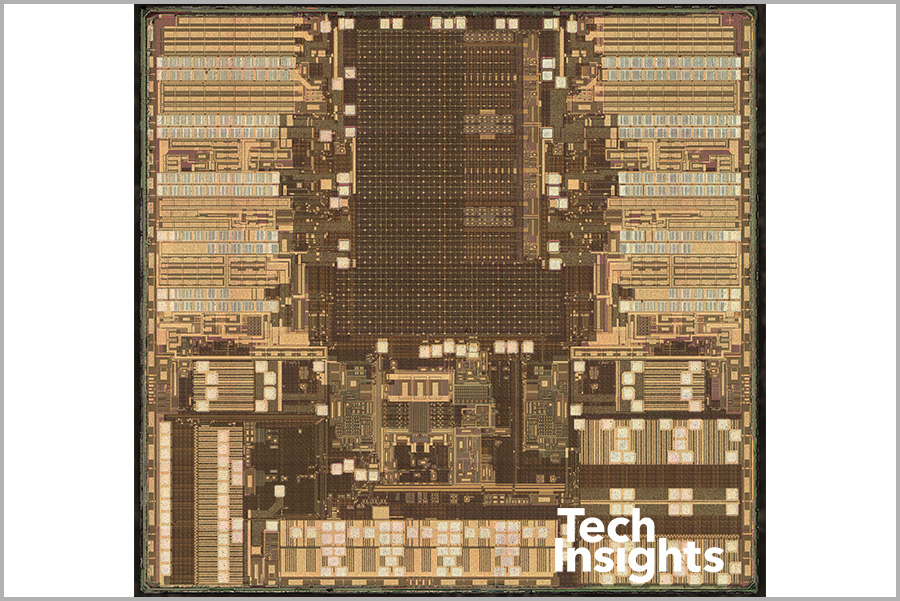 Another STMicroelectronics Win?
Meanwhile, we found an ASIC in the main logic board, with package markings STB600B0. We think it is very likely from STMicroelectronics. We have depotted it and got the die photos. We suspected that it is PMIC with multi buck-boost voltage regulators, might be related to display or Face ID
iPhone X, iPhone 8 Plus, and iPhone 8 Key Components Comparison
|   | iPhone X (A1901) | iPhone 8 Plus (A1897) | iPhone 8 (A1905) |
| --- | --- | --- | --- |
| Application Processor | A11 Bionic | A11 Bionic | A11 Bionic |
| Baseband | Intel XMM7480 (PMB9948) | Intel XMM7480 (PMB9948) | Intel XMM7480 (PMB9948) |
| RF Transceivers (x2) | Intel PMB5757 | Intel PMB5757 | Intel PMB5757 |
| LPDDR4 SDRAM | Vary by manufacturer and part number | Vary by manufacturer and part number | Vary by manufacturer and part number |
| NAND Flash | Vary by manufacturer and part number | Vary by manufacturer and part number | Vary by manufacturer and part number |
| WiFi / Bluetooth | Murata w/ Broadcom SoC | USI w/ Broadcom SoC | Murata w/ Broadcom SoC |
| Image Sensor(s) - Rear | Work in progress | Sony / Sony | Sony |
| Image Sensor - Front | Sony | Sony | Sony |
| ToF | STMicroelectronics | STMicroelectronics | STMicroelectronics |
| NFC | NXP PN80V | NXP PN80V | NXP PN80V |
| PMIC (3 total) | Intel PMB6848, Apple / Dialog 338S00341&338S00306 | Intel PMB6848, Apple / Dialog 338S00309&338S00306 | Intel PMB6848, Apple / Dialog 338S00309&338S00306 |
| USB Type-C | Cypress CYPD2104 | Cypress CYPD2104 | Cypress CYPD2104 |
| Audio IC | Apple/Cirrus Logic | Apple/Cirrus Logic | Apple/Cirrus Logic |
| Wireless Charging | Broadcom BCM59355 | Broadcom BCM59355 | Broadcom BCM59355 |
Latest Posts From Our Blogs