Worldwide silicon demand and OEM electronics sales are expected to slow to 7% and 6% in 2022 as semiconductor shortages are abating and Macro headwinds intensify
ForecastPro
Updates included are the following:
ForecastPro:

Silicon Demand – v22.07
Electronics and Macroeconomy Industry Forecast – v22.07
Historical Ratios and Utilization Rates – v22.07
Long-Term Semiconductor and Equipment Forecast – v22.06
The semiconductor industry carried much of the strong momentum from the last couple of years into 2022 with silicon demand increasing more than 10% in 1H22 from a year ago. However, the momentum is expected to wane in 2H22 due to rising inventory levels, weaker consumer demand, and a slowing macroeconomic environment. Much of the weakness at the Macro level has been driven by the FED, which has been raising interest rates substantially to rein in soaring inflation. This is slowing economic activity and curtailing demand. This will also affect OEM electronics which are now expected to grow 6%, down from our previous forecast of 7%.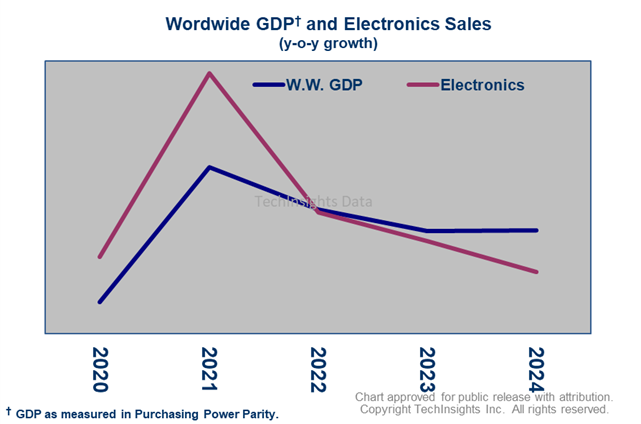 Free Newsletter
Get the latest analysis of new developments in semiconductor market and research analysis.
Subscribers can view more articles in the TechInsights Platform.
You must be a subscriber to access the Manufacturing Analysis reports & services.
If you are not a subscriber, you should be! Enter your email below to contact us about access.
The authoritative information platform to the semiconductor industry.
Discover why TechInsights stands as the semiconductor industry's most trusted source for actionable, in-depth intelligence.