Worldwide OEM Electronics Sales Soared 19% Last Year
Updates to Semiconductor Market Research Services on Website & Mobile App:
ForecastPro Module

Electronics & Macroeconomy - V22.03
Historical Ratios & Utilization Rates - V22.03
Diffusion Rates of Chip Making - V22.03
Worldwide electronics sales soared 19% last year and are expected to grow another 7% this year as demand remains robust across the board. Personal tools surged nearly 22% in 2021. Due to a favorable shift in ASP mix, cellular handsets recorded a 25% increase in revenues while unit volumes increased only 5%. IT Infrastructure jumped 12%. Automotive sales soared 25% last year. Driving this huge increase was the electronic content, which surged nearly 21% last year.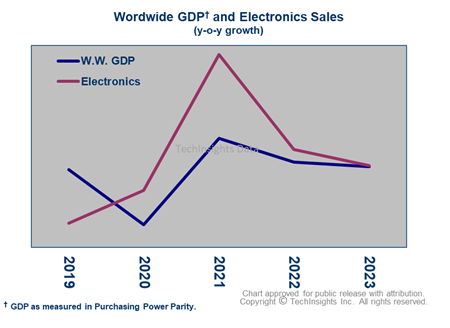 Free Newsletter
Get the latest analysis of new developments in semiconductor market and research analysis.
Subscribers can view the full article in the TechInsights Platform.
You must be a subscriber to access the Manufacturing Analysis reports & services.
If you are not a subscriber, you should be! Enter your email below to contact us about access.
Sign up for latest analysis, news and insights from TechInsights!
Stay informed about TechInsights' products, services, and events. Email collection adheres to TechInsights' Privacy Policy.
Revealing the innovations others cannot inside advanced technology products
Contact
General Inquiries
1-888-666-8888
1891 Robertson Rd #500, Nepean, ON K2H 5B7
Copyright © 2023 TechInsights Inc. All rights reserved.