Worldwide OEM electronics sales are expected to fall nearly 2% this year
Updates included are the following:
Electronics & Macroeconomy Forecast – V22.10
Diffusion Rates and Historical Ratios and Utilization – V22.10
Worldwide OEM electronics sales are expected to fall nearly 2% this year, down from our previous forecast of 6% as soaring inflation dampens demand and geopolitical concerns mount. Personal tools are getting hit hard by inflation resulting in waning demand. They are on track to decrease more than 8% this year.
On the positive side, IT Infrastructure will continue to grow in 2022. The rapid expansion in the cloud from Cloud Service Providers (CSPs) has been a huge driver for server demand. Automotive sales are expected to surge 8% this year, driven by significant increases in the silicon content. Advancements in safety features, rising levels of autonomy, infotainment systems, coupled with an increasing share of electric vehicles, will drive a strong rise in electronics content, propelling sales higher in the coming years.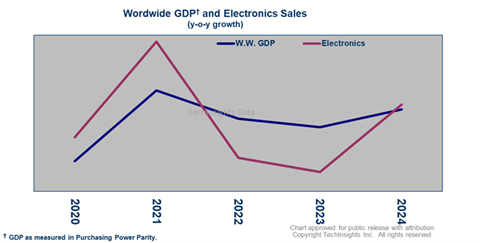 Free Newsletter
Get the latest analysis of new developments in semiconductor market and research analysis.
Subscribers can view the full article in the TechInsights Platform.
You must be a subscriber to access the Manufacturing Analysis reports & services.
If you are not a subscriber, you should be! Enter your email below to contact us about access.
Sign up for latest analysis, news and insights from TechInsights!
Stay informed about TechInsights' products, services, and events. Email collection adheres to TechInsights' Privacy Policy.
Revealing the innovations others cannot inside advanced technology products
Contact
General Inquiries
1-888-666-8888
1891 Robertson Rd #500, Nepean, ON K2H 5B7
Copyright © 2023 TechInsights Inc. All rights reserved.