Visibility remains low as we enter 2H23 (June Update)

Shereen Vaux
Order activity for semiconductor equipment increased but remains at a cold 42 °F. There were some notable changes made to our forecasts this month. ICs were upgraded; sales are now projected to fall 14% due to the improvement in the ASP mix (mainly in Logic). Total IC ASPs are now only falling 5%. This ASP improvement is giving 2024 IC sales a boost as well, sales are now expected to grow 13% next year. Electronic sales were downgraded this year to -3%. The Semiconductor Equipment Forecast remains unchanged.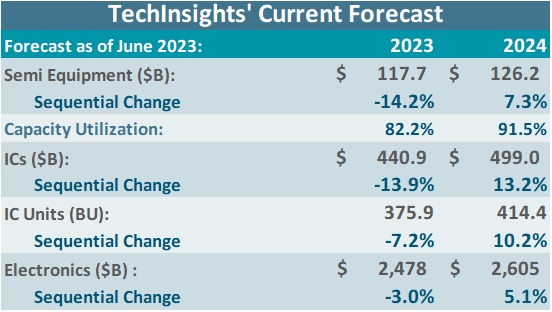 Free Newsletter
Get the latest analysis of new developments in semiconductor market and research analysis.
Subscribers can view the full article in the TechInsights Platform.
You must be a subscriber to access the Manufacturing Analysis reports & services.
If you are not a subscriber, you should be! Enter your email below to contact us about access.
The authoritative information platform to the semiconductor industry.
Discover why TechInsights stands as the semiconductor industry's most trusted source for actionable, in-depth intelligence.