There weren't many fireworks this Fourth of July

Shereen Vaux
Order activity for semiconductor equipment increased but remains at a cold 42 °F. Micron's results and outlook were largely in line with our expectations; the memory market environment remains challenging as inventory write-downs peak. More importantly, Micron's forecasted reduction of bit-growth demand for DRAM and NAND, coupled with further cuts in utilization rates, suggests the pace of the recovery for the memory market will be muted this year. On the equipment side, the Netherlands has finalized their export restrictions. While the restrictions don't single out any specific country, the restrictions will require ASML to apply for an export license with the Dutch government for all shipments of its most advanced immersion DUV lithography systems. Despite these restrictions, ASML does not expect this to have an impact on their performance in the short or long term.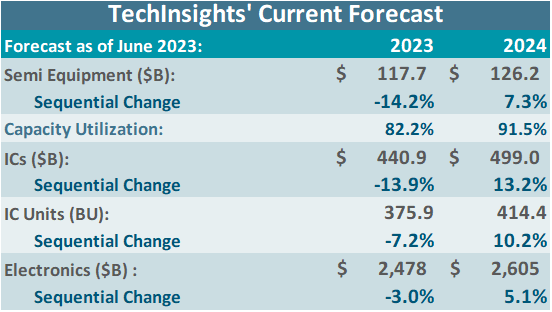 Free Newsletter
Get the latest analysis of new developments in semiconductor market and research analysis.
Subscribers can view the full article in the TechInsights Platform.
You must be a subscriber to access the Manufacturing Analysis reports & services.
If you are not a subscriber, you should be! Enter your email below to contact us about access.
The authoritative information platform to the semiconductor industry.
Discover why TechInsights stands as the semiconductor industry's most trusted source for actionable, in-depth intelligence.