TechInsights' Semiconductor Analytics Report

Shereen Vaux
Semiconductor sales were flat last week and were down 24% from this time in 2022. The IC weather declined 1.5° and remains in Temperate conditions. Zooming in on NAND this week, the 13-week MA is down 60%. TechInsights forecasts NAND sales are forecasted to plummet 43% YoY to $30B in 2023.
TechInsights' IC Supply/Demand Heat Map suggests the market has moved from Saturated to Balanced conditions. Foundry, More Moore, and More than Moore all moved from Loose to Balanced conditions. OSAT moved back to Shortage from Tight while Analog & Power transitioned back to Tight from Balanced.
Retail prices of electronics continue to fall.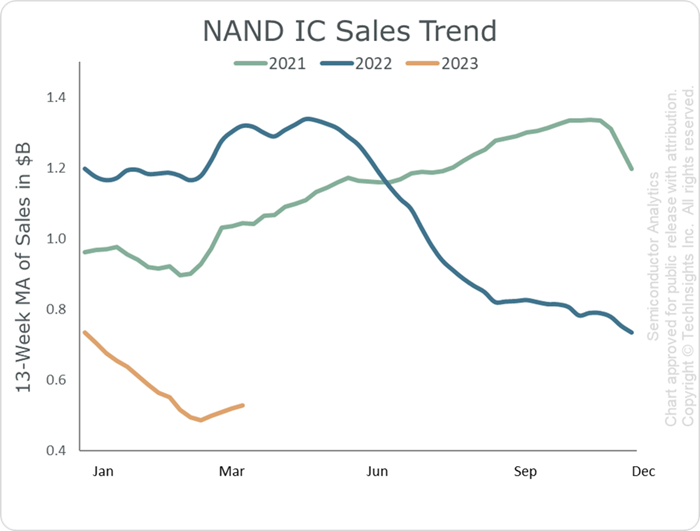 Free Newsletter
Get the latest analysis of new developments in semiconductor market and research analysis.
Subscribers can view more articles in the TechInsights Platform.
You must be a subscriber to access the Manufacturing Analysis reports & services.
If you are not a subscriber, you should be! Enter your email below to contact us about access.
Sign up for latest analysis, news and insights from TechInsights!
Stay informed about TechInsights' products, services, and events. Email collection adheres to TechInsights' Privacy Policy.
Revealing the innovations others cannot inside advanced technology products
Contact
General Inquiries
1-888-666-8888
1891 Robertson Rd #500, Nepean, ON K2H 5B7
Copyright © 2023 TechInsights Inc. All rights reserved.