TechInsights Critical Sub-systems Graphics file on Platform
Updated CSUBS Graphics file is now available:
Driving Forces

Misc. Reports

CSUBS Graphics 230203

CSUBS, Equipment, Macroeconomic quarterly
CSUBS, Equipment sales forecast annual
Supply Chain revenues and diffusion rates
TechInsight's spot market CPPI
IC Inventories
CSUB Inventories
Semi Equipment utilization
Fab utilization and capacity by wafer size
Fab utilization and capacity by node
Semi production equipment orders, revenues
Silicon Revenue
Semiconductor production and capacity
IC market revenue and units
Production for semiconductors has slowly declined since July 2022 as high inventory levels combined with slowing demand has left the chip market saturated. This means capacity utilization across the manufacturing process has fallen with utilization rates expected to reach 85% in January before bottoming out later in 2023.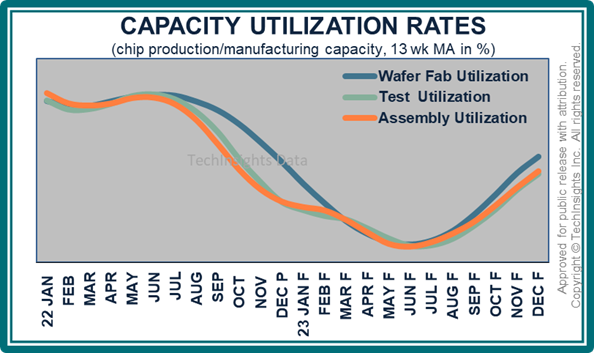 Free Newsletter
Get the latest analysis of new developments in semiconductor market and research analysis.
Subscribers can view the full article in the TechInsights Platform.
You must be a subscriber to access the Manufacturing Analysis reports & services.
If you are not a subscriber, you should be! Enter your email below to contact us about access.
Latest Posts From Our Blogs