TechInsights Critical Sub-systems Graphics file on Platform
Updated CSUBS Graphics file is now available:
Driving Forces

Misc. Reports

CSUBS Graphics 220927

CSUBS, Equipment, Macroeconomic quarterly
CSUBS, Equipment sales forecast annual
Supply Chain revenues and diffusion rates
TechInsight's spot market CPPI
IC inventories
Fab utilization and capacity by wafer size
Fab utilization and capacity by node
Semi Equipment utilization
Semi production equipment orders, revenues
Silicon Revenue
Semiconductor production and capacity
IC market revenue and units
2022 will be a strong year for Critical Sub-systems with revenues increasing 15%. However, the backdrop for 2023 is becoming more challenging due to growing pressures at the macro level stemming from high inflation, rising interest rates, and mounting geopolitical tensions. These factors, couple with excess levels of inventories, are taking a toll on semiconductor demand. As a result, equipment and subsystem sales will decline in 2023.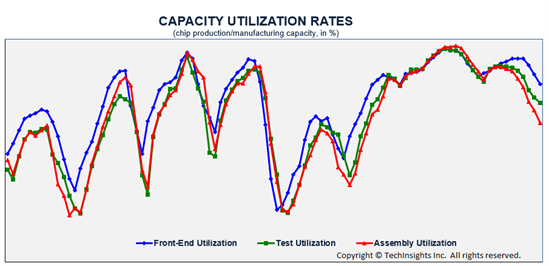 Free Newsletter
Get the latest analysis of new developments in semiconductor market and research analysis.
Subscribers can view the full article in the TechInsights Platform.
You must be a subscriber to access the Manufacturing Analysis reports & services.
If you are not a subscriber, you should be! Enter your email below to contact us about access.
Sign up for latest analysis, news and insights from TechInsights!
Stay informed about TechInsights' products, services, and events. Email collection adheres to TechInsights' Privacy Policy.
Revealing the innovations others cannot inside advanced technology products
Contact
General Inquiries
1-888-666-8888
1891 Robertson Rd #500, Nepean, ON K2H 5B7
Copyright © 2023 TechInsights Inc. All rights reserved.