TechInsights' Critical Sub-System Driving Forces
Updates included are the following:
Robust semiconductor demand continues to drive Critical Subsystem sales to record high levels. Critical Subsystems for FPD and PV markets will continue to recover over the next few years. Combined Critical Subsystems are expected to grow 16% in 2022, surpassing $20B.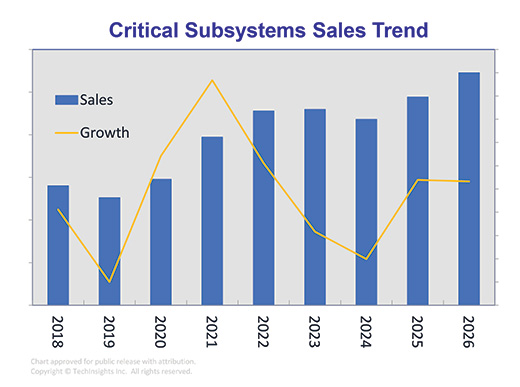 You must be a subscriber to access the Manufacturing Analysis reports & services.
If you are not a subscriber, you should be! Enter your email below to contact us about access.
Sign up for latest analysis, news and insights from TechInsights!
Stay informed about TechInsights' products, services, and events. Email collection adheres to TechInsights' Privacy Policy.
Revealing the innovations others cannot inside advanced technology products
Contact
General Inquiries
1-888-666-8888
1891 Robertson Rd #500, Nepean, ON K2H 5B7
Copyright © 2023 TechInsights Inc. All rights reserved.