Teardown Technology      

   Stacy Wegner, Daniel Yang, Ziad Shukri
Apple introduced the new iPad Pro (2021) on April 20th, continuing the Apple M1 CPU expansion into their popular iPad Pro product line.
The Apple-designed M1 chip started to replace Intel processors last year in the Apple MacBook Air, MacBook Pro, and also in this year's Apple iMac. In 2020, even with the challenges of CoVid-19, the TechInsights team successfully published their analysis of the TSMC N5 FinFET process fabbed M1 from the Apple MacBook Air and MacBook Pro.
In this year's iPad Pro, the new 12.9" mini-LED display and new TrueDepth camera system may be taking 'Center Stage' for many users, TechInsights will continue to look deeper for other semiconductor and design winners inside the new iPad Pro.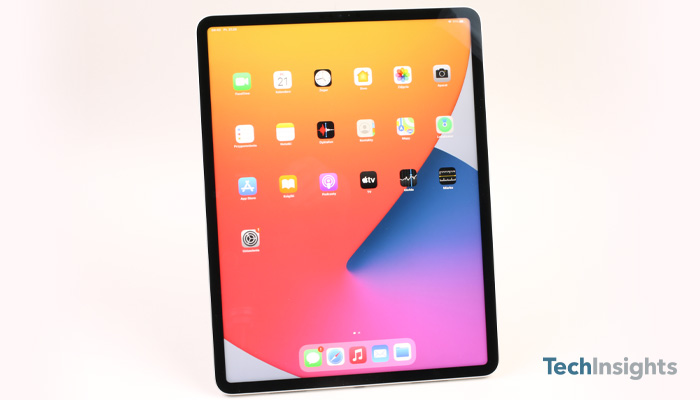 Apple iPad Pro 12.9" Wi-Fi model A2378 with 8 GB RAM and 512 GB NAND Flash memory
TechInsights has procured the Apple iPad Pro 12.9" Wi-Fi model A2378 for the teardown blog. It has 8 GB RAM and 512 GB NAND Flash memory.
Apple iPad Pro A2378 Wi-Fi Design Wins
In this device, Apple has included two of their own PMICs, SK Hynix 1y nm 8 Gb LPDDR4X SDRAM die, Kioxia has won the NAND Flash slots, and we have also found NXP's new SN210 NFC & Secure Element IC.
| | |
| --- | --- |
|   | Apple M1/APL1102 Processor |
|   | SK Hynix 4 GB LPDDR4X SDRAM (x2 with 1ynm die) |
|   | Kioxia 256 GB NAND Flash Memory (x2) |
|   | Apple APL1096 PMIC |
|   | Apple/Dialog 353S02471-A1 PMIC |
|   | Apple/Dialog 343S00389-A0 PMIC |
|   | Texas Instruments USB Controller |
| | |
| --- | --- |
|   | Broadcom 3D Touch Controller |
|   | Broadcom Touchscreen Controller |
|   | Intel Thunderbolt Retimer IC |
|   | Apple/Texas Instruments 343S00235 PMIC |
|   | Cirrus Logic (x8) Audio Amplifier |
|   | USI 339S00785 Wireless Combo Module |
|   | STMicroelectronics STB601A0 PMIC |
| | |
| --- | --- |
|   | Apple APL1097 PMIC |
|   | Apple/Dialog 338S00590 PMIC |
|   | Apple/Dialog 338S00591 PMIC |
|   | Texas Instruments VCSEL Array Driver |
|   | Bosch MEMS Accelerater & Gyroscope |
|   | NXP NFC & Secure Element |
TechInsights has its Preliminary Cost Estimate and Design Win Analysis Available
Sign up to receive an exclusive look into what we have found on the Apple iPad Pro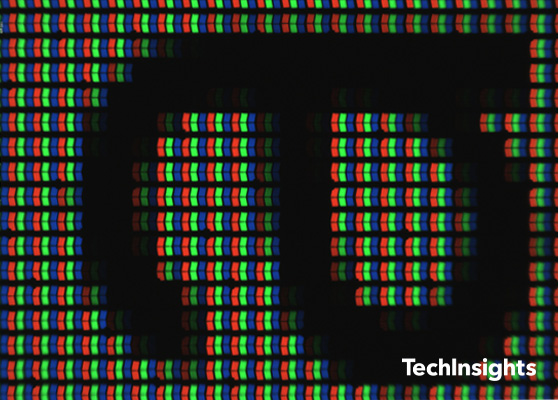 Apple iPad Pro 12.9" A2378 Pixels
The iPad Pro 12.9" is the first Apple iPad with a mini-LED display which Apple calls their Liquid Retina XDR display. The new mini-LED display is validation that LCD technology can still move forward and compete with the OLED displays. Mini-LEDs are physically smaller than the LEDs used in the typical LCD display. The mini-LED size allows for more LEDS (in theory, almost 5x more), to be used in a display design, delivering better colors. And even though there are more LEDs in a mini-LED display, mini-LED displays are said to have better power efficiency than a same size LCD display.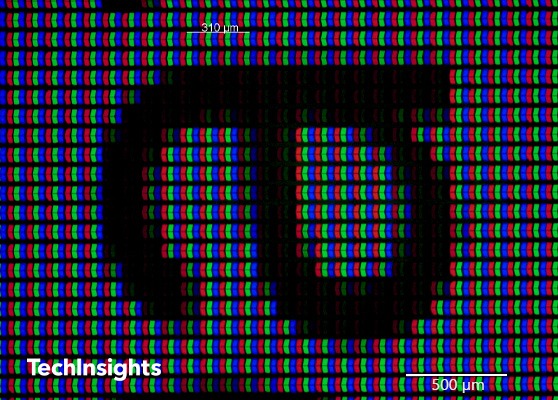 Apple iPad Pro 12.9" A2014, TFT-LCD 2732 x 2048 Pixels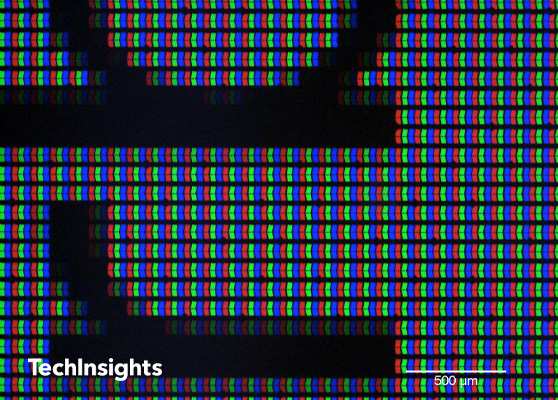 Apple iPad Pro 11 A2068, TFT, 2388 x 1668 Pixels
The mini-LED display market is still in its infancy for the consumer market. Once TechInsights has completed the Deep Dive Teardown and analyzed the entire Display subsystem, we will have a better understanding as to how the new iPad Pro mini-LED display's cost compares to the the $116 display costs from the 2019 iPad Pro 12.9", as well as how the new 12.9" mini-LED display compares to this year's iPad Pro 11 which still uses LCD technology.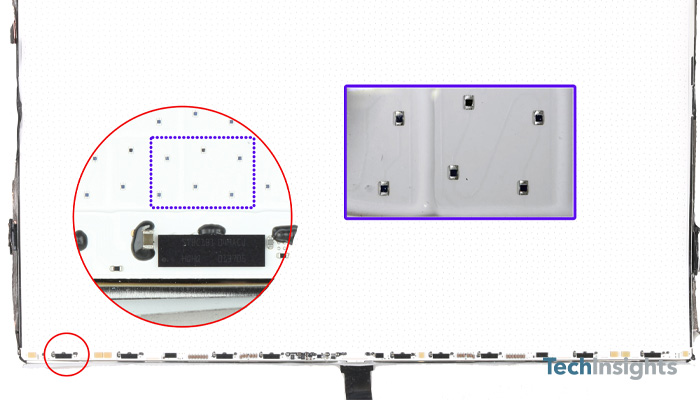 Apple iPad Pro A2378, miniLED Display Subsystem - Backlight Sheet
Disassembled, the miniLED display looks similar to that of an LCD assembly, with diffusing panels, transmissive sheets, etc.
The Apple iPad Pro 12.9" is the only 2021 iPad Pro with a miniLED design. The backlight layer has almost 2600 dimming zones with over 10,000 LEDs. Also on the backlight flex, we identified more STMicroelectronic ICs. This is a substantial increase for STMicroelectronics from their single design win on the Display subsystems of the last two iPad Pro generations.
Design Win Change or Second Source
We have found what appears to be either a second source or a new design winner for the Ambient Light Sensor spot in this year's iPad Pro 2378. For many of Apple's products the ambient light sensor design winner has traditionally been AMS, however, we found STMicroelectronics ambient light sensors on the Front Sensor flex which supports the new Apple TrueDepth Camera system. This means for the iPad Pro A2378 in our labs, STMicroelectronics has at least three design spots where they have historically only had one.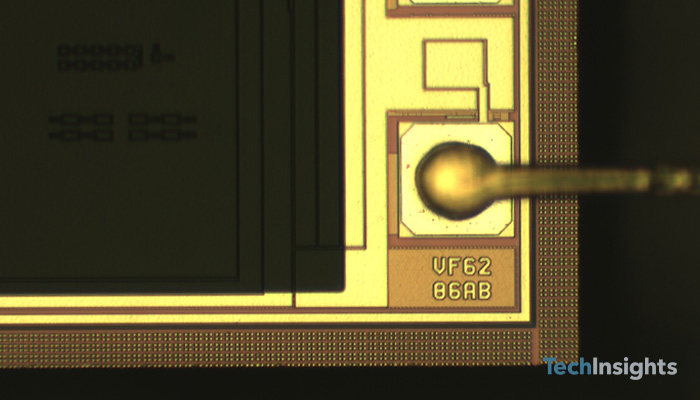 Apple iPad Pro A2378 Cameras/Proximity Sensor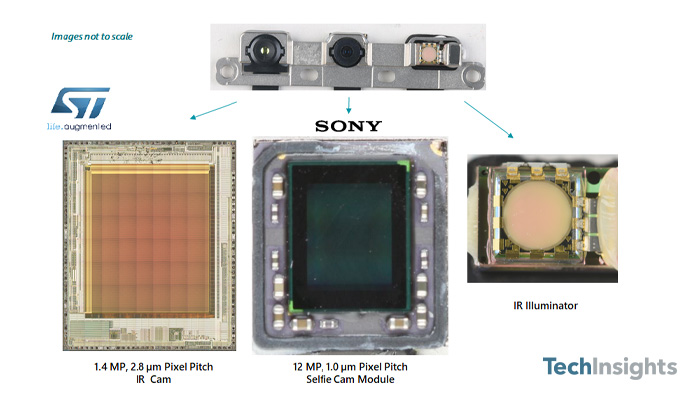 Apple iPad Pro 2021 Front Cameras
In terms of Image Sensors, we reveal that Apple's new iPad Pro 2021 features an upgraded Sony main front camera with a 12 MP resolution and a 1.0 µm pixel pitch CIS. This is compared to the 7 MP resolution, 1.0 µm pixel pitch selfie camera used in the 2020 iPad Pro.
For Face ID, Apple continues to employ the same ST Microelectronics 56G08A Infrared camera, a 1.4 MP resolution, 2.8 µm pixel pitch image sensor. We also reveal that the 2021 iPad Pro utilizes an STMicroelectronics Proximity sensor chip consisting of a front-illuminated SPAD direct Time-of-Flight (d-ToF) CIS. The d-ToF module also consists of an integrated IR Flood illuminator and VCSEL driver chip and an IR photodiode.
In terms of rear cameras, Apple has retained the same triple rear cam module used in the 2020 iPad Pro, consisting of a Sony 12MP resolution, 0.9 µm wide Camera, and a 10 MP resolution, 0.9 µm pixel pitch Ultrawide camera. Apple has also retained the same Scanning LiDAR chip with the Sony 150 x 200 (0.03 MP) resolution, 10 µm pixel pitch SPAD CMOS image sensor. The re-use of the Scanning LiDAR chip is to be expected as it has only recently been introduced and possibly not yet exploited to its fullest potential.
Design Winners through the Generations
Apple iPad Pro 12.9" A2014
| Pkg. Brand | % of Total Mfr. BoM |
| --- | --- |
| Apple | 37.68% |
| Intel | 11.37% |
| Broadcom | 8.35% |
| SK Hynix | 7.64% |
| Samsung | 5.92% |
| Skyworks | 5.10% |
| Toshiba | 3.68% |
| USI | 3.58% |
| Sony | 3.32% |
| STMicroelectronics | 2.49% |
| Texas Instruments | 2.09% |
| Murata | 2.01% |
| Maxim | 1.43% |
| Qorvo | 1.13% |
| NXP Semiconductor | 0.71% |
Apple iPad Pro 11 A2068
| Pkg. Brand | % of Total Mfr. BoM |
| --- | --- |
| SK Hynix | 45.40% |
| Apple | 22.38% |
| Intel | 5.33% |
| Broadcom | 5.17% |
| Sony | 4.28% |
| Samsung | 3.58% |
| Skyworks | 2.88% |
| USI | 2.31% |
| STMicroelectronics | 1.46% |
| Texas Instruments | 1.37% |
| Murata | 1.19% |
| Qorvo | 0.71% |
| Cirrus Logic | 0.65% |
| Goertek | 0.50% |
TechInsights has its Preliminary Cost Estimate and Design Win Analysis Available
Sign up to receive an exclusive look into what we have found on the Apple iPad Pro
Latest Posts From Our Blogs