Semiconductor forecast and Capital Spending for 2022 and 2023 lowered as market headwinds intensify

Shereen Vaux
Updates included are the following:
Semiconductor Forecast- v22.09
CapEx Forecast- v22.09
The semiconductor market had a great first half of the year with sales soaring 21% from last year's levels. However, the momentum is deteriorating rapidly in 2H22. Chip demand is coming under significant pressure due to inflation, monetary tightening, COVID lockdowns in China, and the war in Ukraine. At the same time supply is increasing and surpassing demand as more capacity comes online. While the slowdown in 2H22 is not surprising—it's something that we have been forecasting since the beginning of the year—the magnitude of the pullback has been greater than expected. As a result, semiconductor sales in 2H22 are now projected to decline 4% compared to the same period a year ago. For the year, semiconductor sales will increase 8%.
2022 will be another record setting year for CapEx. Advanced Logic and Foundry will surpass the $95B mark in 2022 as chipmakers expand across all nodes. Discrete, Analog, & Other (DAO) segments are playing catchup with demand following years of underinvestment. Memory spending remains modest in relation to total CapEx spending. 2023 is going to be a down year for spending as chipmakers catch up to demand and the inventory buildup turns from a tailwind in 2022 into a headwind in 2023.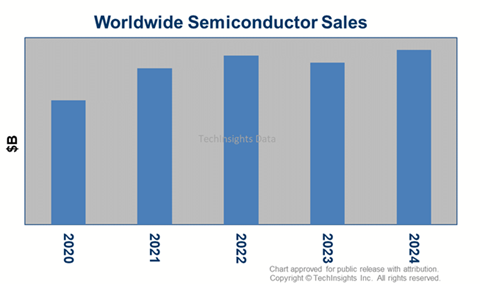 Free Newsletter
Get the latest analysis of new developments in semiconductor market and research analysis.
Subscribers can view more articles in the TechInsights Platform.
You must be a subscriber to access the Manufacturing Analysis reports & services.
If you are not a subscriber, you should be! Enter your email below to contact us about access.
The authoritative information platform to the semiconductor industry.
Discover why TechInsights stands as the semiconductor industry's most trusted source for actionable, in-depth intelligence.