Reticle Sales Are Expected to Surge 18% in 2022
ForecastPro
Reticle sales are expected to surge 18% in 2022 driven by strong semiconductor demand. Unit volumes are projected to increase by mid-single digits again in 2022, boosted in part by improving demand for mainstream and trailing edge reticles. In addition, reticle prices are expected to continue rising across the board due to tight reticle supply. EUV reticles will soar 75% this year, bringing their share up to 2% from 1% last year.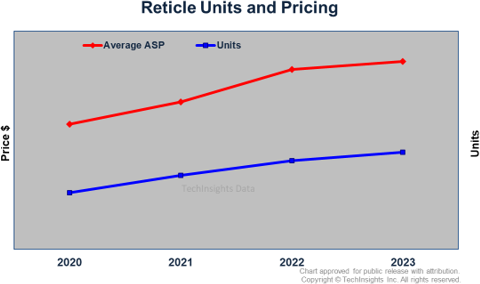 Free Newsletter
Get the latest analysis of new developments in semiconductor market and research analysis.
Subscribers can view the full article in the TechInsights Platform.
You must be a subscriber to access the Manufacturing Analysis reports & services.
If you are not a subscriber, you should be! Enter your email below to contact us about access.
Latest Posts From Our Blogs