Probe Card Market hit $2.5B in 2021 Ha Pham
2021 was another great year for the Probe Card market with sales hitting $2.5B. Foundry and IDM Logic drove most of the gains thanks to a soaring demand, especially at the leading-edge nodes. The Top 10 Probe Card Suppliers accounted for more than 80% of the total market, nearly the same share as in 2020. These top companies continue to be the leaders in the Advance Probe Card market offering competitive advanced technologies that are critical to meet the challenging technical requirements of their customers.
FormFactor remained at the number one spot with sales jumping past $600M, followed by Technoprobe, Micronics Japan, JEM, and MPI Corporation rounding up the top 5 places. Chunghwa Precision Test jumped in the top ten ranking for the very first time in 2021, boosted by a 55% surge in revenues. TSE also had a great year, gaining one position to the number 7 spot thanks to a 49% increase in revenues.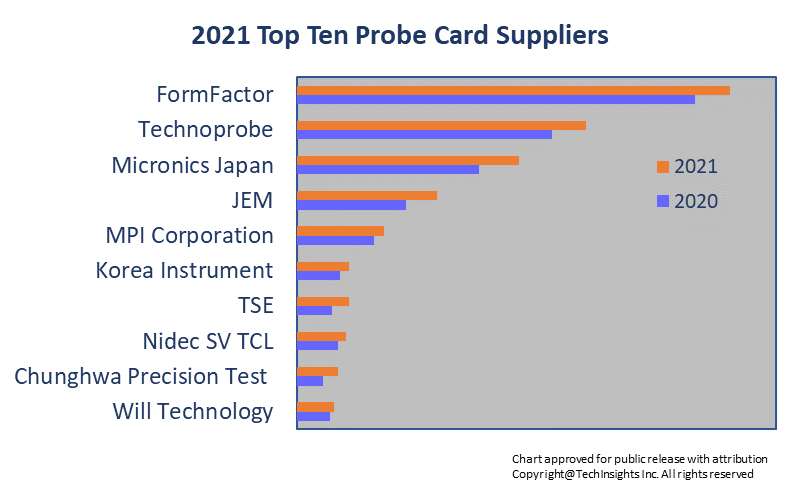 Free Newsletter
Get the latest analysis of new developments in semiconductor market and research analysis.
Subscribers can view other manufacturing analysis articles in the TechInsights Platform.
You must be a subscriber to access the Manufacturing Analysis reports & services.
If you are not a subscriber, you should be! Enter your email below to contact us about access.
Sign up for latest analysis, news and insights from TechInsights!
Stay informed about TechInsights' products, services, and events. Email collection adheres to TechInsights' Privacy Policy.
Revealing the innovations others cannot inside advanced technology products
Contact
General Inquiries
1-888-666-8888
1891 Robertson Rd #500, Nepean, ON K2H 5B7
Copyright © 2023 TechInsights Inc. All rights reserved.