Order Activity is Slowly Increasing Despite Low Utilization (October Update)

Shereen Vaux
Order activity for semiconductor equipment increased to 60 °F, hitting a new high for the year. Market fundamentals are improving in several segments of the industry. While these improvements are visible (for example, Memory) they're not having an impact on the customer sentiment yet, which remains cautious. There were no major changes to our forecasts in October as the monthly data and indicators came within our expectations. Semiconductor, Equipment, and Electronics sales for 2023 and 2024 remain unchanged from the previous update. However, there were some changes to the Semi unit forecast. Integrated circuit (IC) unit shipments in Q3 are now tracking down 4% versus our previous forecast of an 8% increase. The drop in unit shipments is putting pressure on chipmakers and their inventory destocking, which in turn is putting pressure on the utilization rates.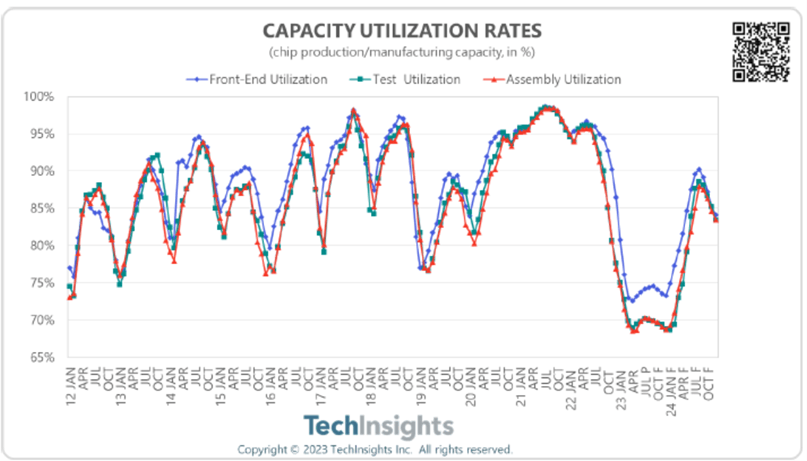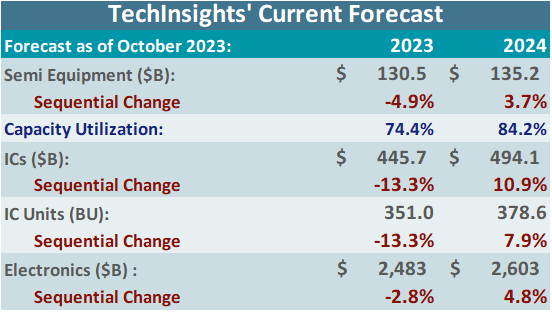 Free Newsletter
Get the latest analysis of new developments in semiconductor market and research analysis.
Subscribers can view the full article in the TechInsights Platform.
You must be a subscriber to access the Manufacturing Analysis reports & services.
If you are not a subscriber, you should be! Enter your email below to contact us about access.
The authoritative information platform to the semiconductor industry.
Discover why TechInsights stands as the semiconductor industry's most trusted source for actionable, in-depth intelligence.