Order Activity Continues to Cool

Shereen Vaux
Order activity for semiconductor equipment slipped a degree to a cold 41°. All segments moved lower as end demand remains weak, resulting in a slower pace of inventory digestion. In the mobile market demand trends continue to point downwards. On a positive note, the Chinese handset builds are picking up modestly, though from a very low base. The PC market appears to have bottomed in Q1. Moreover, lead times appear to have ticked higher in the last few weeks due to some re-stocking in the PC supply chain. However, end-demand recovery remains suspect given the soft macro trends. Capacity utilization rates have plunged this year.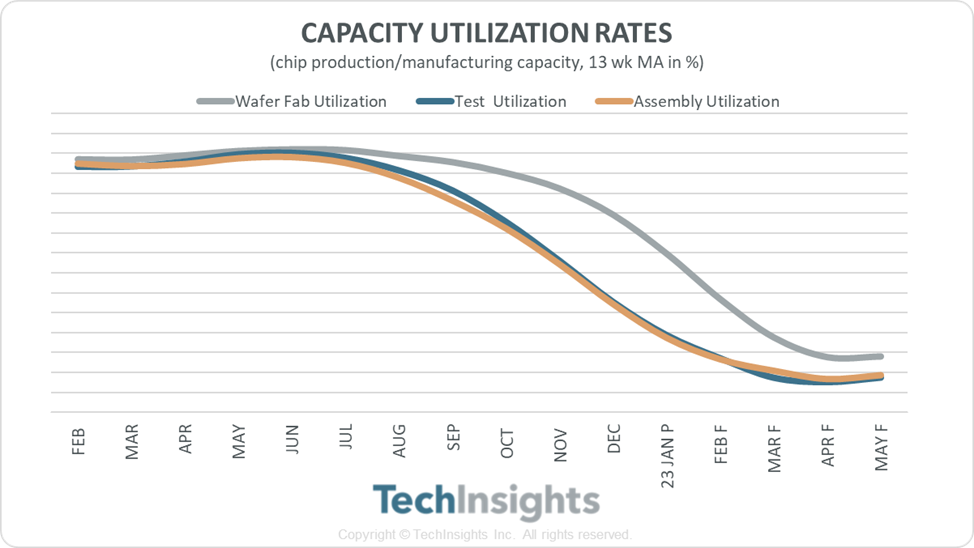 Free Newsletter
Get the latest analysis of new developments in semiconductor market and research analysis.
Subscribers can view the full article in the TechInsights Platform.
You must be a subscriber to access the Manufacturing Analysis reports & services.
If you are not a subscriber, you should be! Enter your email below to contact us about access.
The authoritative information platform to the semiconductor industry.
Discover why TechInsights stands as the semiconductor industry's most trusted source for actionable, in-depth intelligence.