It's Going to be a Cold and Rainy Spring

Shereen Vaux
Order activity for semiconductor equipment fell by another point, hitting a new record low for the year. All segments moved lower as sentiment continued to weaken. ASML delivered another strong quarter and its guidance beat expectations. LAM Research revenues for the March quarter beat expectations but its guidance came in below consensus as the company grapples with a brutal memory downcycle. On the chipmaking front, TSMC trimmed its 2023 outlook, pointing to weaker than expected demand coupled with a sizable inventory overhang. Despite the weaker view, TSMC left its 2023 capex unchanged at $32B-$36B indicating that it sees this level of investment necessary to support future customer requirements.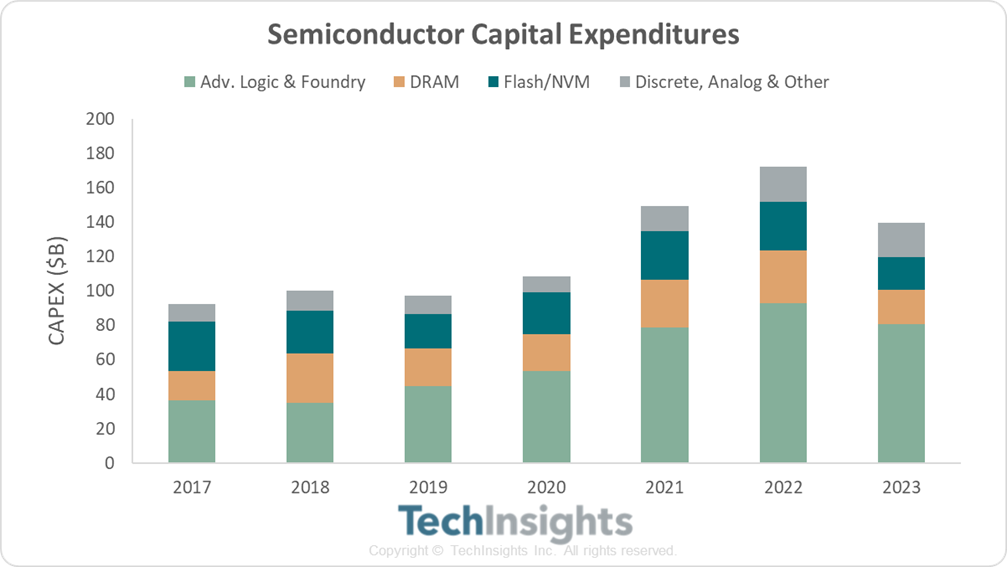 Free Newsletter
Get the latest analysis of new developments in semiconductor market and research analysis.
Subscribers can view the full article in the TechInsights Platform.
You must be a subscriber to access the Manufacturing Analysis reports & services.
If you are not a subscriber, you should be! Enter your email below to contact us about access.
Sign up for latest analysis, news and insights from TechInsights!
Stay informed about TechInsights' products, services, and events. Email collection adheres to TechInsights' Privacy Policy.
Revealing the innovations others cannot inside advanced technology products
Contact
General Inquiries
1-888-666-8888
1891 Robertson Rd #500, Nepean, ON K2H 5B7
Copyright © 2023 TechInsights Inc. All rights reserved.