It's always the darkest before dawn

Shereen Vaux
Order activity for semiconductor equipment held at a cold 43˚. There was no discernable change in activity among segments last week, as visibility for equipment suppliers remains limited. There were some notable changes made to our forecasts this month. The weakness we've seen in Memory is starting to bleed into the other segments, albeit not at the magnitude we see in memory.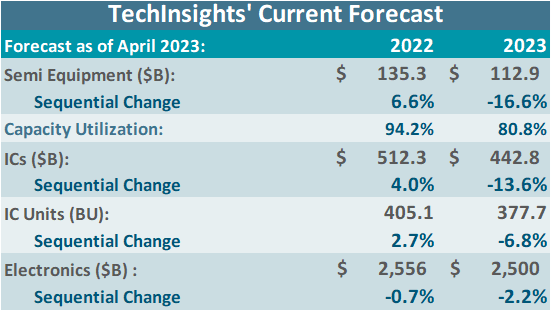 Free Newsletter
Get the latest analysis of new developments in semiconductor market and research analysis.
Subscribers can view the full article in the TechInsights Platform.
You must be a subscriber to access the Manufacturing Analysis reports & services.
If you are not a subscriber, you should be! Enter your email below to contact us about access.
The authoritative information platform to the semiconductor industry.
Discover why TechInsights stands as the semiconductor industry's most trusted source for actionable, in-depth intelligence.