The highest growing packaging segments were LGA and QFN followed by CSP/WLP in 2021
ForecastPro
Updates included are the following:
ForecastPro:

Packaging Demand – v22.06
TechInsights' packaging survey found a continuing shift towards leadless packages like QFN and LGA in 2021, especially in the analog space where the use of Flip chip/WLP packages has become common. They are replacing older package technologies, such as TSOP and SOIC, which continued to lose share. This shift is driven primarily by IoT and mobile devices, which have distinct packaging requirements in terms of footprint, thinness, and performance.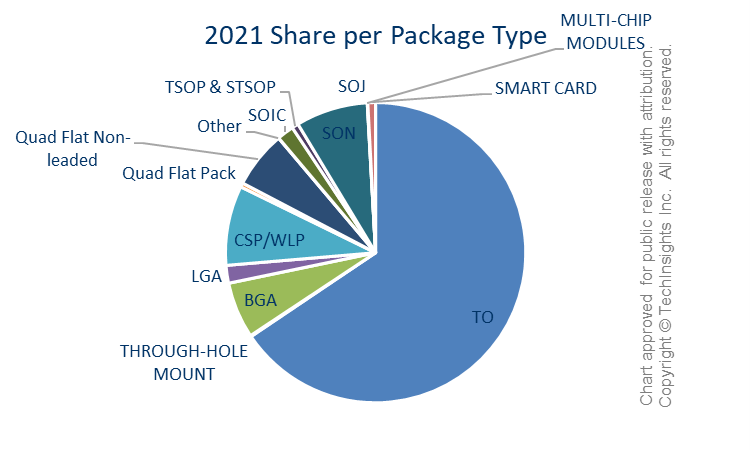 Free Newsletter
Get the latest analysis of new developments in semiconductor market and research analysis.
Subscribers can view the full article in the TechInsights Platform.
You must be a subscriber to access the Manufacturing Analysis reports & services.
If you are not a subscriber, you should be! Enter your email below to contact us about access.
Sign up for latest analysis, news and insights from TechInsights!
Stay informed about TechInsights' products, services, and events. Email collection adheres to TechInsights' Privacy Policy.
Revealing the innovations others cannot inside advanced technology products
Contact
General Inquiries
1-888-666-8888
1891 Robertson Rd #500, Nepean, ON K2H 5B7
Copyright © 2023 TechInsights Inc. All rights reserved.