Foundry & IDM Capital Expenditures 2Q2022

Shereen Vaux
2022 will be another record setting year for CapEx. Advanced Logic and Foundry will surpass the $100B mark in 2022 as chipmakers expand aggressively across all nodes. Discrete, Analog, & Other (DAO) segments are playing catchup with demand following years of underinvestment. Memory spending remains modest in relation to total CapEx spending. Geopolitical concerns linger and could have an adverse impact on an already constrained supply chain.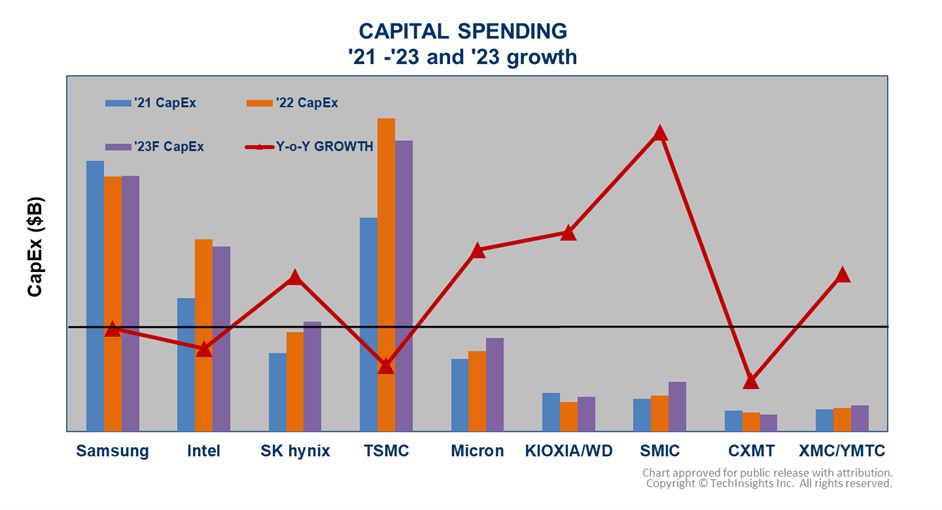 Free Newsletter
Get the latest analysis of new developments in semiconductor market and research analysis.
Subscribers can view the full article in the TechInsights Platform.
You must be a subscriber to access the Manufacturing Analysis reports & services.
If you are not a subscriber, you should be! Enter your email below to contact us about access.
Sign up for latest analysis, news and insights from TechInsights!
Stay informed about TechInsights' products, services, and events. Email collection adheres to TechInsights' Privacy Policy.
Revealing the innovations others cannot inside advanced technology products
Contact
General Inquiries
1-888-666-8888
1891 Robertson Rd #500, Nepean, ON K2H 5B7
Copyright © 2023 TechInsights Inc. All rights reserved.