The fog has rolled in..

Shereen Vaux
Order activity for semiconductor equipment extended its decline, slipping to 63 degrees
All segments trended lower with Memory getting hit the hardest, falling to a new low for the year
Memory fundamentals continue to deteriorate
Equipment suppliers are reporting strong earnings for 3Q22 but visibility is limited due to the ongoing macroeconomic and geopolitical concerns
Chipmakers are getting hit hard in 3Q22 due to end demand being uncharacteristically low at this time of year, consumers are reining in spending due to macroeconomic concerns and this is hitting the chipmakers harder than they anticipated

On the bright side, auto and HPC demand remains high and could offset some of the downward pressure the chipmakers are feeling

TechInsights' Chip Price Performance Index continued to trend lower

DRAM fell
NAND fell
MPUs grew

Equipment orders have been decreasing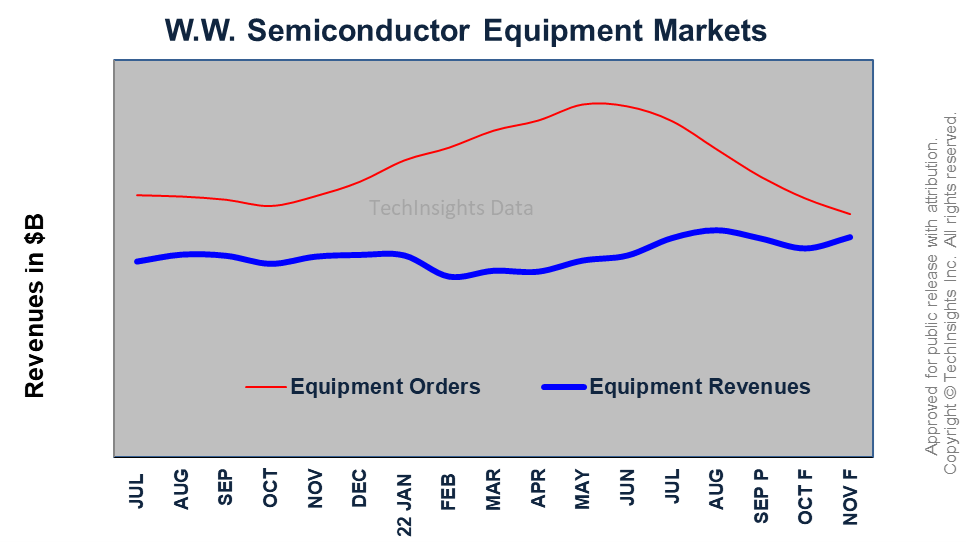 Free Newsletter
Get the latest analysis of new developments in semiconductor market and research analysis.
Subscribers can view the full article in the TechInsights Platform.
You must be a subscriber to access the Manufacturing Analysis reports & services.
If you are not a subscriber, you should be! Enter your email below to contact us about access.
Sign up for latest analysis, news and insights from TechInsights!
Stay informed about TechInsights' products, services, and events. Email collection adheres to TechInsights' Privacy Policy.
Revealing the innovations others cannot inside advanced technology products
Contact
General Inquiries
1-888-666-8888
1891 Robertson Rd #500, Nepean, ON K2H 5B7
Copyright © 2023 TechInsights Inc. All rights reserved.