With 2H23 right around the corner, will the rebound happen?

Shereen Vaux
Order activity for semiconductor equipment continued to hit new lows. Mobile Compute and Digital Consumer segments led the decline, reflecting persistently weak end demand. On a positive note, SoC Compute is bucking the downtrend thanks to strong demand for generative AI. Cloud spending came under pressure in 1Q23 as hyperscalers went into an inventory digestion mode and shifted their focus to efficiency, extending the life of their hardware in the datacenters and pushing greater optimization. Spending was down across the board in 1Q23 except for Microsoft, which increased spending. This is not surprising given their big push in AI. The Chinese hyperscalers fared the worst with spending down 35% QoQ. Total cloud capex is expected to improve in the second half of the year as companies work down their inventories and start migrating more workloads into AI.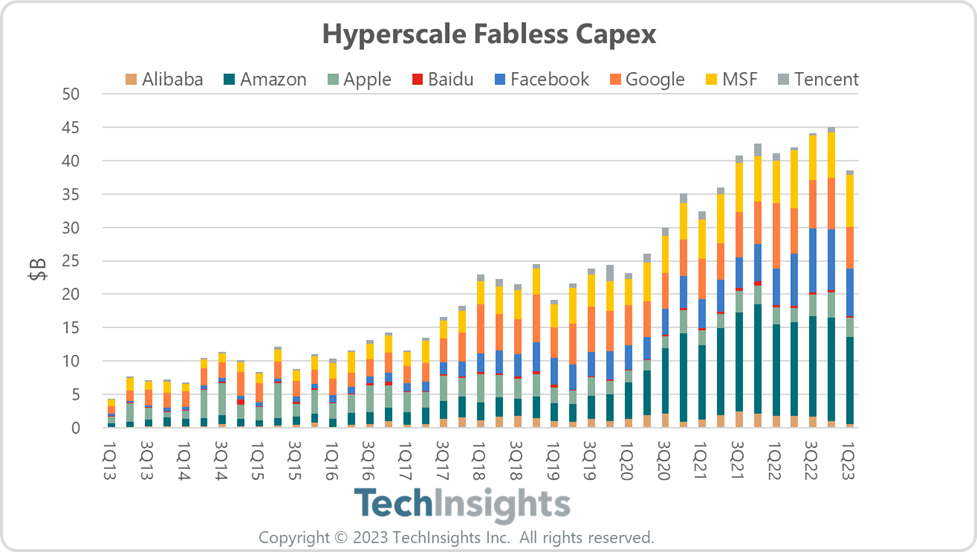 Free Newsletter
Get the latest analysis of new developments in semiconductor market and research analysis.
Subscribers can view the full article in the TechInsights Platform.
You must be a subscriber to access the Manufacturing Analysis reports & services.
If you are not a subscriber, you should be! Enter your email below to contact us about access.
The authoritative information platform to the semiconductor industry.
Discover why TechInsights stands as the semiconductor industry's most trusted source for actionable, in-depth intelligence.