1Q 2022 Assembly Equipment Outlook
The Chip Insider®
Semiconductor Manufacturing
Semiconductor shortages turbocharged 2021 Assembly & Packaging and Equipment demand by growing 57% to $5.5B. While the demand growth for equipment is slowing, the high business levels are expected to continue well into 2022. As a result, Assembly and Packaging Equipment are expect to grow 14% to $6.3B in 2022. Longer term Assembly & Packaging Equipment are expected to experience cyclical growth.
Hyper growth in 2021 is replaced with cyclical growth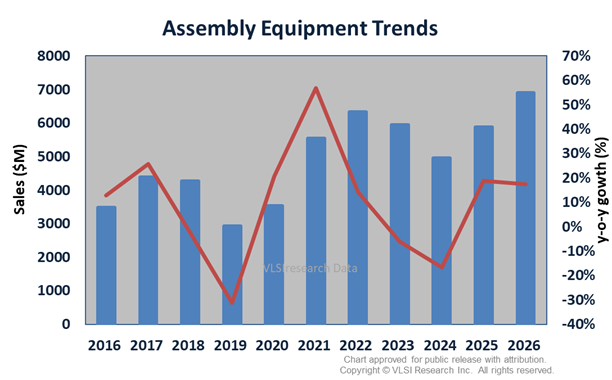 Free Newsletter
Get the latest analysis of new developments in semiconductor market and research analysis.
Subscribers can view the full article in the TechInsights Platform.
You must be a subscriber to access the Manufacturing Analysis reports & services.
If you are not a subscriber, you should be! Enter your email below to contact us about access.
Latest Posts From Our Blogs