Product Code
DFR-2206-809
Image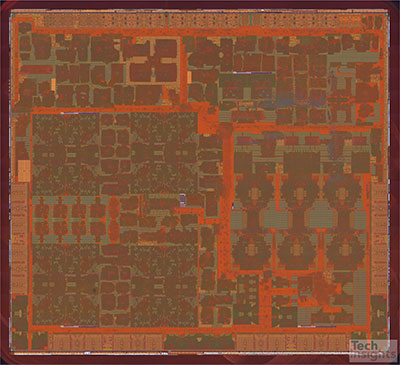 This report presents a digital floorplan analysis (DFR) of the Nvidia Jetson AGX Orin AI SoC. The AGX Orin is designed for powerful AI computing in autonomous machines such as advanced robotics and other AI Edge applications. This report provides analysis of the IP blocks and other design features including the cell libraries used in the design of those block.
This report contains the following detailed information:
Selected teardown photographs, package photographs, package X-rays, die markings, and die photographs
Scanning electron microscopy (SEM) plan-view micrographs showing the layout of the die at different levels, including fin/shallow trench isolation (STI), gate, contacts, and minimum pitch metals
Measurements of horizontal dimensions of some of the major layout features, particularly the pitch and track height of standard cells
Plan-view optical micrograph of the die delayered to the metal gate level
Identification of major functional blocks on a gate level die photograph
Table of functional block sizes and percentage die utilization
High-resolution top metal and gate level die photographs delivered in the CircuitVision software
Cost of die based on the manufacturing cost analysis of the observed process
A unique vault of trusted, accurate data at your fingertips
Our analysis goes as deep as required to reveal the inner workings and secrets behind a broad range of products.
Search our analysis and website
Don't miss another update from TechInsights.
All our latest content updates sent to you a few times a month.