Posted: April 24, 2015
Contributing Authors: Jim Morrison. Daniel Yang and Chad Davis
Apple Delivers a Wearable in Total Apple Fashion
A few days ago, Apple sent us our tracking number indicating that our shipment would arrive today, Friday, April 24th. We were pleasantly surprised to be a recipient of a Watch today considering the stir Apple created a while back when they flipped availability dates from today to "May-June". Kind of like Christmas.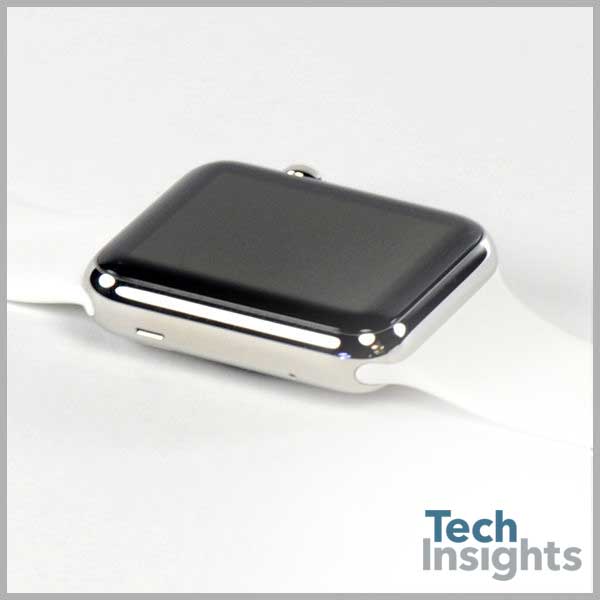 A much anticipated gadget
The Watch has been long anticipated. It will be interesting to see what impact this device has on the market, considering that ever since Apple introduced the iPhone 3GS, Apple has had a way of causing the consumer flood gates to open and creating a surge in consumer demand for toys. Look at the smartphone industry today, nearly 2 B units per year. Currently the wearables market sits at around $25 B per year with the potential to grow to $50 B by 2017. Could this Watch change this?
The disassembly of the Watch was no easy feat. Starting at the screen or (display module) we put our efforts to separating and revealing the technical treasures beneath. Obviously the object of our desire was Apple's S1 package, an announced encapsulated module of integrated circuits, PCB technologies and other goodies. The following image shows our gaining entry into the device. We caution anyone looking to try this at home as more likely than not, if the display module wasn't broken before it will be after attempting to access the battery, integrated circuits or other mechanical or technical devices inside. It is also unclear if Apple will offer replacement display modules and we doubt given the Sapphire screen technology there will be third party replacements in the near future.

X-ray vision
Before getting too deep into the Watch, we took an X-ray of the watch in its entirety to see how the chip layout and count compare to our previous understandings from the launch. There is a lot of silicon in this device.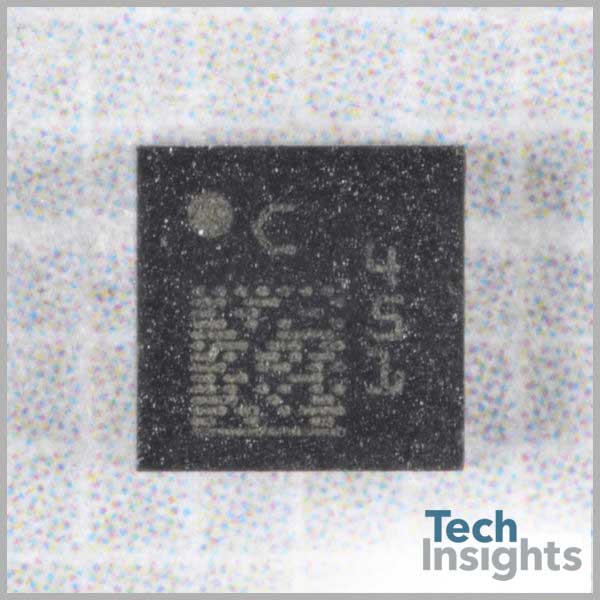 STMicroelectronics gyroscope and accelerometer
At the top left corner of the S1 module we were expecting to see a motion sensor from InvenSense, but, surprise surprise, we have a brand new STMicroelectronics 3 mm x 3 mm land grid array (LGA) package featuring a 3D digital gyroscope and accelerometer. The package marks feature the letter C followed by a three digit numeric 4,5,1. Great job on STMicroelectronics for this socket win.
Update: Friday we discovered the design win by STMicroelectronics for the 6 axis sensor for acceleration and roll, pitch and yaw (gyroscope). This is the first time that we see a true 6X sensor in an Apple product that doesn't require an external accelerometer. In the iPhone 6 and 6+ we saw an Invensense 6 axis sensor and a Bosch 3 axis accelerometer. Here in an even more compact design, the Apple Watch, we finally have a solution for all 6 axis in a single component. We have some more indepth photos of the STMicroelectronics 6 axis sensor today to share with you. From the side view x-ray you can see two die stacked together; the MEMS sensor and the control ASIC. The plan view image looking down shows the wire bond attach area on the lower device. Later we hope to bring you some additional images of the ASIC and the MEMS die once we have separated them…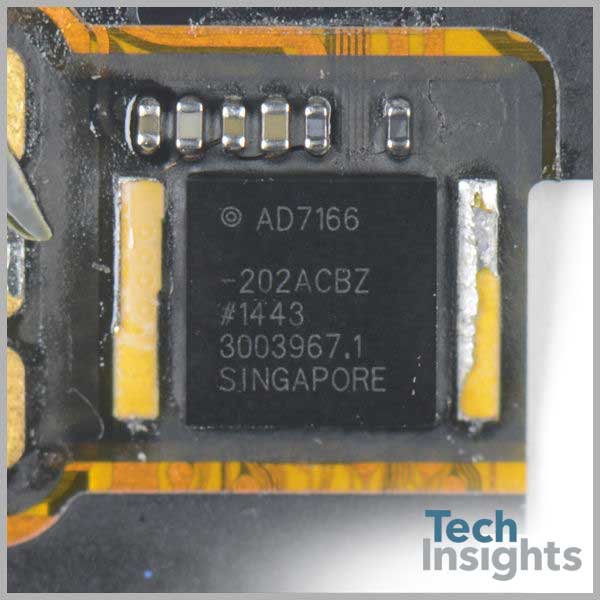 Analog Devices touch screen controller
Another surprise to us in the Watch is the socket scored by Analog devices for capacitive touch screen controller on which we observed package markings of AD7166. The ADI site does not list the AD7166 as a standard part number, however we did come across a link to a Product Change Notification (PCN) showing import and export documentation (on the analog devices website) for an "AD7166-202A Cortex M3 Based Cap" and dated April 2015. The link no longer functions so it was probably recently taken down. Too bad.

Texas Instruments OPA2376
Another clearly visible device is the Texas Instruments OPA2376 Precision, low noise, low quiescent current Op Amp:
Update: The S1 is a system in package – for sure!
It's been almost a week and a half since we first got our hands on the new Apple Watch. On day one we were able to show you only what was not sealed inside the S1 system in package (SiP). The two key words here are system and package.
System
Inside the S1 SiP alone we have cataloged more than 30 components. Now, some of those components contain multiple die; the package-on-package (PoP) assembly, for example, contains the new Apple processor and the DRAM die. The NFC solution also contains the secure element as well as the NXP NFC controller and radio. So there are 30 individual components, and at least 30 pieces of silicon, all in a package that is only 26 mm x 28 mm. That is quite an accomplishment.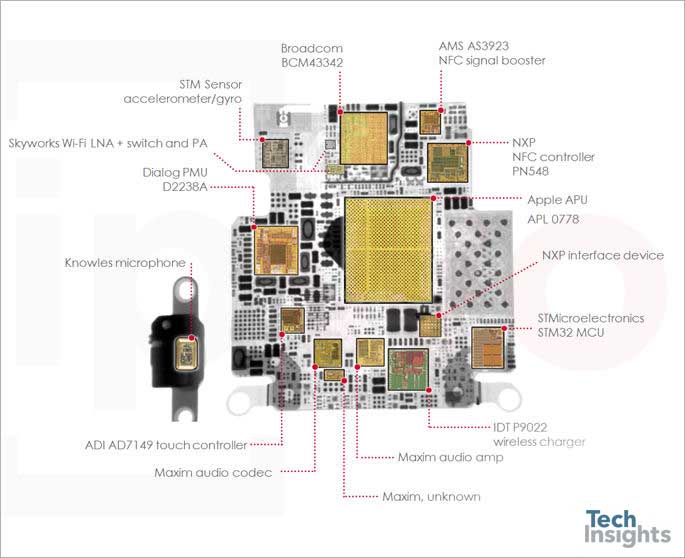 Package
Apple and/or their suppliers have designed and manufactured a 26 mm x 28 mm package that is very unique. Let's consider its construction for a moment. We have a common motherboard to which all of the components (wafer scale packages, PoPs, BGAs, etc.) have been attached. The entire motherboard, with all of its components, is then overmolded with a packaging compound containing silica or alumina spheres suspended in a resin. We see this same type of material in conventional IC packaging, but we have never observed this being used over a 26 mm x 28 mm motherboard. Was this designed to protect devices from perspiration? If yes, why then are some devices, like the 6-axis sensor and the second touch controller, not contained within the S1 SiP?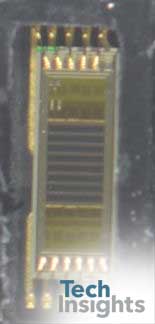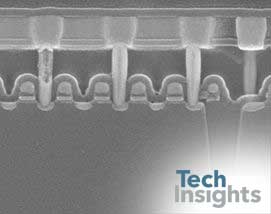 Some of the key findings so far:
The new Apple APL0778 application processor measures 5.2 mm x 6.2 mm and is fabbed on Samsung's 28 nm LP process.
Dialog has the PMIC socket for the watch, but Maxim got the codec and amplifier sockets. What happened to Cirrus? They had been the incumbent in iPhones and iPads for several generations.
NXP scored the NFC and secure element and interface socket and Austria Micro Systems got the NFC signal booster
STMicroelectronics not only grabbed the 6-axis sensor, but they also have an STM32 MCU within the S1, as well as the optical emitter/sensor encoder die under the shaft of the Digital Crown.
Texas Instruments has 6 wins in the S1 ranging from battery management to op amps.
Skyworks Wi-Fi LNA + switch and PA
Above you see a composite image of all the dies we have been able to identify so far.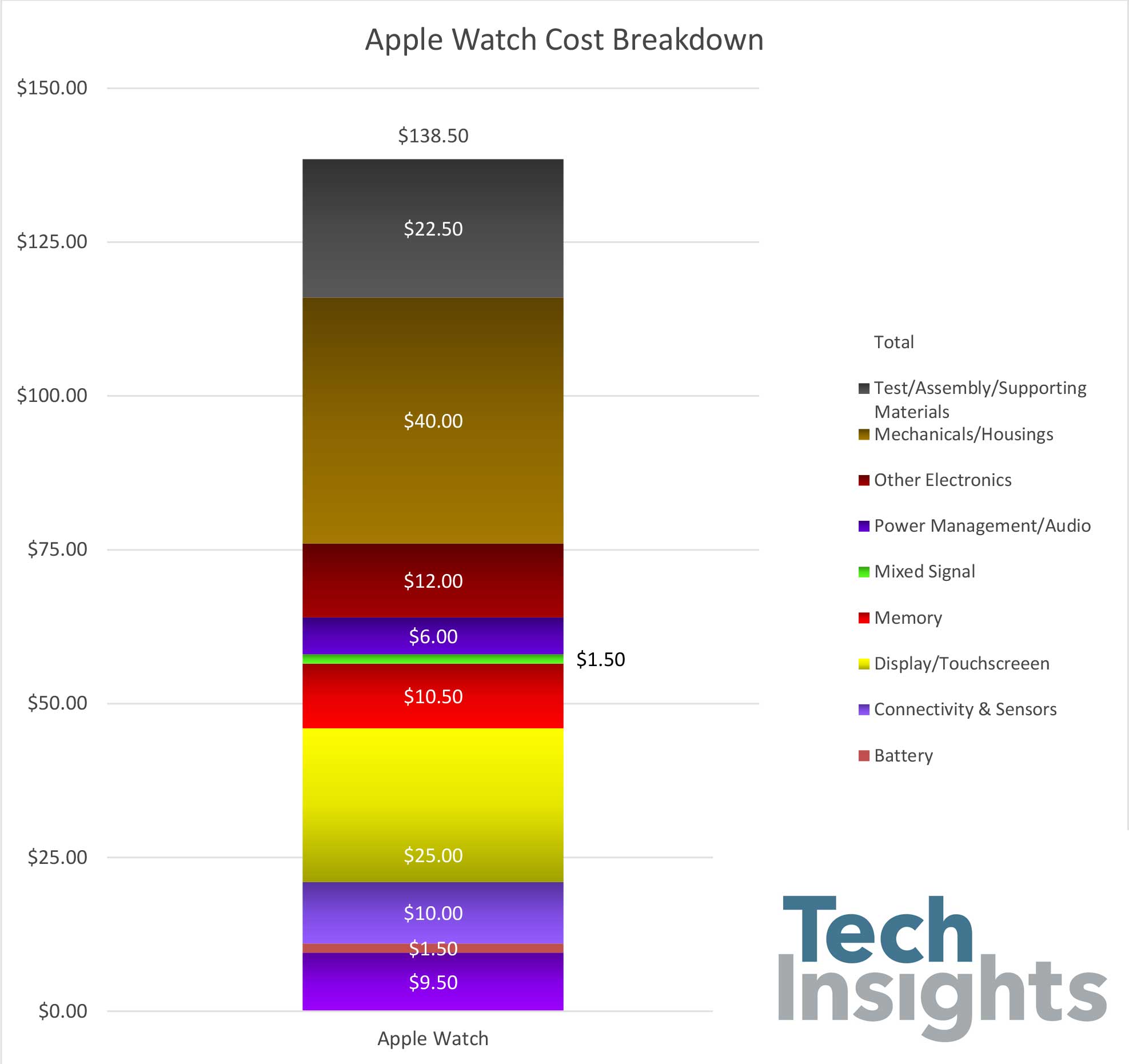 Apple Watch Cost
Getting past challenges we have not encountered in other Wearable devices to date, we feel we finally have a number for what it costs to create the latest Apple device. Based on our expertise in tearing down devices for over 15 years and over 2,500 bits of technology, our initial bill of materials for the Apple Watch is rough $140.00. Please note this does not include the investment in research and development, custom tooling, warranty costs, the development of Apple's alloy materials or any intellectual property. So while the BoM cost is roughly one-third the retail price, one can safely assume that the cost per device if you added these costs on would be significantly higher.
Remarkably, the largest cost impact was seen in the mechanical design of the Apple Watch. The Apple Watch we reviewed has a stainless steel housing and Sapphire cover glass (not the aluminum or cheaper Ion-X glass found in the Sport). We chose this device as we feel it is the best representation of build, quality and fashion for the target market/consumer.
On a pound for pound basis, common stainless steel typically costs 5x the cost of common aluminum alloys – a major differentiation from the lower end Apple Sport. In our cost estimates, we account for this, but the material costs are relatively small compared to the finished part cost. Our analysis shows numerous manufacturing (forging, extrusions, etc.) and processing steps (12 station multi-axis milling, application of finishes, laser etching, etc.) were required to develop, manufacture and bring this product to market. All these manufacturing and processing steps significantly add to the finished part cost – and likely reflect on Tim Cook's comment about the final margins of the Watch compared to other Apple electronics.
For the displays, the Sport Watch has a display with an Ion-X lens, which is comparable to Corning's Gorilla Glass. The Sapphire glass we analyzed is known to be more expensive relative to Gorilla Glass. It is believed to be more durable and of better viewing quality.
With regards to the fit, finish and customer experience, Apple delivered a first rate product with its Watch. There did not appear to be any area where Apple did not pay attention to design. The unit we analyzed contained an expensive jewelry type box, which we believe to be in the $5 or greater range.
Also included is their new wireless charging data cable. While ordinary microUSB type cables are cheap (less than $0.50), the wireless charging cable for the watch contains the wireless charging coil along with a donut shaped circuit board packed with components. (8+ integrated circuits alone are used in the adapter. We estimate this solution to be in the $4+ range.
Aleady a subscriber?
TechInsights Teardown subscribers already have access to exclusive content in the TechInsights Platform.
Log in
Interested in a subscription?
TechInsights offers subscriptions to the broadest range of analysis and expert commentary. Contact us to learn about our many subscription offerings.
Learn more
A TechInsights subscription gives you the data you need- instantly.
Sign up for latest analysis, news and insights from TechInsights!
Stay informed about TechInsights' products, services, and events. Email collection adheres to TechInsights' Privacy Policy.
Revealing the innovations others cannot inside advanced technology products
Contact
General Inquiries
1-888-666-8888
1891 Robertson Rd #500, Nepean, ON K2H 5B7
Copyright © 2023 TechInsights Inc. All rights reserved.