Posted: September 13, 2017, Updated October 17, 2017
Contributing Authors: Daniel Yang, Stacy Wegner
We have completed the Apple Watch Series 3 teardown. We were especially interested in its cellular functionality, and whether the LTE chipset supplier is Qualcomm or Intel. Our findings are presented in the following paragraphs.
Inside the Apple Series 3 Watch
The Apple Watch Series 3 we examined is a 42mm Sport Band Model A1861 with GPS + Cellular.
The Apple S3 is still a System in Package (SiP). Our col-sm-12 col-lgleagues in the lab did a great job getting photos of the components inside the S3.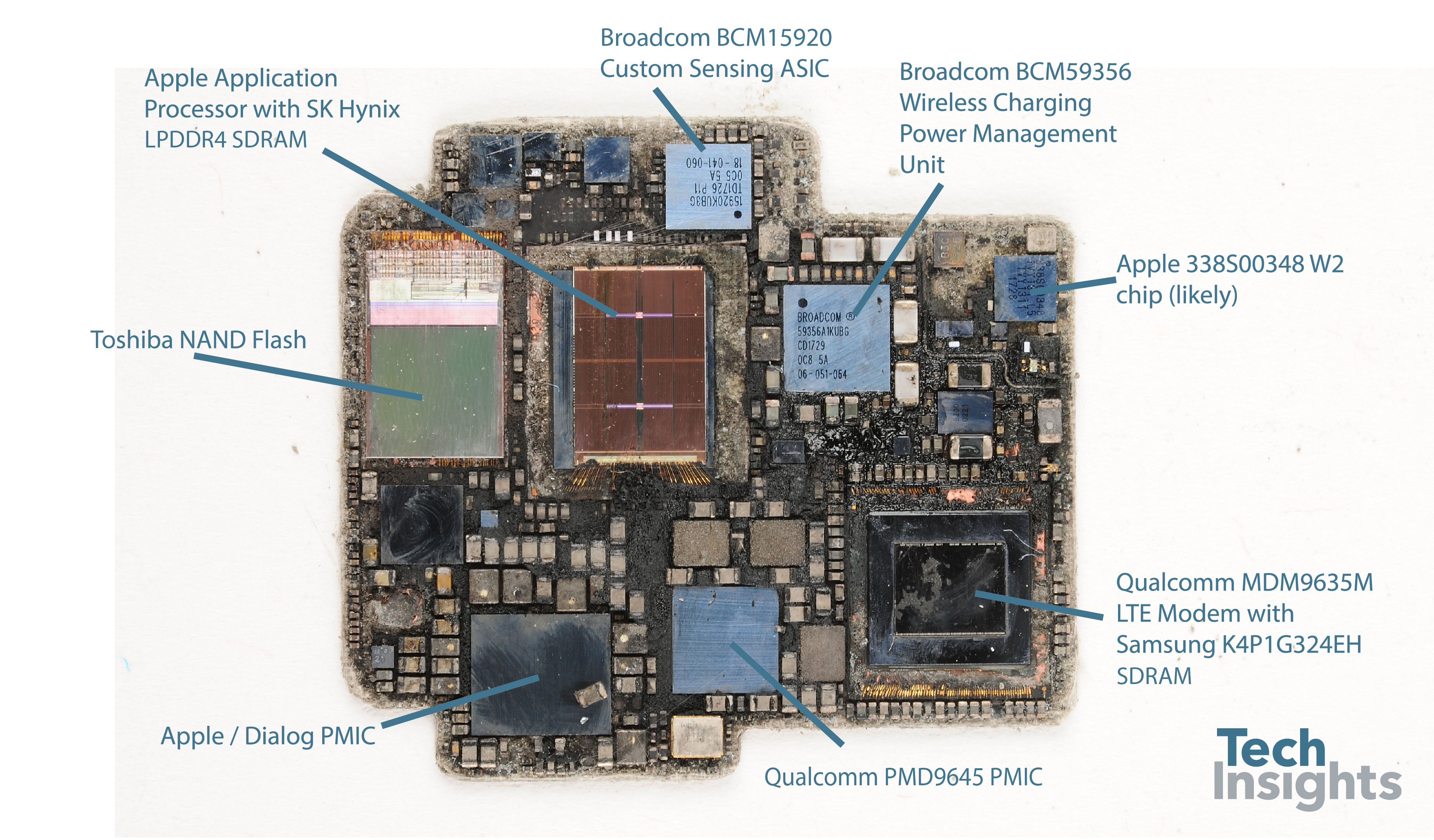 Baseband Processor
Congratulations Qualcomm for winning the LTE chipset socket. The LTE Baseband (Modem) die in the Package on Package (PoP) is HG11-NG162, which can be decoded to the Qualcomm MDM9635M, a Snapdragon X7 LTE Modem.
We have seen this LTE Modem in Apple iPhone 6S/6S Plus, Samsung Galaxy S6 Edge, etc. The PoP also has a Samsung K4P1G324EH DRAM die.
DRAM
We found die marks H54T6D63M, which is the same die from the SK Hynix H9HKNNNDBUMURR-NLH LPDDR4 SDRAM in an Apple iPhone 7 Plus phone purchased in Germany. We think that the H54T6D63M is a 768MB LPDDR4 SDRAM.
NAND Flash
There are four identical Toshiba NAND Flash die FPV7_32G, which means that the Apple A1861 GPS + Cellular Series 3 watch has 16GB flash capacity.
Power Management ICs
We have confirmed that the Qualcomm PMIC is PMD9645. We think we have also identified the Apple/Dialog PMIC.
Applications Processor
At the Apple event on September 12, Apple announced their Series 3 watch is installed with a new dual-core processor. We suspect that the die underneath the SK Hynix DRAM is the new Application Processor.
W2 Chip
Apple also announced that the Series 3 watch is installed with an Apple-designed W2 chip. We have confirmed that the Apple 338S00348 is the W2 chip, which provides Bluetooth functionality. The floor plan of the W2 chip has changed significantly from its predecessor, the W1: the RF transceiver is more complex, and the memory blocks have been removed in the W2. As an aside, TechInsights previously analyzed the W1 chip in the Beats Solo 3 wireless headphones and Apple Airpods.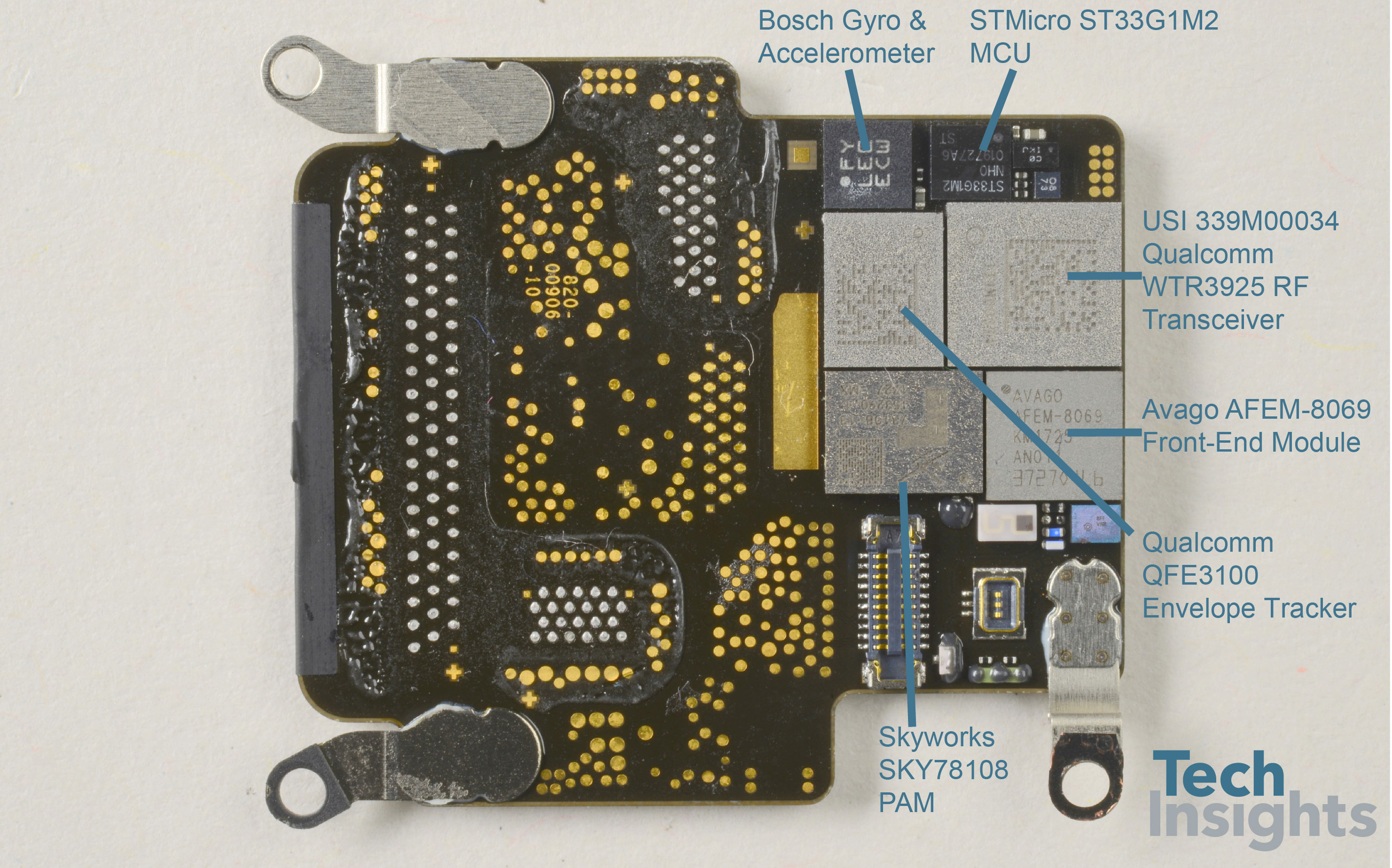 RF Components
The board below has a few RF devices. We have confirmed that the Universal Scientific Industrial (USI) 339M00034 is the Qualcomm WTR3925 RF Transceiver. We found that Apple used the same Qualcomm Modem and RF Transceiver here as in the iPhone 62 smartphone, which is not a surprise.
On the board, there are an Avago AFEM-8069 Front-End Module, Skyworks SKY 78198 Power Amplifier Module (PAM), and a USI module which is the Qualcomm QFE3100 Envelope Tracker.
MCU
STMicro ST33G1M2 is found in the Series 3 watch. It is a 32-bit ARM SC300 MCU.
Latest Posts From Our Blogs