10 BEST Semiconductor Equipment Supplier Rankings for 2023
Advantest, ASML, ASMPT Limited, FormFactor, and EV Group earn TechInsights' Five-Star Ratings in the 2023 10 BEST.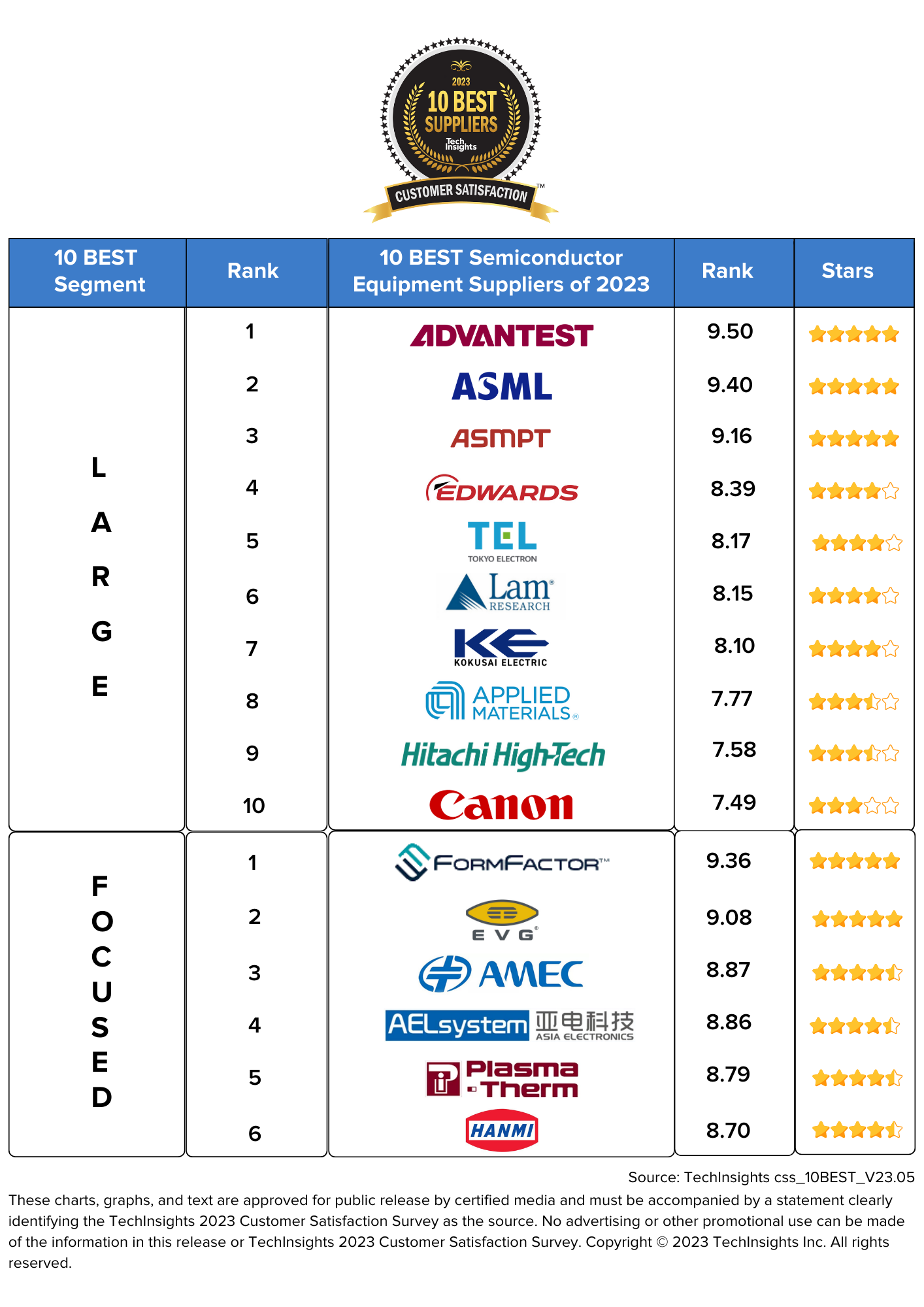 The TechInsights Rating Scale
Customers recognized thirteen of this year's 10 BEST suppliers with 4 TechInsights Stars and above. The overall average of the 10 BEST suppliers increased 18 basis points, a 2.15% increase from last year. Focusing on where these 10 BEST suppliers excelled, customers awarded the highest average ratings in Product Performance, Quality of Results, and Uptime. 10 BEST Focused Suppliers increased average ratings in all fourteen categories where at the same time 10 BEST Large increased averages in only ten categories. Congratulations to the 2023 10 BEST winners!
About the companies in their words
Advantest
Advantest(TSE: 6857) is the leading manufacturer of automatic test and measurement equipment used in the design and production of semiconductors for applications including 5G communications, the Internet of Things (IoT), autonomous vehicles, high-performance computing (HPC), including artificial intelligence (AI) and machine learning, and more. Its leading-edge systems and products are integrated into the most advanced semiconductor production lines in the world. The company also conducts R&D to address emerging testing challenges and applications; develops advanced test-interface solutions for wafer sort and final test; produces scanning electron microscopes essential to photomask manufacturing; and offers system-level test solutions and other test-related accessories. Founded in Tokyo in 1954, Advantest is a global company with facilities around the world and an international commitment to sustainable practices and social responsibility.
Survey Results:
in Large Semiconductor Equipment Suppliers
AMEC
AMEC (SSE STAR Market stock code: 688012) is China's leading provider of process technologies, tools and expertise that help global manufacturers of semiconductors and LEDs achieve their innovation, production, and profit goals. The company's etch tools enable chipmakers to build devices for diverse applications at nodes as low as 5nm, while its MOCVD systems lead the market for Blue LED mass production. More than 3300 AMEC process stations, comprising both product lines, have been installed at 100+ leading customer fabs across Asia and Europe. AMEC is headquartered in Shanghai with operations in Nanchang and Xiamen, and regional subsidiaries in Taiwan region, Singapore, Japan, South Korea, and the United States.
Survey Results:
in Focused Semiconductor Equipment Suppliers
Applied Materials
Applied Materials, Inc. (Nasdaq: AMAT) is the leader in materials engineering solutions used to produce virtually every new chip and advanced display in the world. Our expertise in modifying materials at atomic levels and on an industrial scale enables customers to transform possibilities into reality. At Applied Materials, our innovations make possible a better future.
Survey Results:
in Large Semiconductor Equipment Suppliers
ASML
ASML is a leading supplier to the semiconductor industry. The company provides chipmakers with hardware, software and services to mass produce the patterns of integrated circuits (microchips). Together with its partners, ASML drives the advancement of more affordable, more powerful, more energy-efficient microchips. ASML enables groundbreaking technology to solve some of humanity's toughest challenges, such as in healthcare, energy use and conservation, mobility and agriculture. ASML is a multinational company headquartered in Veldhoven, the Netherlands, with offices across Europe, the US and Asia. Every day, ASML's more than 40,500 employees (FTE) challenge the status quo and push technology to new limits. ASML is traded on Euronext Amsterdam and NASDAQ under the symbol ASML. Discover ASML.
Survey Results:
in Large Semiconductor Equipment Suppliers
ASMPT Limited
ASMPT (HKEX stock code: 0522) is a leading global supplier of hardware and software solutions for the manufacture of semiconductors and electronics. Headquartered in Singapore, ASMPT's offerings encompass the semiconductor assembly & packaging, and SMT (surface mount technology) industries, ranging from wafer deposition to the various solutions that organize, assemble and package delicate electronic components into a vast range of end-user devices, which include electronics, mobile communications, computing, automotive, industrial and LED (displays). ASMPT partners with customers very closely, with continuous investment in R&D helping to provide cost-effective, industry-shaping solutions that achieve higher productivity, greater reliability, and enhanced quality.
Survey Results:
in Large Semiconductor Equipment Suppliers
Canon
Canon Inc., headquartered in Tokyo, Japan, is a leader in the fields of professional and consumer imaging equipment, industrial equipment and information systems. Canon's extensive range of products includes production printers, multifunction office systems, inkjet and laser printers, cameras, video and cinematography equipment, network cameras, medical systems and semiconductor-manufacturing equipment. Originally established in 1937 as Precision Optical Industry, Co., Ltd., a camera manufacturer, Canon has successfully diversified and globalized to become a worldwide industry leader in professional and consumer imaging systems and solutions. With approximately 195,000 employees worldwide, the Canon Group includes manufacturing and marketing subsidiaries in Japan, the Americas, Europe, Asia and Oceania; and a global R&D network with companies based in the United States, Europe, Asia and Australia.
Survey Results:
in Large Semiconductor Equipment Suppliers
Edwards
Edwards is a global leader of vacuum and abatement. We are proud to lead the industry, pushing the boundaries of science to deliver innovative products which are intrinsic to everyday life, working in partnership with our customers and continually setting new standards. At Edwards, we are committed to minimizing the negative environmental impacts of semiconductor manufacturing and we strive to minimize the impact on the natural world and environment we live in now and for our future. With over 100 years of rich heritage, Edwards is the partner of choice for tens of thousands of customers in critical applications around the world. Vacuum is required in diverse sectors, from the generation of power to the production of steel, to the challenging environments of space simulation and high energy physics research. Everywhere you find vacuum requirements, you will find Edwards leading the way.
From medicines to mobile phones, from computers to coffee beans, to cars and chemicals, we pride ourselves in making a difference to people's lives. And we do it responsibly, ensuring that we innovate sustainably, whilst helping our customers to maintain their competitive advantage and operational excellence. Edwards is part of the Atlas Copco Group (NASDAQ OMX Stockholm: ATCO A, ATCO B), a Sweden-based provider of industrial productivity solutions.
Survey Results:
in Large Semiconductor Equipment Suppliers
EV Group
EV Group (EVG) is a leading supplier of high-volume production equipment and process solutions for the manufacture of semiconductors, MEMS, compound semiconductors, power devices and nanotechnology devices. A recognized market and technology leader in wafer-level bonding and lithography for advanced packaging and nanotechnology, EVG's key products include wafer bonding, thin-wafer processing and lithography/nanoimprint lithography (NIL) equipment, photoresist coaters, as well as cleaning and inspection/metrology systems. With state-of-the-art application labs and cleanrooms at its headquarters in Austria, as well as in North America and Asia, EVG is focused on delivering superior process expertise to its global R&D and production customer and partner base – from the initial development through to the final integration at the customer's site. Founded in 1980, EVG services and supports an elaborate network of global customers and partners all over the world, with more than 1200 employees worldwide and fully-owned subsidiaries in the U.S., Japan, South Korea, China and Taiwan.
Survey Results:
in Focused Semiconductor Equipment Suppliers
FormFactor
FormFactor, Inc. (NASDAQ: FORM), is a leading provider of essential test and measurement technologies along the full IC life cycle - from metrology and inspection, characterization, modeling, reliability, and design de-bug, to qualification and production test. Semiconductor companies rely upon FormFactor's products and services to accelerate profitability by optimizing device performance and advancing yield knowledge. The Company serves customers through its network of facilities in Asia, Europe, and North America.
Survey Results:
in Focused Semiconductor Equipment Suppliers
HANMI
Founded in 1980 for the development of Korea semiconductor-based industry, Hanmi Semiconductor has grown steadily into a world-class semiconductor manufacturer and now we are the leading designer, developer & manufacturer of semiconductor equipment industry. Our success has been based on a number of factors such as the best assembly systems, efficiency of production, ongoing R&D investment & high-tech modules through 25 years quality improvement.
Survey Results:
in Focused Semiconductor Equipment Suppliers
Hitachi High-Tech
Hitachi High-Tech, headquartered in Tokyo, Japan, is engaged in activities in a broad range of fields, including manufacture and sales of clinical analyzers, biotechnology products, and analytical instruments, semiconductor manufacturing equipment and analysis equipment. and providing high value-added solutions in fields of social & industrial infrastructures and mobility, etc.
Survey Results:
in Large Semiconductor Equipment Suppliers
Jiangsu ASIA Electronics
Jiangsu ASIA Electronics is a wet process equipment manufacturer in the semiconductor wafer manufacturing industry. It focuses on the wet etching and cleaning technology of the wafer front-end. It is one of the first domestic enterprises to promote the localization of high-end semiconductor equipment. Based on independent innovation, the company has formed a business model integrating R&D, design, production and sales, providing efficient wet process solutions for domestic and foreign wafer manufacturers.
Survey Results:
in Focused Semiconductor Equipment Suppliers
Kokusai Electric
KOKUSAI ELECTRIC designs, manufactures, and services thermal thin film processing solution systems. Our diffusion and deposition systems can be found in the majority of semiconductor fabrication plants worldwide.
Survey Results:
in Large Semiconductor Equipment Suppliers
Lam Research
Lam Research Corporation (NASDAQ: LRCX) is a global supplier of innovative wafer fabrication equipment and services to the semiconductor industry. Lam's equipment and services allow customers to build smaller and better performing devices. In fact, today, nearly every advanced chip is built with Lam technology. We combine superior systems engineering, technology leadership, and a strong values-based culture, with an unwavering commitment to our customers. Lam Research is a FORTUNE 500® company headquartered in Fremont, California, with operations around the globe.
Survey Results:
in Large Semiconductor Equipment Suppliers
Plasma-Therm
Plasma-Therm is a global manufacturer of advanced plasma processing equipment. Its tools and processes are used to support manufacturing needs in etch, deposition, rapid thermal processing, and plasma-dicing technologies. The company serves the semiconductor and compound semiconductor industries in developing solutions for the wireless, power device, MEMS, photonics, advanced packaging, and data storage markets. With locations in North America, Europe, and Asia-Pacific, Plasma-Therm meets the diverse needs of its customers with exceptional customer service.
Survey Results:
in Focused Semiconductor Equipment Suppliers
Tokyo Electron
Tokyo Electron Limited (TEL) is a leading global company of semiconductor and flat panel display (FPD) production equipment, TEL engages in development, manufacturing, and sales in a wide range of product fields. All of TEL's semiconductor and FPD production equipment product lines provide the foundation for the information industry, and also serves as core technologies that support innovations and enable the evolution of wide-ranging electronic devices. TEL provides outstanding products and services to customers through a global network in the U.S., Europe, and Asia.
Survey Results:
in Large Semiconductor Equipment Suppliers
About the 2023 TechInsights Customer Satisfaction Survey
TechInsights received feedback from more than 60% of the chip market and 66% of subsystems customers for this year's survey. The survey spans 2 ½ months and covers five languages. Worldwide participants were asked to rate equipment suppliers among fourteen categories based on three key factors: supplier performance, customer service, and product performance. 1,859 surveys were returned, resulting in 25,489 total responses.
The TechInsights annual Customer Satisfaction Survey is the only publicly available opportunity since 1988 for customers to provide feedback for suppliers of: semiconductor equipment and subsystems. The 10 BEST and THE BEST awards provide special recognition to suppliers that are rated highest by their customers.
10 BEST awards recognize each chip making equipment supplier as a whole, regardless of product type:
Fab, Test, Assembly, and WFE Subsystems equipment ratings are grouped together for an overall rating for each supplier
Each supplier is then listed in one of two categories based on a three-year average of total revenues for all its market segments: Large or Focused
THE BEST awards recognize the more detailed markets:
Fab Equipment, Test Equipment, Assembly Equipment, WFE to Foundation Chip Makers, WFE to Specialty Chip Makers, Assembly Subsystems, Test Subsystems, and WFE Subsystems
RANKED 1stawards place special distinction on suppliers that achieve the highest rating from customers in any survey category, including:
10 BEST and THE BEST
Specialized areas such as: CMP, Deposition, Etch & Clean, Implant, Lithography, Process Diagnostics, Specialty Fab, Assembly Subsystems, Test Subsystems, and WFE Subsystems
The authoritative information platform to the semiconductor industry.
Discover why TechInsights stands as the semiconductor industry's most trusted source for actionable, in-depth intelligence.