NAND flash memory is the second largest IC product category today, with over $60B in revenue in 2018, representing an increase of 18% over 2017. This growth was fueled by a higher average selling price, growing use of solid-state drives in data center server storage, and larger memory capacity in smartphones.
While the NAND market is currently dominated by Samsung, Toshiba Memory, Western Digital, Micron, SK Hynix and Intel, we also see significant investment from Chinese vendors such as YMTC.
Some of the innovations we have seen in this space in just the past five years include the move from double patterning to quadruple patterning as we reach down to 14 nm feature sizes; the widespread adoption of air gaps; the full production of 14/15 planar parts; and the launch of 3D/V-NAND products.
Looking to the future, planar will fade out except for niche applications. 3D 92L/96L has been already commercialized. 128L/144L/192L would be here this and next year. "4D NAND" appears to be the SK Hynix version of CuA, and Xtacking is the YMTC process of stacking CMOS over the array to save area.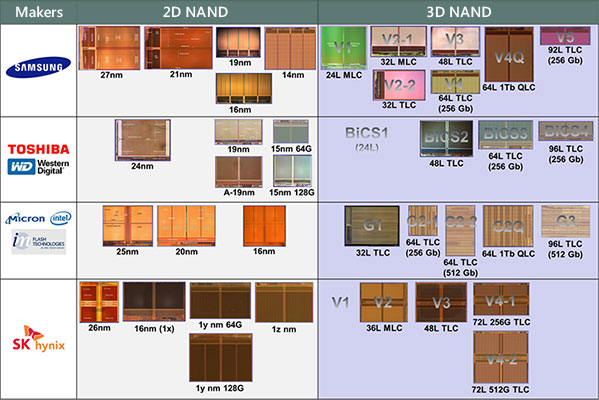 Our Value
As NAND technology evolves, the strategies of those with NAND-related IP must also evolve. Practically speaking, NAND innovation impacts every facet of the NAND ecosystem from key industry players and patent holders to manufacturing methods and memory density to price per bit. Further, reverse engineering techniques for finding relevant evidence of use requires continuous development in this rapidly advancing technology space.
Our Analysis
TechInsights observes, examines, and reports on the technological innovations we find in NAND products using a variety of analytical methods, including teardown and costing, floorplan and node, design elements, circuit, process and packaging, and process flow analysis.

The TechInsights Memory > NAND subscription includes:
Analysis Coverage
Focused on leading-edge planar NAND and 3D NAND
Package photos and X-rays
CircuitVision optical top metal and poly die photos
CircuitVision optical top metal and poly die photos
Process, design, comparison, and analyst briefings.
13-15 MFR reports/year

A successful IP strategy in this field requires an awareness of disruptive events in NAND, knowledge of key and upcoming market players, and the correct application of reverse engineering techniques to identify the changes from generation to generation of the latest NAND technology.
Search our analysis and website