Product Code
EXR-1808-803
Product Item Code
STM-PM54A
Device Manufacturer
STMicroelectronics
Device Type
Digital Micromirror Device
Image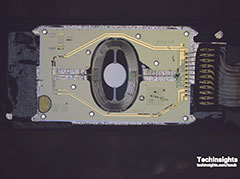 This report presents an Exploratory Analysis on the STMicroelectronics PM54A MEMS die contained in the MicroVision PB0133286-005 and PB0134474-001 micromirror modules from the Sony MP-CL1A laser projector and the Ragentek VOGA V 55909 smartphone.
A unique vault of trusted, accurate data at your fingertips
Our analysis goes as deep as required to reveal the inner workings and secrets behind a broad range of products.
Search our analysis and website
Don't miss another update from TechInsights.
All our latest content updates sent to you a few times a month.