Product Code
BFR-2103-801
Product Item Code
ESP-ESP32-C3-DEVKITM-1
Device Manufacturer
Espressif Systems
Device Type
Evaluation Kit
Channel
IoT Connectivity SoC - Transceiver Floorplan
Image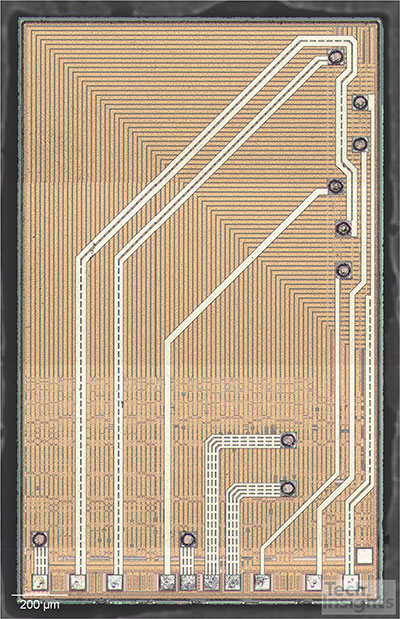 This report presents a Basic Floorplan Analysis of the Espressif ESP32-C3 wireless combo SoC die found inside the Espressif ESP32-C3F component. The ESP32-C3 comprises a RISC-V single core CPU with support for 2.4 GHz Wi-Fi and Bluetooth low energy. The Espressif ESP32-C3F was extracted from the Espressif ESP32-C3-DevKitM-1 development kit. This report presents a Basic Floorplan Analysis of the Qualcomm HG11-YC990-110 die found inside the Murata 1XE wireless module.
This report contains the following detailed information:
Selected teardown photographs, package photographs, package X-rays, die markings, and die photographs
SEM cross-sectional micrographs of the general structure of the die dielectric materials, major features, and transistors
Measurements of vertical and horizontal dimensions of major microstructural features
Plan-view optical micrograph of the die delayered to the polysilicon layer
Identification of major functional blocks on a polysilicon die photograph
Table of functional block sizes and percentage die utilization
High-resolution top metal and polysilicon die photographs delivered in the CircuitVision software
Cost of die and tested packaged die, based on the manufacturing cost analysis of the observed process
A unique vault of trusted, accurate data at your fingertips
Our analysis goes as deep as required to reveal the inner workings and secrets behind a broad range of products.
Search our analysis and website
Don't miss another update from TechInsights.
All our latest content updates sent to you a few times a month.