TechInsights Mobile App Features
Access to the TechStream Blog
TechInsights subject matter experts regularly contribute posts about important industry events like major investments and the release of new products, sneak peeks into technical reports and analysis being worked on at TechInsights, and guides on how to get the most out of the TechInsights platform.
Notifications
Get notified when new reports and news is available and be the first to know about innovations in your industry.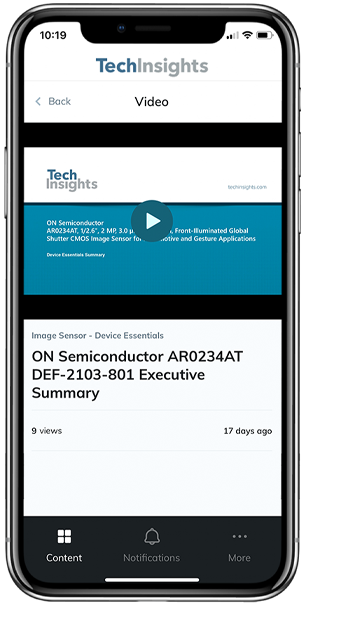 Watch TechInsights Videos
Learn about the latest advancements in technology industries through exclusive access to TechInsights seminar videos where subject matter experts share their findings and insights. Video versions of guides and product overviews are available for TechInsights subscription products.
Download the TechInsights App Today
Take TechInsights with you, and never miss an update by downloading the TechInsights Mobile App.
Give it a try and let us know what you think.
Our developers are excited for your feedback as we build the platform and mobile app for the semiconductor and micro electronics industry.
Search our analysis and website
Latest Posts From Our Blogs