Product Code
PKG-1505-801
Product Item Code
SAM-K4AAG045WD-4CRB
Device Manufacturer
Samsung
Image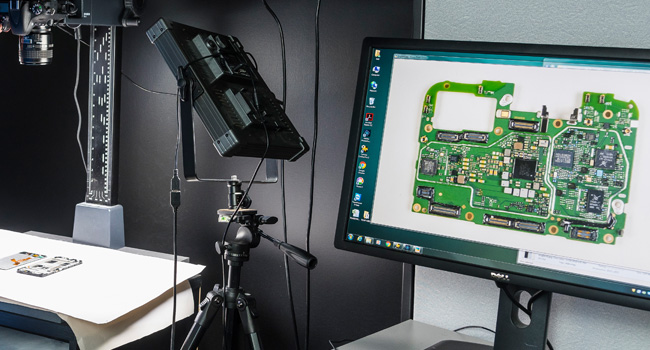 This report presents a Package Analysis of the Samsung K4AAG045WD-4CRB 4 Gb DDR4 SRAM. The K4AAG045WD-4CRB flip-chip fine pitch ball grid array (FBGA) package is 11.0 mm x 7.5 mm and is 0.76 mm thick, excluding the solder balls. The package solder ball matrix is an array of 9 x 13, on a pitch of 0.8 mm, with the three center rows not populated. There are a total of 78 lead-free solder balls. The K4AAG045WD-4CRB component comprises a stack of four K4A4G085WD 1 Gb DDR4 SRAM dies flip-chip mounted to the printed wiring board (PWB). The three bottom memory dies of the stack have TSVs, and the inter-die connection is accomplished by face-to-back bonding between Ni stud bumps using lead-free solder. The first die of the stack (bottom die) is connect to the PWB using Cu stud bumps and lead-free solder.
A unique vault of trusted, accurate data at your fingertips
Our analysis goes as deep as required to reveal the inner workings and secrets behind a broad range of products.
Don't miss another update from TechInsights.
All our latest content updates sent to you a few times a month.