Put your patent portfolio to work
Do you have the information you need to make decisions about your portfolio – filing, culling, buying, selling, and licensing your patents?
Does your knowledge of your patent portfolio allow you to take quick action in response to a new challenge or opportunity?
Enabling the best fact-based decisions about your portfolio
Patent portfolio assessment and management:
organizes your portfolio to provide clear intelligence on its composition
identifies assets with potential use in the market
identifies surplus patents and portfolio deficiencies
allows you to create revenue generating strategies or cost-savings plans
Under pressure to save money on your patent maintenance fees?
Patent maintenance fees can be a sizeable expense. If you would like to realize significant savings, a portfolio audit can help you identify surplus patents and patents of limited value by:
helping you map your patents to technology, products and competitors
understanding which patents are valuable and which are not
identifying areas that are over-patented or patents that do not align to your business plans
Make understanding your portfolio easy
Our portfolio analysis approach helps you understand:
where your portfolio is strong or weak
how your portfolio stacks up against other portfolios of interest
your potential return on investment for a maintenance fee reduction program
Patent Portfolio Management: Best Practices in 2018
In this Webcast, a panel of thought leaders and professionals brought together by the Knowledge Group will provide and present to the audience an in-depth analysis of the fundamentals of Patent Portfolio Management. The speakers will help the audience understand the implications of the recent trends and developments in patent portfolio management. They will identify practical tips in implementing an efficient and effective patent portfolio management program. Going beyond the basics, the speakers will also provide the audience with the best practices and strategies to maximize the patent portfolio benefits and opportunities while minimizing risks and legal pitfalls.
Key topics include:
Patent Portfolio Management: Practical Tips and Strategies
Significant Issues and Trends in 2018
Opportunities and Legal Pitfalls
Common Risks and Pitfalls
What Lies Ahead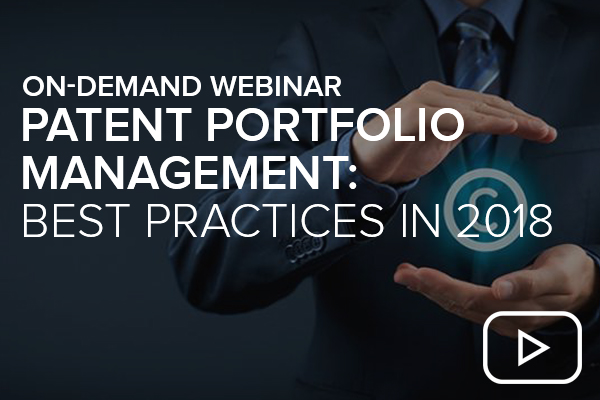 "What differentiated TechInsights was that they have the tools and the infrastructure to support ongoing management of the portfolio." - Director of IP
"The analysis that TechInsights did was a key enabler of our organization being able to set a medium term objective of having all our internal IP costs covered through monetization activities." - Director, Patent Monetization
The capacity and experience to support large portfolios
TechInsights has worked with the owners of some of the largest patent portfolios in the world. We have the tools and experience to provide insights and guidance on portfolios of over 10,000 patents.
Top patent holders work with us as an extension of their in-house team and rely on us because we have:
extensive experience with claims analysis and understand detectability and industry use
a large pool of experts in semiconductor, electronics and software to ensure comprehensive analysis
well-defined and proven processes that deliver consistent results
a suite of proprietary software tools to analyze and visualize portfolio composition
A look at the Microsoft Azure IP Advantage Portfolio
Microsoft recently launched a new service to their cloud customers offering protection against patent infringement lawsuits. TechInsights was given early access to the patents being made available to Microsoft's customers via the Azure IP Advantage program. We used our IP analytics capabilities to evaluate some important metrics of the portfolio and compare it to a selection of Microsoft's leading competitors.
What we looked at:
Search our analysis and website
Sign up for latest analysis, news and insights from TechInsights!
Stay informed about TechInsights' products, services, and events. Email collection adheres to TechInsights' Privacy Policy.
Revealing the innovations others cannot inside advanced technology products
Contact
General Inquiries
1-888-666-8888
1891 Robertson Rd #500, Nepean, ON K2H 5B7
Copyright © 2023 TechInsights Inc. All rights reserved.