Top patent licensors rely on TechInsights
TechInsights is the trusted technology and patent analysis provider behind some of the world's most successful licensing campaigns. From identification of high revenue products to evidence of use documentation in negotiation-ready format to courtroom support, we have you covered:
Generate licensing revenue
Create freedom to operate through cross-licensing agreements
Revealing the innovation that others can't
TechInsights' specialized in-house engineering teams have experience supporting licensing programs and delivering insights across a wide range of technologies and industries.
Challenge us to unlock patents in your portfolio that were previously deemed too challenging to support.
We can:
analyze structures and materials, circuit layouts and schematics, and commercial software and embedded code
deliver world-class analysis in systems and software – specifically as it applies to mobile devices, consumer electronics, networking, processors, security, automotive and cloud markets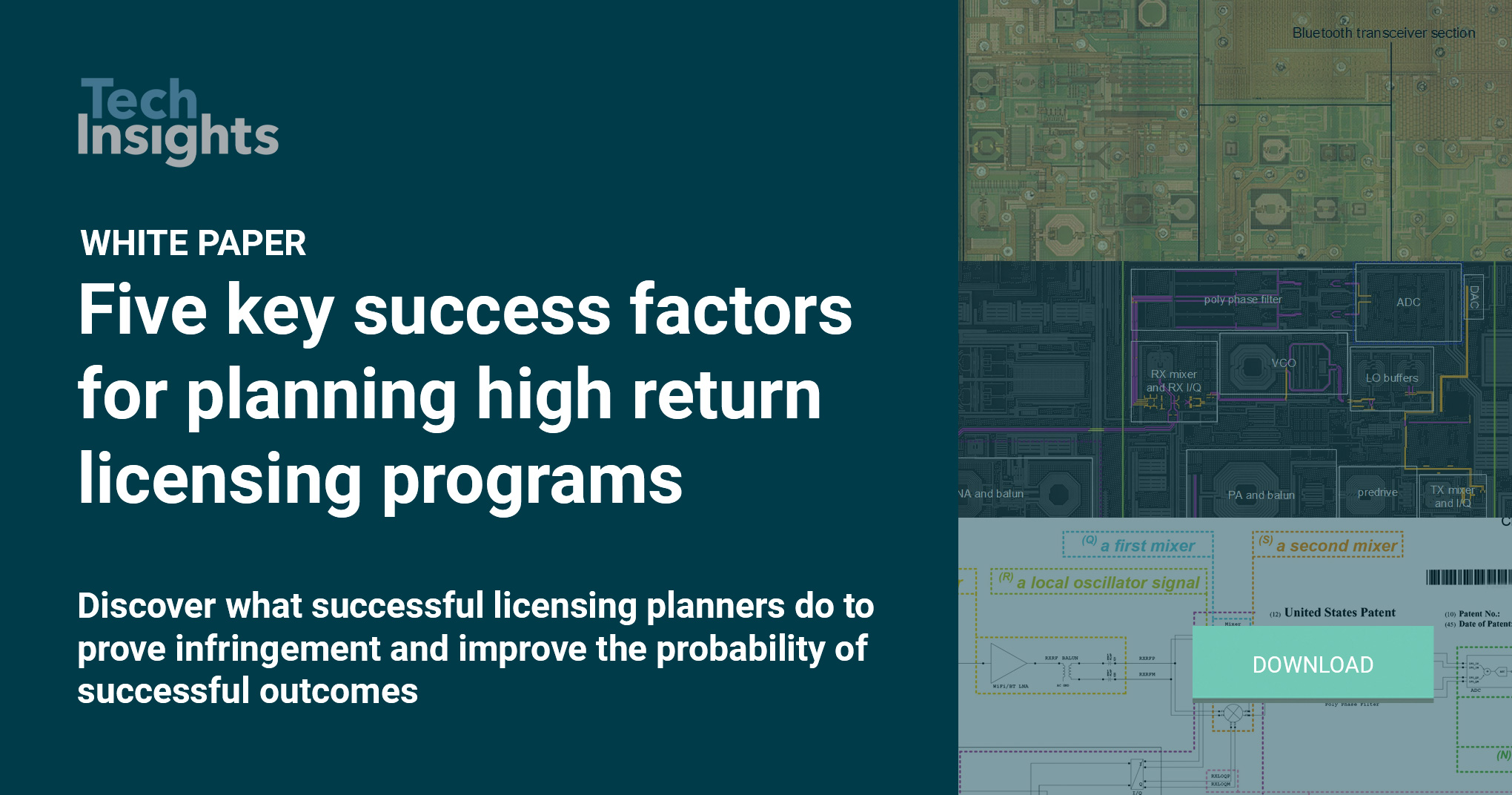 "We don't give TechInsights the easy stuff. We give them the work we don't have the capability to do internally. They helped us validate the potential of monetizing a group of systems patents that initially fell outside of our IP strategy. Now we see that we can derive licensing revenue outside of the semiconductor industry."

Director, IP Group
Ensure your assertion is as effective as possible
We understand how to uncover and demonstrate patent value. Our full suite of services offer you the analysis you need to make and execute effective licensing decisions. We can help your assertion programs through:
Company research:
Exposure analysis
Revenue and target analysis
Design win analysis
Procurement
Preliminary reverse engineering
Target characterization
Patent mining:
Patent sort
Patent rank
Patent review
Evidence mining
Assertion court support
Patent Portfolio Monetization: Key Considerations for Companies in 2018 and Beyond
Companies worldwide consider Intellectual Property (IP) as one of their most valuable asset classes because of the substantial financial and strategic value that can be generated from IP monetization transactions and structures. However, determining the value of a patent portfolio has been a constant challenge for patent owners due to the increasing complexities in the IP environment.
With the considerable amount of both opportunity and uncertainty in the backdrop, businesses need to put a robust patent portfolio management strategy in place to be able to maximize profits and mitigate future risks or losses.
In this Webcast, a panel of distinguished professionals and thought leaders will help companies and patent owners understand the important aspects of this significant topic. They will provide an in-depth discussion of critical issues surrounding Patent Portfolio Monetization. Speakers will also offer best practices in improving patent quality and in developing and implementing effective portfolio monetization programs.
Key topics include:
Current Patent Portfolio Monetization Trends
Risks and Pitfalls
Business, Legal and Other Considerations
Best Patent Valuation Practices
Impact of Recent Regulatory Developments
Complement and extend your in-house capabilities
Do you lack in-house reverse engineering capacity or specific capabilities? Do you need technical expertise across semiconductors, electronics or software? Do you have patents that are hard to investigate for unlicensed use?
state-of-the-art lab facilities and proprietary techniques
archive of devices and library of technical analysis, combining the historical records of TechInsights and Chipworks
broad exposure to technologies and products from multiple vendors across several generations of product development
long-tenured staff, with deep domain expertise and industry experience who have the ability to place technical data in the context of patents
30+ years of successfully documenting evidence of use
Search our analysis and website
Sign up for latest analysis, news and insights from TechInsights!
Stay informed about TechInsights' products, services, and events. Email collection adheres to TechInsights' Privacy Policy.
Revealing the innovations others cannot inside advanced technology products
Contact
General Inquiries
1-888-666-8888
1891 Robertson Rd #500, Nepean, ON K2H 5B7
Copyright © 2023 TechInsights Inc. All rights reserved.