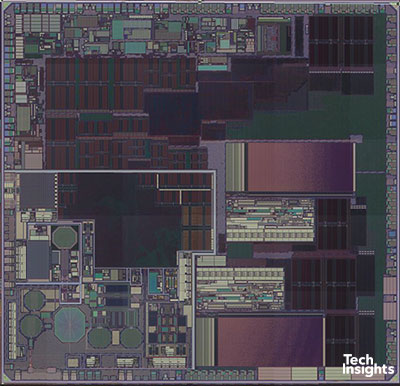 Ambiq Micro Apollo 3 Blue Ultra-Low Power MCU
The MCU marketplace is crowded and competitive, with semiconductor companies globally increasing R&D spend in this technology area; this market is forecast to reach ~$20B USD in 2019.
This continued growth stems from the need for dedicated controllers for the IoT and mobile devices; consumers want to use their devices more and recharge them less. The latest wave of MCU solutions deliver by consuming less power and increasing battery operation times.
Ambiq's latest ultra-low power MCU, the Apollo 3 Blue, caught our attention. This SoC, fabricated on TSMC's 40 nm eFlash LP process, includes a new direct memory access (DMA) engine and TurboSPOT burst mode, which brings the ARM core to 96Mhz while lowering active power to less than 6uA/Mhz.
TechInsights has begun our analysis on this part, and we have several reports planned, including standard cell analysis and circuit extraction.
Ambiq Micro Apollo 3 Blue Ultra-Low Power MCU
Learn more about the Ambiq Micro Apollo 3 Blue, and view a high-resolution die photo of the device, by downloading the brief.
Sign up for latest analysis, news and insights from TechInsights!
Stay informed about TechInsights' products, services, and events. Email collection adheres to TechInsights' Privacy Policy.
Revealing the innovations others cannot inside advanced technology products
Contact
General Inquiries
1-888-666-8888
1891 Robertson Rd #500, Nepean, ON K2H 5B7
Copyright © 2023 TechInsights Inc. All rights reserved.