eBook
Oura Ring Gen 3 Smart Ring
What's Holding Back Mass Adoption?

Smart rings have emerged as a high-growth wearable device sub-segment, gaining consumer mindshare as wearables continue to expand into ever more creative device types and form-factors. Our report takes a deep dive into the smart ring market, examining use cases, integration with healthcare systems, regulatory hurdles, user experience, teardown analysis, key current and future vendors, total market size and growth trajectory, as well as an in-depth look at the leading product in this space: the Oura Ring Gen 3.
Our e-book highlights the broad range of content available to TechInsights' clients across our User Experience, Teardown, and Market Analysis capabilities. Our coverage of the Oura Ring Gen 3 in this report spans across these three research domains and includes a User Experience (UX) evaluation, Teardown analysis, and market share, market size, and market growth tracking and forecasting.
Smart rings are quickly becoming a popular choice for consumers who want to track their health and wellness discreetly. They are equipped with sensors that can measure various biometrics, including heart rate, sleep patterns, and activity levels. As the market continues to expand, it is becoming increasingly important for companies to differentiate their products through innovative features, stylish designs, and accurate data tracking.
Our report provides a comprehensive overview of the smart ring market, including insights into the latest trends and technologies. We also take a closer look at the Oura Ring Gen 3, the leading product in this space. Our UX evaluation provides an in-depth analysis of the user experience, while our Teardown analysis offers a detailed look at the product's design and components. Additionally, our market analysis provides an overview of the total market size and growth trajectory, as well as key current and future vendors.
At TechInsights, we are committed to providing our clients with the most up-to-date and accurate information on the latest technologies and trends. Whether you are a consumer looking to purchase a smart ring or a company looking to stay ahead of the competition, our report offers valuable insights and analysis to help you make informed decisions. So, browse our selection of reports today and stay ahead of the game!
"There is a greater appetite for patients to have greater ownership of their conditions"
— Consultant, NHS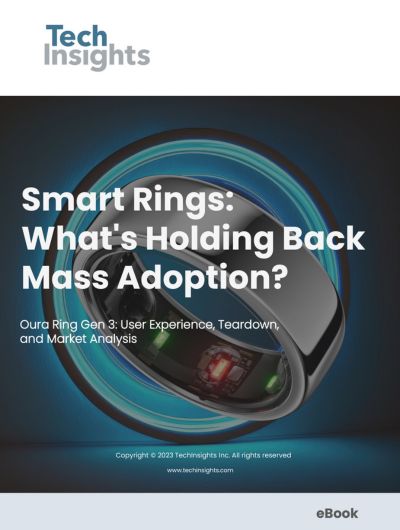 Make informed business decisions faster and with greater confidence
Gain sample access to the world's most trusted source of actionable, in-depth intelligence related to semiconductor innovation and surrounding markets.
The authoritative information platform to the semiconductor industry.
Discover why TechInsights stands as the semiconductor industry's most trusted source for actionable, in-depth intelligence.