eBook:
FitBit Ionic Recall: Battery Overheating Analysis and the Root Cause
Comparative Analysis and Insights by Dr. Ali Khazaeli (Subject Matter Expert, Battery, TechInsights)
The global smartwatch market is significant. According to Strategy Analytics (powered by TechInsights), the smartwatch market is forecast to be $42B in 2027. Lithium-ion batteries are the typical power sources for smartwatches, but the fact that they must be charged frequently and continuously consume energy impedes their widespread adoption. Choosing a battery that does not meet the power and energy requirement of a product may lead to overheating issues, which may also accelerate battery degradation.
Learn how the battery of the FitBit Ionic was recently recalled after dozens of accounts of the battery overheating and causing users skin burns were reported around the globe.
Authored by Dr. Ali Khazaeli - Subject Matter Expert, Battery, TechInsights (with over 10 years of experience in the development, fabrication, and characterization of batteries for both consumer electronics and automotive), this eBook takes an in depth look at the factors leading to the FitBit Ionic overheating issue by examining the battery structure, charging protocol, and design of a Fitbit Ionic smartwatch. We will then provide our thoughts on the possible root cause of the overheating issue resulting in the recall.
Download the eBook: FitBit Ionic Recall: Battery Overheating Analysis and the Root Cause to learn:
Insight into lithium-ion battery aging mechanisms
Safety aspects associated with charging protocols
Probable root causes leading to Fitbit Ionic's overheating issue
Suggested methods to prevent overheating and enhance safety
eBook Table of Contents:
Background/introduction
A review of mechanisms leading to degradation of lithium-ion batteries output characteristics
SEI layer growth
Li-plating
Reverse engineering the Fitbit Ionic smartwatch
Other symptoms and root cause analysis
How to prevent overheating issue/summary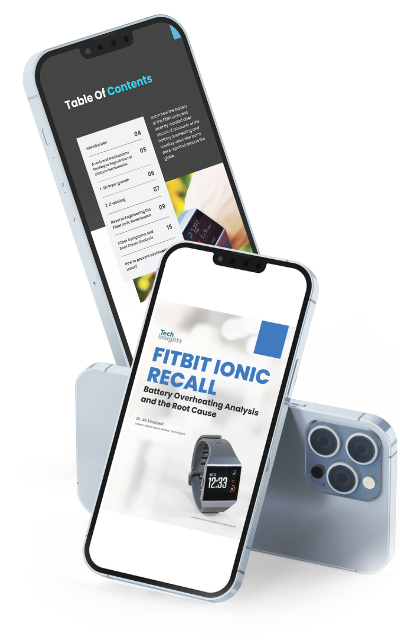 Sign up for latest analysis, news and insights from TechInsights!
Stay informed about TechInsights' products, services, and events. Email collection adheres to TechInsights' Privacy Policy.
Revealing the innovations others cannot inside advanced technology products
Contact
General Inquiries
1-888-666-8888
1891 Robertson Rd #500, Nepean, ON K2H 5B7
Copyright © 2023 TechInsights Inc. All rights reserved.