Disruptive Event
Stratio BeyonSense SWIR Camera
Despite being in production for quite some time, SWIR-capable cameras have been out of reach for many consumer and commercial applications where camera cost and size are important considerations.
The BeyonSense Short Wave Infra-Red (SWIR) Sensor is part of a new generation of image sensors that capture light beyond the visible spectrum enabling imaging and sensing devices to see beyond the visible spectrum and into the internal structure of an object.
The Stratio BeyonSense sensor is likely to be smartphone compatible due to its small footprint and lower cost. The sensor is also expected to help existing markets dominated by conventional image sensors expand to newer applications in counterfeiting, medical diagnostics, pharmaceutical and in agriculture where greater use of image sensors can be realized.
Find content like this and more in the TechInsights Platform. Sign-up for free today.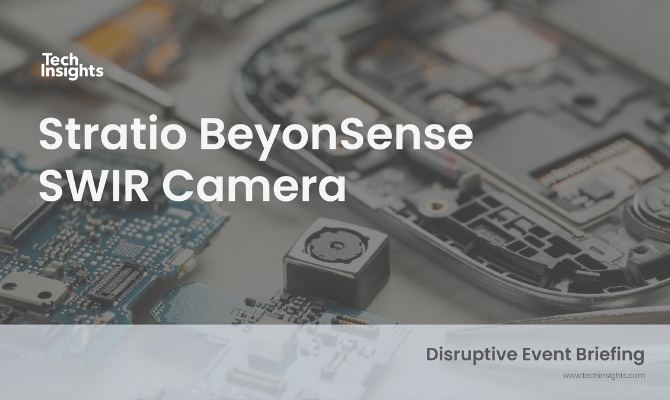 Read the Disruptive Event on the Stratio BeyonSense sensor brief to learn:
What market challenges are addressed by this development
What new applications will be addressed by this sensor
How end-user imaging experience will change as a result
The authoritative information platform to the semiconductor industry.
Discover why TechInsights stands as the semiconductor industry's most trusted source for actionable, in-depth intelligence.