Disruptive Event
Stratio BeyonSense SWIR Camera
Despite being in production for quite some time, SWIR-capable cameras have been out of reach for many consumer and commercial applications where camera cost and size are important considerations.
The BeyonSense Short Wave Infra-Red (SWIR) Sensor is part of a new generation of image sensors that capture light beyond the visible spectrum enabling imaging and sensing devices to see beyond the visible spectrum and into the internal structure of an object.
The Stratio BeyonSense sensor is likely to be smartphone compatible due to its small footprint and lower cost. The sensor is also expected to help existing markets dominated by conventional image sensors expand to newer applications in counterfeiting, medical diagnostics, pharmaceutical and in agriculture where greater use of image sensors can be realized.
Register for this disruptive event brief to discover key details on this sensor's potential market impact, and a more detailed look at this sensor.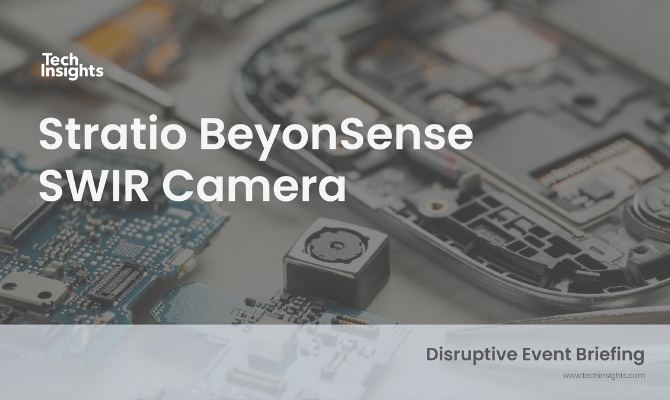 Read the Disruptive Event on the Stratio BeyonSense sensor brief to learn:
What market challenges are addressed by this development
What new applications will be addressed by this sensor
How end-user imaging experience will change as a result
Sign up for latest analysis, news and insights from TechInsights!
Stay informed about TechInsights' products, services, and events. Email collection adheres to TechInsights' Privacy Policy.
Revealing the innovations others cannot inside advanced technology products
Contact
General Inquiries
1-888-666-8888
1891 Robertson Rd #500, Nepean, ON K2H 5B7
Copyright © 2023 TechInsights Inc. All rights reserved.