Disruptive Event
New Broadcom BCM59365, featuring the most advanced wireless charging PMIC observed to date
Broadcom, a worldwide leader in providing global infrastructure technology, has released the Broadcom BCM59365 wireless charging power management integrated circuit (PMIC) solution. Their recent release is the most advanced PMIC we have observed to date. It is found within the iPhone 13 Pro and 14 Pro models.
Why it's the most innovative:
It works by converting the power received from wireless charging of the iPhone to a lower voltage usable by the processer and other peripheral parts of the iPhone, and does this by using TSMC's 40 nm BCD technology, which at 40 nm, is the smallest and most complex logic node of a BCD product in the market today. It also appears to contain other innovative functionality such as memory, all on the same IC as much higher voltage power devices.
This groundbreaking innovation by Broadcom offers iPhone 13 Pro and 14 Pro users improved wireless charging capability, with the possibility of a more sophisticated system due to the incorporation of memory. The improved power density of this chip and the interaction of software leads to a faster wireless charging time and prolonged battery life of these iPhones for end users.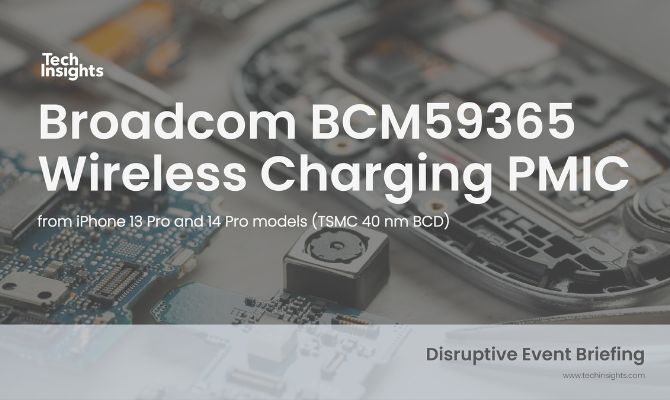 New Broadcom BCM59365, Featuring the Most Advanced Wireless Charging PMIC Observed to Date
Broadcom BCM59365 wireless charging power management integrated circuit (PMIC)
Appears to contain innovative functionality of memory (potentially RRAM TBC)
A more power dense and efficient wireless charging solution than anything in the market today
Interaction with software can enable a more efficient charging style
Find content like this and more in the TechInsights Platform. Sign-up for free today.
The authoritative information platform to the semiconductor industry.
Discover why TechInsights stands as the semiconductor industry's most trusted source for actionable, in-depth intelligence.