Here we were, waiting for the release of the Samsung Galaxy S20 so we could see the Qualcomm Snapdragon 865 mobile platform, and along came Xiaomi with their announcement on February 13 that the Mi 10 - also based on the Snapdragon 865 - would be available (very) soon.
We waited days - not weeks - to get the Xiaomi flagship into our labs for teardown.
All of the Xiaomi Mi 10 and Mi 10 Pro models we have seen so far adopt the Qualcomm Snapdragon 865 platform and support LPDDR5. The phone model we used for this first teardown is the Mi 10 with 12 GB LPDDR5 + 256 GB UFS. It is the world's first commercially available Snapdragon 865 platform phone, and the world's first commercially available LPDDR5 we have seen.
This phone includes more new silicon, too; here is what we have found so far.
Board Images
The following annotated board images show the design wins we have identified so far.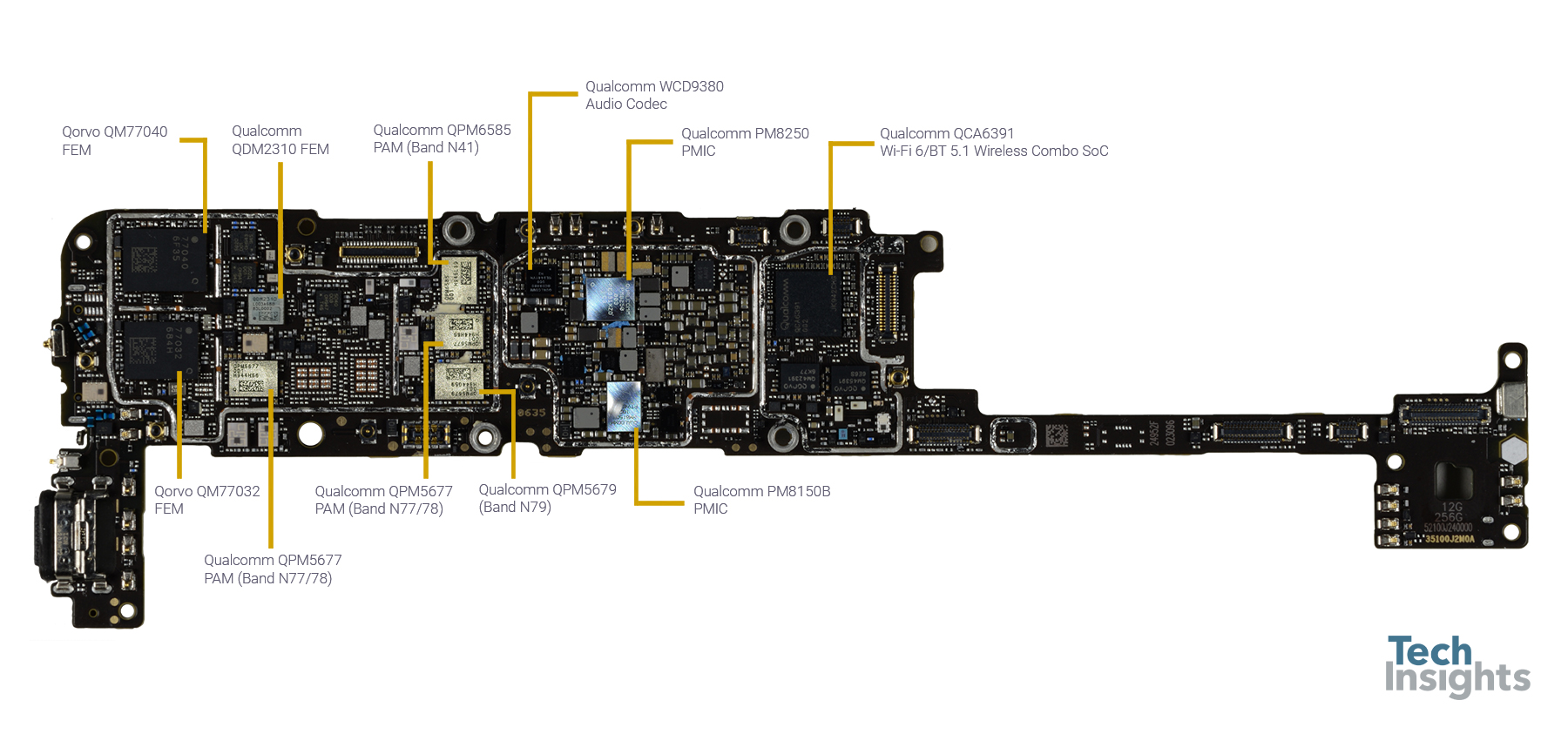 Design Wins
Qualcomm QCA6391 Wi-Fi 6/BT 5.1 Wireless Combo SoC
Qualcomm PM8150B PMIC
Qualcomm PM8250 PMIC
Qualcomm QPM6585 PAM (Band N41)
Qualcomm QPM5677 PAM (Band N77/78)
Qualcomm QPM5679 PAM (Band N79)
Qualcomm WCD9380 Audio Codec
Qualcomm QDM2310 FEM
Qorvo QM77040 FEM
Qorvo QM77032 FEM
Cirrus Logic CS35L41 Audio Amplifier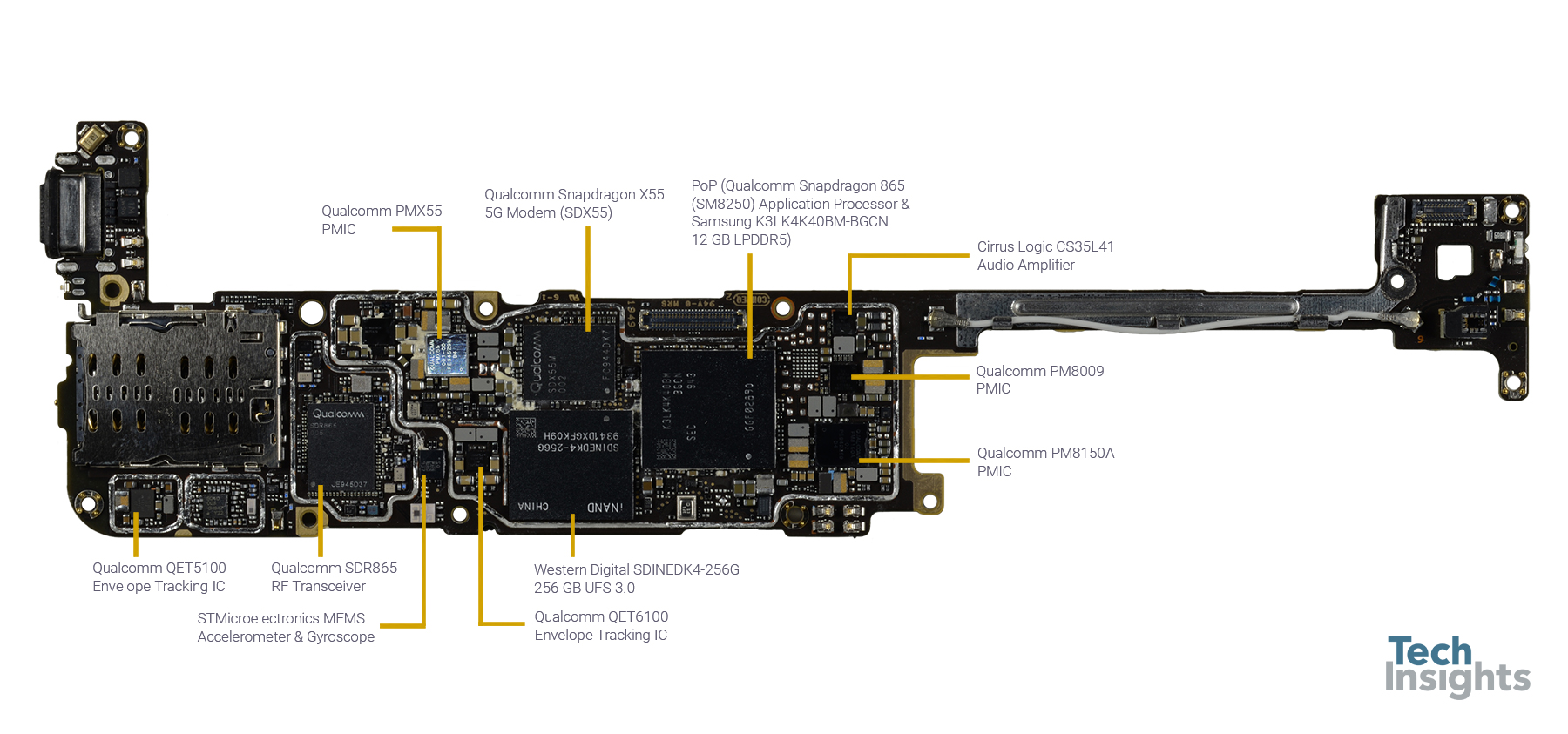 Design Wins
PoP (Qualcomm Snapdragon 865 (SM8250) Application Processor & Samsung K3LK4K40BM-BGCN 12 GB LPDDR5)
Qualcomm Snapdragon X55 5G Modem (SDX55)
Western Digital SDINEDK4-256G 256 GB UFS 3.0
Qualcomm PMX55 PMIC
Qualcomm SDR865 RF Transceiver
Qualcomm PM8150A PMIC
Qualcomm PM8009 PMIC
Cirrus Logic CS35L41 Audio Amplifier
Qualcomm QET6100 Envelope Tracking IC
Qualcomm QET5100 Envelope Tracking IC
STMicroelectronics MEMS Accelerometer & Gyroscope
Texas Instruments BQ25970 Battery Charger IC
LPDDR5
There you have it - the world's first LPDDR5 available in a consumer product that we have seen - the Samsung K3LK4K40BM-BGCN, a 12 GB LPDDR5. The Samsung LPDDR5 is packaged with the Qualcomm Snapdragon 865 (SM8250) in a Package-on-Package (PoP).
We will be conducting in-depth analysis on this part in the coming weeks. Reports will be available to our Memory subscribers as they become available.
Update
We have decapped the Samsung 12 GB K3LK4K40BM-BGCN LPDDR5. The component is packaged with eight 12 Gb LPDDR5 die K4L2E165Y8.
In the other two Mi 10 phone models, we have found the Samsung 8 GB K3LK3K30EM-BGCN LPDDR5 that is packaged with eight 8 Gb LPDDR5 die K4L8E165YE. Below and to the side are the die photos and die marks of the 12 Gb die K4L2E165Y8. The die size (seal) is 4.31 mm x 12.42 mm = 53.53 mm2.

Application Processor & Modem
The Snapdragon 865 Application Processor is confirmed by Xiaomi themselves to be fabbed by TSMC in its N7P process technology. TechInsights has analyzed TSMC's 7FF technologies, including N7, N7P, and N7+, and we will be conducting in-depth analysis on this part for our Logic subscribers. We look forward to the upcoming TSMC N5.
Denoted by the marking "SM8250," this is the Qualcomm Snapdragon 865 Application Processor. Unlike other 5G SoCs we have analyzed, such as the Qualcomm Snapdragon 765G, Samsung Exynos 980, HiSilicon Kirin 990 5G, or MediaTek Dimensity 1000L MT6885, the SM8250 does not integrate the 5G modem.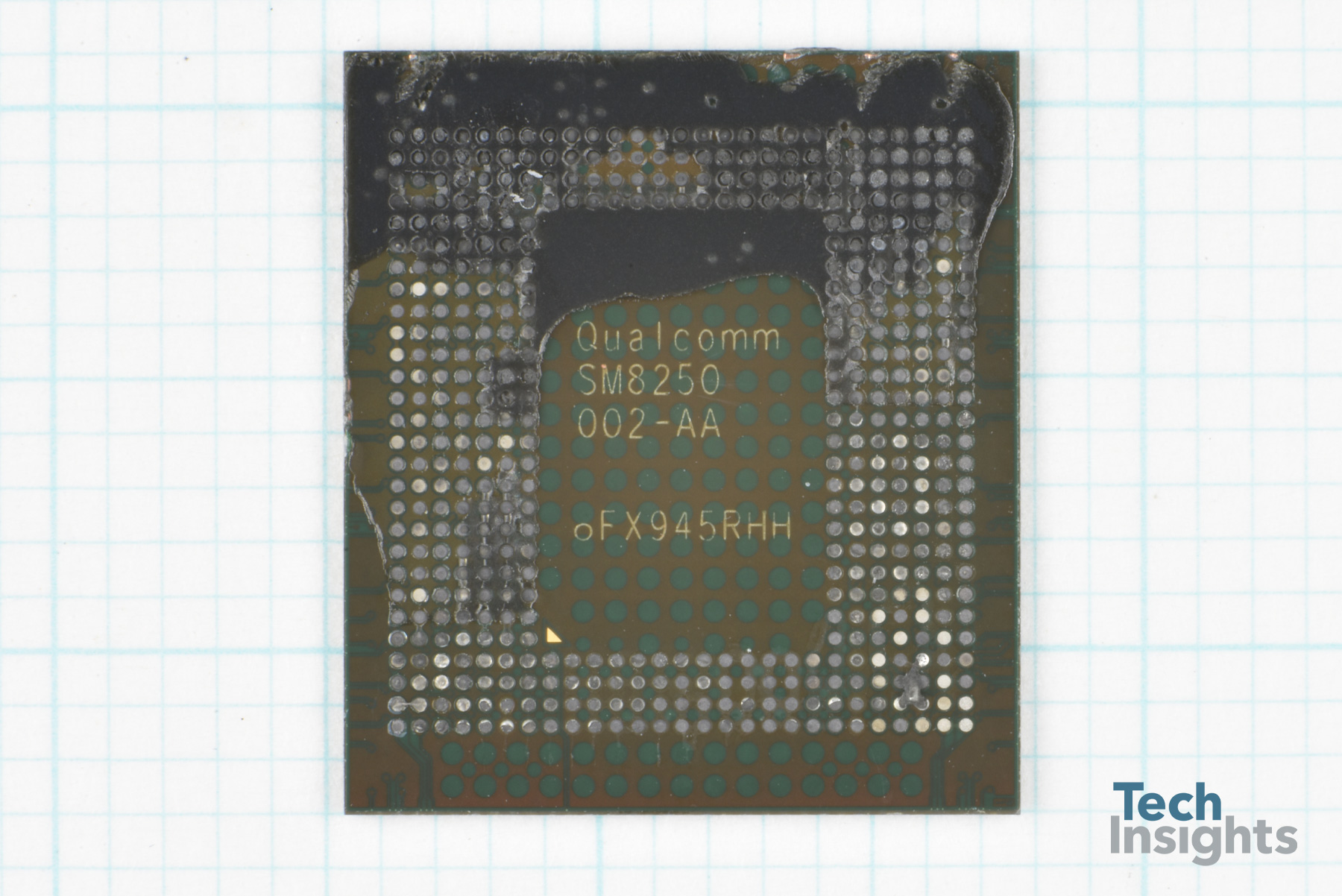 The SM8250 works together with an external 5G Modem, Qualcomm's SDX55. TechInsights will compare the new X55 modem with the previous X50 modem; we will be launching a Digital Floorplan Analysis report soon.
We have die photos ready of the Snapdragon 865 Application Processor (SM8250) die HG11-PH806-2. The die size (seal) is 8.49 mm x 9.84 mm = 83.54 mm2, representing a 14.02% die size growth when compared to the previous TSMC N7 fabbed Snapdragon 855 (SM8150) die HG11-PC761-2.
Analysis Continues
We will be working on Xiaomi 10 series phones for some time. We are still waiting to find the Micron LPDDR5, as announced by both Xiaomi and Micron.
There is a lot of new silicon included in this flagship series phone; we will be analyzing different parts of this phone under several of our subscriptions, including Memory, Logic, Mobile RF, Power Semiconductor, and IoT SoC.
In the near future, we will be adding more of our findings to this blog. Plans include further discussion of design wins, publishing die photos, and providing high level costing for the components found in the phone.
Find content like this and more in the TechInsights Platform. Sign-up for free today.
The authoritative information platform to the semiconductor industry.
Discover why TechInsights stands as the semiconductor industry's most trusted source for actionable, in-depth intelligence.