WI-FI 7 AP Chips Coming Next Year
Next-generation Wi Fi 7 is on the horizon, and the leading wireless-LAN chipmakers—Broadcom, MediaTek, and Qualcomm—are already sampling new access-point chipsets for production next year. Tom R. Halfhill
Three leading chipmakers are sampling their first Wi Fi 7 (802.11be) infrastructure products, so the consumer debut is about a year away. OEMs can now start designing the routers, gateways, and access points for homes and enterprises that potentially quadruple peak throughput versus today's Wi-Fi 6E (802.11ax). Broadcom, MediaTek, and Qualcomm are leading the charge with new chipsets that enable 320MHz channel widths, denser modulation, better interference mitigation, and more spatial streams.
New routers can operate in all three Wi-Fi bands (2.4-, 5-, and 6GHz) and in some cases can split the higher ones for quad- or penta-band operation. All three platforms include host processors with four Arm-compatible CPUs. Broadcom's BCM4916/49428 processor adds four chips that integrate the radio-frequency (RF), physical-layer (PHY), and media-access-layer (MAC) functions. MediaTek's Filogic 880 host processor works with a common baseband chip and separate radio chips. Qualcomm withholds details about its Networking Pro Series 620, 820, 1220, and 1620 platforms.
In theory, Wi Fi 7 can deliver up to 45Gbps as measured at the RF PHY interface, but real-world speeds will be much lower. A maximum configuration would require 20 chains, penta-band operation, channel bonding, and a forest of antennas. Only high-end wireless routers will employ all those features.
Simpler designs for home and business gateways will provide up to 10Gbps peak. It's about twice as fast as a typical Wi-Fi 6E router, and it leaves headroom for future designs. In addition to delivering more throughput, Wi Fi 7 can reduce local network latencies.
We expect all three vendors to begin volume production in 1H23. As with previous Wi-Fi generations, the first routers will probably reach stores even before the IEEE formally approves the standard late that year. Firmware updates can adapt to any last-minute protocol tweaks.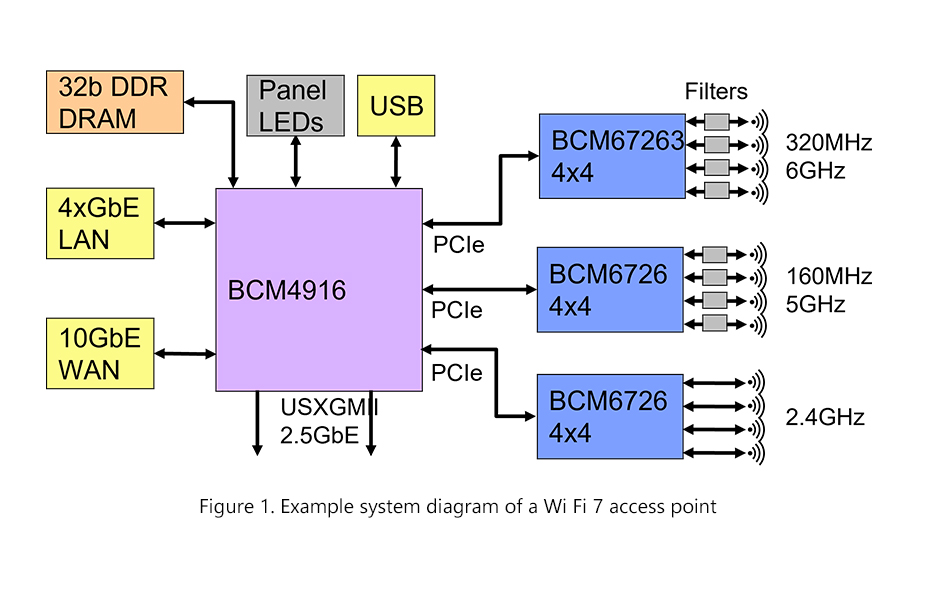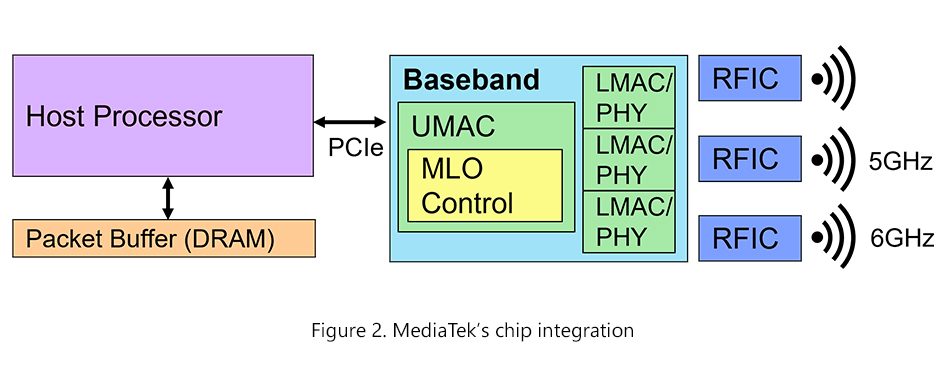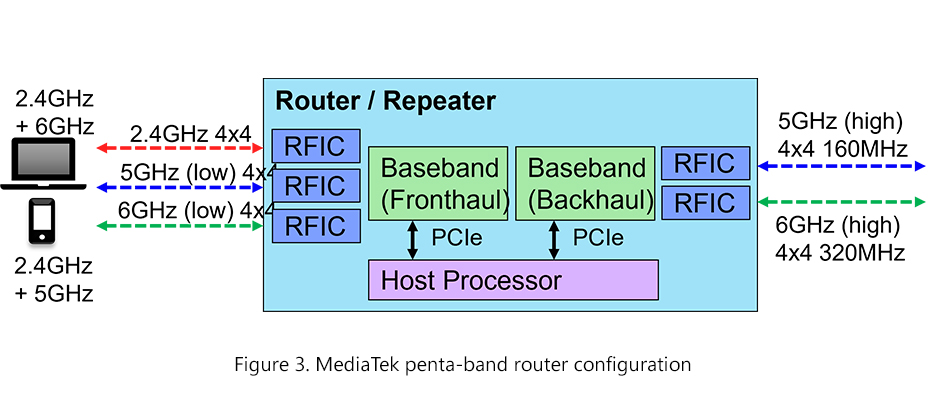 Free Newsletter
Get the latest analysis of new developments in semiconductor market and research analysis.
Subscribers can view the full article in the TechInsights Platform.
You must be a subscriber to access the Manufacturing Analysis reports & services.
If you are not a subscriber, you should be! Enter your email below to contact us about access.
Sign up for latest analysis, news and insights from TechInsights!
Stay informed about TechInsights' products, services, and events. Email collection adheres to TechInsights' Privacy Policy.
Revealing the innovations others cannot inside advanced technology products
Contact
General Inquiries
1-888-666-8888
1891 Robertson Rd #500, Nepean, ON K2H 5B7
Copyright © 2023 TechInsights Inc. All rights reserved.