IoT Blog
Who made our top picks in IoT Connectivity for 2022?
January 23, 2023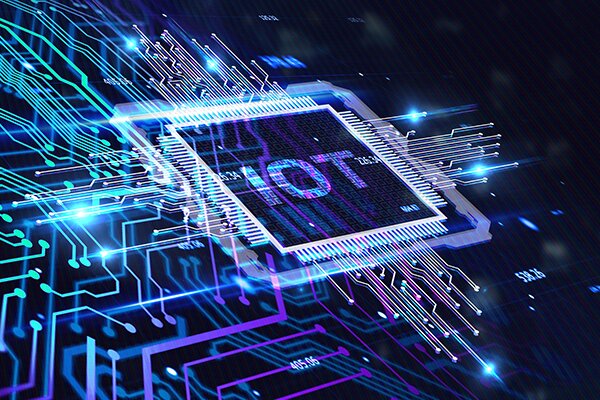 It was a busy year in the IoT connectivity landscape in 2022. TechInsights' team of subject-matter experts and analysts worked hard at identifying the key events, technologies, and design practices to include in our IoT SoC subscription—no small feat indeed! In consultation with our Subject-Matter Experts, Jefferson Chua and Radu Trandafir, and Technical Product Manager, Van Thompson, here are the top highlights of 2022 and a few of our picks for 2023.
Apple H2 BT 5.3 SoC – Elevating the audio experience in the AirPods Pro 2
The H2 is Apple's first audio system-on-chip (SoC) since the release of the H1 in 2019. TechInsights has discovered that the H2 is using a 7nm process node proving Apple has taken great strides in the past three years since the H1 where 16nm was used. Not only is the H2 manufactured with the smallest process node used in the wireless earphone market to date, but it also supports the latest Bluetooth standard (BT 5.3) while delivering key improvements in the audio experience, such as active noise cancellation, lower power consumption, and adaptive transparency, which raises the bar for consumer expectations. In case you missed it, check out our Disruptive Event brief on the H2 chip in the AirPods Pro 2 and the more detailed analyses in the H2 BT SoC floorplan (BFR-2210-801) and architecture report (ARC-2210-801).
IoT Analyst Briefing – Revealing key trends, design wins, and comparisons between market leaders
With the wide scope of communication protocols in the market and the high growth of IoT connections in multiple sectors, having more visibility into IoT SoC designs to address interoperability issues, optimize performance, and maximize reliability and security all while minimizing power consumption and footprint are important considerations.
To help with this, our IoT Analyst Briefing for IoT channel subscribers in June 2022 by Jefferson Chua provided an overview of the market changes for different IoT communication standards and identified important trends by comparing past and present integrated circuits (ICs) from our broad scope of analyses including leaders like Samsung, Broadcom, Qualcomm, UNISOC, and others. It also served as a comprehensive summary of notable SoC analyses to date that are included in the IoT Connectivity SoC Floorplan and Architecture subscriptions.
The latest insight on Wi-Fi 6, Wi-Fi 6E, and other communication protocols
Given the interest and demand in Wi-Fi 6E, as well as the consumer benefits, product OEMs and IoT SoC manufacturers need to understand the technical requirements to support Wi-Fi 6E whether it's fabrication methods, IC costs, layout efficiencies, and more. One way to do this is by gaining insight into the designs of market-leading competitors.
Don't miss our analyses on several cutting-edge Wi-Fi 6/6E SoCs, including:
In addition to Wi-Fi, other key communication protocols (such as Bluetooth, UWB, NB-IoT, Zigbee, and others) are also covered to enable an understanding of the requirements and design approaches to support them, including:
The latest analyses in the IoT Connectivity SoC subscription are available in the TechInsights platform, as well as lists of all analyses in the Floorplan and Architecture channels.
Some of our picks for 2023 – the IoT Connectivity SoC Roadmap
What's in store for 2023 and beyond? While plans are subject to change, some of the SoCs under consideration include:
Qualcomm's FastConnect 7800 – the first Wi-Fi 7 device on the market
MediaTek Dimensity 9200 with Wi-Fi 7 capability
Broadcom BCM4398 Wi-Fi 7/BT 5.2 Combo SoC
NXP SR150 Ultra Wideband (UWB) Transceiver IC Zhuhai Jieli AC7006D BT5.3 LE Audio SoC
Oppo MariSilicon Y Bluetooth 5.3 Audio SoC
Infineon NAC1080 NFC Actuation Controller
Qorvo QPG6095 Zigbee/Thread/BT 5.0 LE Smart Home Communications Controller
Regarding communication protocols, we'll be keeping an eye on Matter protocol V1.0 as it's breathing new life into the smarthome ecosystem. Not only are key industry players behind it (such as Amazon, Google, Apple, Samsung, and more), it's already establishing significant traction since its release in October 2022—Amazon has defined a WWA (Works with Alexa) certification for Matter devices and Apple has included it in its HomeKit for iOS/iPad OS 16.2. Stay tuned!
IoT Connectivity SoC subscribers already have access to our latest roadmap—if you're interested in becoming a subscriber, please contact us. TechInsights is looking forward to an exciting 2023!
Sign up for latest analysis, news and insights from TechInsights!
Stay informed about TechInsights' products, services, and events. Email collection adheres to TechInsights' Privacy Policy.
Revealing the innovations others cannot inside advanced technology products
Contact
General Inquiries
1-888-666-8888
1891 Robertson Rd #500, Nepean, ON K2H 5B7
Copyright © 2023 TechInsights Inc. All rights reserved.