Power Webinar
Recent PMIC Innovation and an Automotive Market Outlook
40 nm BCD, Automotive Qualification and More and Strategy Analytics' Automotive PMIC Market Outlook
Register to watch this webinar on demand.
Power management integrated circuits (PMICs) are becoming ever more complex while the market continues to grow at a rapid pace. The automotive PMIC market alone is worth > $3 billion and is projected to grow at a CAGR of 13.3% from 2021 to 2026 [1].
TSMC was the first to introduce a high-density wafer-based fan-out package technology solution called Integrated Fan-Out (InFO). This technology targets higher pin count applications, such as application processors (AP). Apple was an early adopter of this new technology, first used in the A10 application processor of the iPhone 7, introduced in late 2016.
During this webinar, learn of the leading innovations found within the mobile PMIC space such as:
A 40 nm BCD process which enables wireless mobile device charging
'Integrated voltage regulators (IVR)' where an entire voltage regulation circuit can be condensed into a single discrete package
The challenges that automotive PMICs face including advanced safety and redundancy features
Vehicle production forecasts and associated electronics systems demand will also be shared, as well as some of the macro-economic factors that have the potential to disrupt the outlook for the automotive industry. Gain exclusive insight into topics including:
Key differences between the automotive sector and the commercial/consumer markets as it relates to semiconductors
Trends that will drive growth for the automotive semiconductor industry
A market breakdown in terms of semiconductor type
A market outlook for PMICs across the powertrain, body, chassis, safety and driver info domains
About the Speakers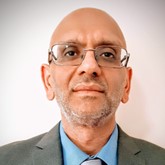 Asif Anwar
Executive Director - PBCS & EVS
Asif Anwar is a 20 year plus veteran analyst at Strategy Analytics and transferred over to the Global Automotive Practice team in 2019. His current focus at Strategy Analytics is on supporting the automotive industry through the Powertrain, Body, Safety & Chassis (PBCS) and Electric Vehicles Service (EVS) coverage at Strategy Analytics, providing thought leadership and analysis at the system, semiconductor and sensor levels, as well as looking at the broader whole value chain and tracking emerging opportunities.
With a career that spans both engineering and marketing roles in the metals, minerals and electronics industries, Asif has been providing insights and analysis in the advanced electronics markets for over 20 years, covering wireless networks, fiber optic networks, millimeter wave communications, radar, EW and optoelectronic applications. After nearly two decades of immersion in the field, Asif is an acknowledged expert and thought leader in the compound semiconductor industry.
A member of the IEEE (including AESS, MTTS and ComSoc) as well as the IChemE, Asif graduated from the University of Teesside, UK in 1993 with a B.Eng Honours degree in Chemical Engineering, before doing Ph.D research on fatty acids.

Stephen Russel
Subject Matter Expert, Power
Stephen Russell is TechInsights' Subject Matter Expert for Power with over 15 years' experience in wide bandgap (WBG) device fabrication and characterization. He received his PhD in Electronic Engineering in 2013 from the University of Glasgow with a thesis entitled 'High Performance Hydrogen-Terminated Diamond Field Effect Transistors' and demonstrated what was at the time the highest frequency diamond transistor reported. Continuing in academia, he researched high voltage silicon carbide devices, and successfully demonstrated 3.3 kV and 10 kV variants. He won the IEEE Transactions on Power Electronics – best paper award in 2018 for the paper 'High Temperature Electrical and Thermal Aging Performance and Application Considerations for SiC power DMOSFETs'. He also led an exploratory research project in gallium oxide for power devices, presenting findings to the Royal Institution, London. He moved into industry in 2018 to lead development of a new silicon IGBT product line and instigated an R & D project to use silicon carbide JFETs in circuit protection applications. In 2020, he joined TechInsights as subject matter expert for power semiconductor devices keeping abreast of developments across the entire industry.

Sign up for latest analysis, news and insights from TechInsights!
Stay informed about TechInsights' products, services, and events. Email collection adheres to TechInsights' Privacy Policy.
Revealing the innovations others cannot inside advanced technology products
Contact
General Inquiries
1-888-666-8888
1891 Robertson Rd #500, Nepean, ON K2H 5B7
Copyright © 2023 TechInsights Inc. All rights reserved.