TechInsights ForecastPro Advanced Packaging Upload
Updates included are the following:
ForecastPro:

Packaging Demand Forecast – v22.11
Advanced Packaging Demand Forecast – v22.11
The highest-growing packaging segments were LGA and QFN followed by CSP/WLP in 2021, in 2022 the fastest-growing segments are expected to be LGA, SON, and QFN. These packages are used primarily in applications where the board real estate is at a premium, such as in smartphones and other portable electronic devices. In addition, these packages have superior electrical and thermal performance compared to traditional leaded packages, making them the preferred package choice for mobile devices.
Advanced packaging is gaining share of total production wafers. Such that, by 2027 they will account for more than 52%, up from 43% in 2022. Fan-Out Wafer Level Packaging units are slowly increasing share of total advanced packaging ICs, growing at a CAGR of 38% between 2022 and 2027. This is primarily due to the increase in shipments and rising content in smartphones. While they are growing at a fast clip, they will only account for less than 2% of the total advanced packaging ICs in 2027 while in 2022 they account for less than 1%.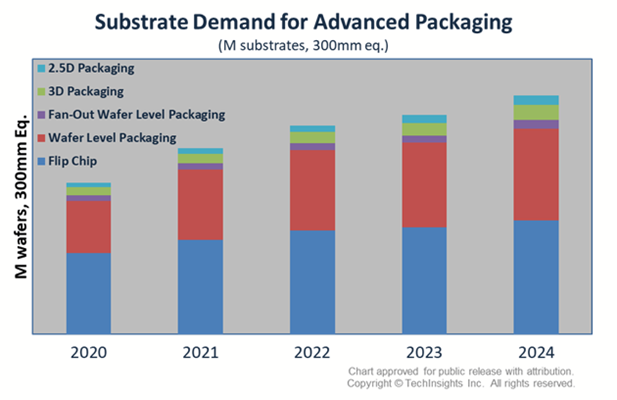 Free Newsletter
Get the latest analysis of new developments in semiconductor market and research analysis.
Subscribers can view the full article in the TechInsights Platform.
You must be a subscriber to access the Manufacturing Analysis reports & services.
If you are not a subscriber, you should be! Enter your email below to contact us about access.
The authoritative information platform to the semiconductor industry.
Discover why TechInsights stands as the semiconductor industry's most trusted source for actionable, in-depth intelligence.